This isn't going to be an extremely long piece, but it is going to cover two new items that weren't covered in my last dry shipping pieces. If you want to get caught up and read my key points that I've made about why I think the dry shipping rally is going to go into the end of this year into 2015, you should read my last two pieces:
6/30 - DryShips And Affirmation Of My Bullish Drybulk Outlook
6/27 - DryShips: Major Shipping Rate Catalyst Coming?
First, let's look at updated spot rates for dry shipping as of July 1, 2014. These come compliments of the updated shipping report available at the DryShips (NASDAQ:DRYS) website.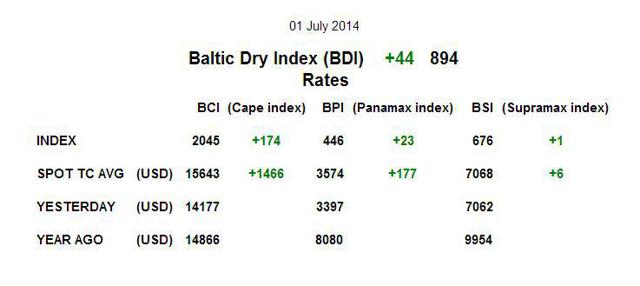 As you can see, rates are up - but, more than that - capesize rates, which I recently recommended exposure to through Baltic Trading (NYSE:BALT), are up nearly 10% on the day. Baltic Trading is up 3.68% as of the time of this piece, mid-day on Tuesday.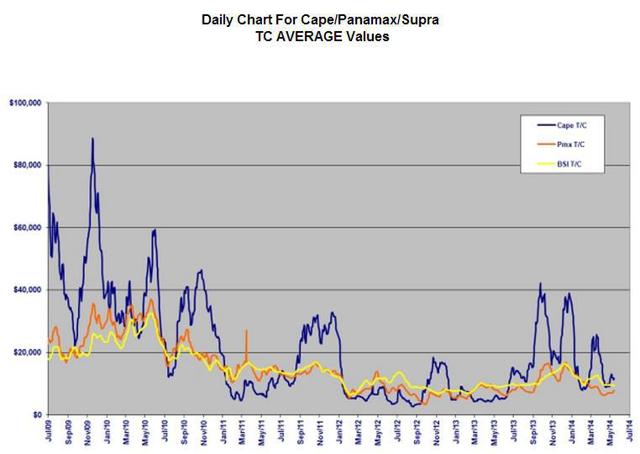 Second, iron ore export data from Brazil had a nice May:
In accordance with the latest data released by the Brazilian Ministry of Development, Industry and Foreign Trade, the country's iron ore exports rose significantly during the month of May this year.

The country exported 30.69 million tons of iron ore during the month. This is 24.25% higher when compared with the exports during a month before. Brazil had exported 24.70 million tons of iron ore during April this year. The exports during May '14 were 12.92% higher when compared with the exports during the same month a year before. Brazil's iron ore exports had totaled 27.18/ million tons during May '13.
This type of data will continue to catalyze rises in shipping rates - notably for capesize rates, but the rest of the spot rates should move commensurate with capesize rate. To expose yourself to all rate movement, you should diversify your holdings in several dry shippers.
Dry shipping stocks:
DryShips
Ocean Rig (NASDAQ:ORIG)
Baltic Trading
Diana Shipping (NYSE:DSX)
Guggenheim Dry Shipping ETF (NYSEARCA:SEA)
Disclosure: The author has no positions in any stocks mentioned, and no plans to initiate any positions within the next 72 hours. The author wrote this article themselves, and it expresses their own opinions. The author is not receiving compensation for it (other than from Seeking Alpha). The author has no business relationship with any company whose stock is mentioned in this article.