We were asked the question yesterday about which index we would use if investing a portfolio for the short-term based on our comments in yesterday's article (located here). Generally we like to peg portfolios to the S&P 500 (NYSEARCA:SPY) as the results are less volatile and there is a long history of solid results with diversification. If we were positioning a portfolio for the short-term, the next six months for instance, then we would actually be looking at the Nasdaq and would use the PowerShares QQQ (NASDAQ:QQQ) to track the Nasdaq 100 in order to gain exposure to the biggest names in cable, content, biotech and of course technology.
Our long-time readers know that we have been bullish of biotech since the big pullback which made little sense to us and with those names paired with the large technology names and other hot areas such as content providers it seems to us that the PowerShares QQQ will outperform other indices over the next six months.
Chart of the Day:
It certainly appears that Twitter has regained its mojo, however we would like to see the stock hold this $40/share level as it will be key moving forward.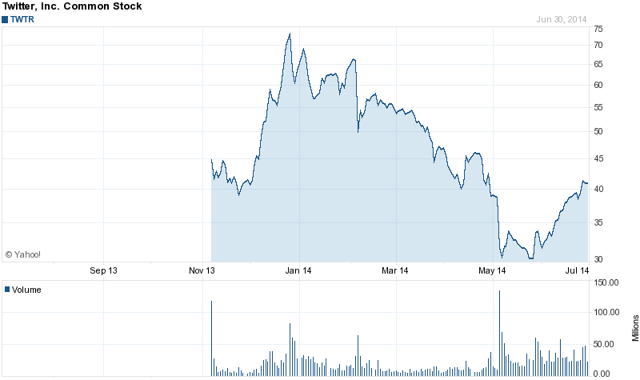 Source: Yahoo Finance
We have economic news today, and it is as follows:
Construction Spending (10:00 a.m. EST): Est: 0.4% Act: 0.1%
ISM Index (10:00 a.m. EST): Est: 55.8 Act: 55.3
Auto Sales (2:00 p.m. EST): Est: N/A
Truck Sales (2:00 p.m. EST): Est: N/A
The Asian markets are mostly higher today:
All Ordinaries -- down 0.37%
Shanghai Composite -- up 0.10%
Nikkei 225 -- up 1.08%
NZSE 50 -- up 0.09%
Seoul Composite -- down 0.16%
In Europe, the markets are higher this morning:
CAC 40 -- up 0.59%
DAX -- up 0.26%
FTSE 100 -- up 0.61%
OSE -- up 0.32%
GoPro Goes Higher
GoPro (NASDAQ:GPRO) shares continue to trend higher after the company's successful IPO, rising another nearly 15% in early trading this morning. If one looks at the valuation the company's shares are overpriced, however many investors are looking at the potential for the company to become a social media company by aggregating the content created by users of its cameras. Although we are bullish of some of these momentum stocks, more on that later, it is our opinion that speculating on what might be in the cards in the future with GoPro now is no longer a prudent move. This could very well be a Twitter (NYSE:TWTR) IPO situation, where the stock skyrockets after the offering only to retreat in the months following as more shares hit the market and the fast money exits.
Nothing rises forever and all IPOs eventually have a pullback. Expect some profit taking from investors in GoPro in the sessions ahead.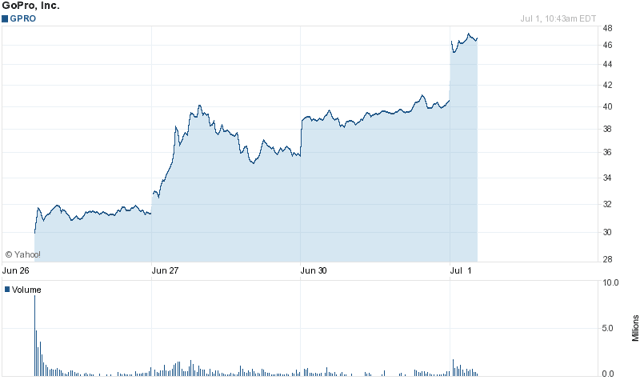 Source: Yahoo Finance
Momentum In Tech Names
Netflix (NASDAQ:NFLX) is moving about 5% higher after a Goldman Sachs analyst came out and upgraded the shares to a 'Buy' from a 'Neutral' rating. The analyst also raised their price target on Netflix shares to $590/share from $380/share as they continue to see strong growth ahead for the company as they continue to open up new markets and deliver subscriber growth that outpaces estimates.
Looking at Twitter, which we mentioned earlier, we want to point out that the company has two big pieces of news out today. Re/Code was the first to report that a new button, although not yet activated, had popped up on some tweets yesterday. According to their report, when the button is activated the user will be directed to a checkout page where they can complete their purchase.
Twitter also announced that Anthony Noto will join the company and assume the Chief Financial Officer role within the next 30 days. Mr. Noto is a former banker of Goldman Sachs and was on the team which brought Twitter public. He is also the former CFO of the NFL, the richest sports league in North America.
Disclosure: The author has no positions in any stocks mentioned, and no plans to initiate any positions within the next 72 hours. The author wrote this article themselves, and it expresses their own opinions. The author is not receiving compensation for it (other than from Seeking Alpha). The author has no business relationship with any company whose stock is mentioned in this article. SPY has previously been recommended.