By Konstantinos Venetis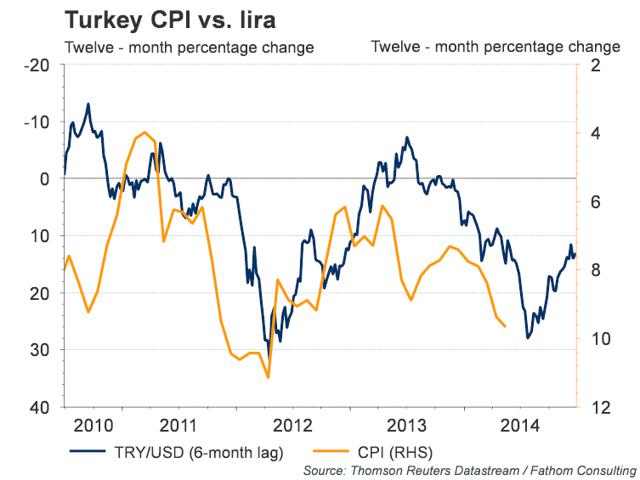 Click to enlarge
Turkey's central bank lowered its benchmark one-week repo rate for the second straight month in June, this time by 75 basis points to 8.75%. The Monetary Policy Committee cited improving global liquidity conditions for its decision to proceed with what it called a "measured" cut. Turkish asset prices and the lira have been on the rise recently, thereby justifying the gradual unwind of January's aggressive 550 basis point hike, launched in an effort to arrest a collapse in market sentiment.
But pressure from the government has also clearly played a pivotal role. Only a day before this rate action, the ruling Party's deputy chairman openly questioned the desirability of the monetary authority's independence: "…at the end of the day, the central bank should lead the process in line with the government's targets", he said. And a couple of weeks ago, leading central bank officials were removed from their posts. Mr Erdogan himself recently described May's 50 basis point rate cut as a "joke", calling for much larger reductions in order to spur growth ahead of presidential elections in August, while Economy Minister Zeybekci suggested June's cut was "far away" from what the country needs to boost manufacturing.
We expect political pressure for more rate cuts to intensify, despite Turkey's persistent inflation problem - CPI rose to a two-year high of 9.7% in the twelve months to May, up from 9.4% in April and well above both the central bank's year-end forecast of 7.6% and its 5% medium-term target.
Investors have so far taken the news in their stride: the lira has barely budged, bond yields have not really moved and equities have more than recovered from their initial slight move lower. Apparently, governor Basci's credibility still resonates well with the market. The implied five-year breakeven rate remains below 7% - near the lower limit of a relatively tight trading range - despite CPI being consistently on the rise since last November. And bank stocks have shrugged off last week's downgrade by Fitch of the country's three biggest lenders to just a notch above junk status.
At the same time, as our chart illustrates, successfully containing CPI will depend on a well-behaved lira; in turn, this relies as much as anything on the monetary authority's credibility staying intact. However, with the first round of presidential elections fast approaching, we worry that the central bank is going to face an uphill struggle in maintaining its inflation-fighting credentials. At the same time, escalating tensions in Iraq pose a threat to Turkey's trade relations with its second biggest export market. As such, we expect volatility to pick-up and local equities to come under pressure from a rising political risk premium, with their recent underperformance relative to the broad EM index looking vulnerable to a correction.
Disclosure: The author has no positions in any stocks mentioned, and no plans to initiate any positions within the next 72 hours.
Business relationship disclosure: Alpha Now at Thomson Reuters is a team of expert analysts that are constantly looking at the financial landscape in order to keep you up to date on the latest movements. This article was written by Konstantinos Venetis, independent commentator and analyst. We did not receive compensation for this article, and we have no business relationship with any company whose stock is mentioned in this article.