The other day I wrote an article on Realty Income's (NYSE:O) bonds stating:
Bottom Line: While Realty Income is perhaps the most respected of the triple-net REITs and has a solid balance sheet, the debt, while solid, does not present a compelling investment. The new deal does not appear to have value versus the other issues within the Realty Income credit universe. As well, there are more compelling bonds available in the triple-net credit space.
The subject of this analysis is EPR Properties (NYSE:EPR) and the compelling opportunity that their bonds present relative to other REIT bonds and the triple net REITs specifically.
EPR Properties is specialty REIT that currently invests in three primary segments: Entertainment, Recreation and Education.
Let's jump right into EPR's debt.

Click to enlarge
EPR has three debt issues outstanding, six year, eight year and nine year maturities. As the debt trades at over 200 basis points to either the benchmark bonds and/or the curve, they are amongst the cheapest REIT bonds that trade within the investment grade space.
As with most rated REIT debt, there are financial covenants contained in the offering (unlike almost all other public investment grade debt). In my opinion, the financial covenants are often overlooked and undervalued relative to other financial issuers. The financial covenants - and current levels - contained within these issues are:

Click to enlarge
EPR has significant headroom within their covenants, which increases their financial flexibility should an opportunity arise.
Of these issues, the 7.75% of 2020 trade the cheapest on a spread to curve basis and, as the chart below shows, on a basis points per unit of duration ("BPUD," used as a relative measure of rate risk):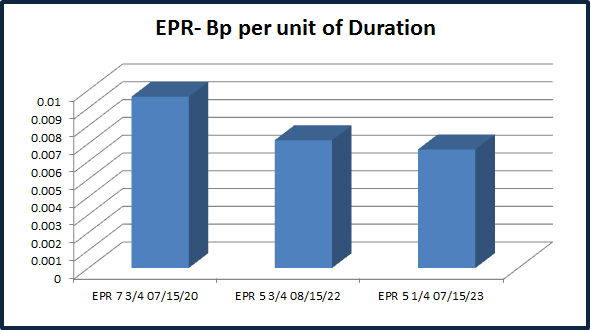 While the 7.75%s are the cheapest in the complex, they also trade the fewest amount of bonds. The 5.75% due 2022 trade and trade cheaper to the curve than the 5.25% due 2023.
In order to get a sense of how cheap these bonds are, let's take a look at the triple net REIT bond complex. The peers for this example are Realty Income, Lexington Realty Trust (NYSE:LXP), American Realty Capital Properties (ARCP), National Retail Properties (NYSE:NNN) and American Campus Communities (NYSE:ACC):

Click to enlarge
EPR trades cheap on every measure (spread to benchmark and spread to curve) than the peer group. Plotted on a "triple net credit curve," we can see it as (EPR in orange):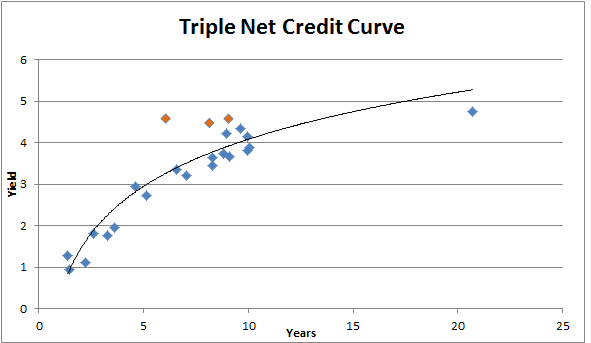 When viewed relative to rates (basis points per unit of duration), we get the following picture (EPR again in orange):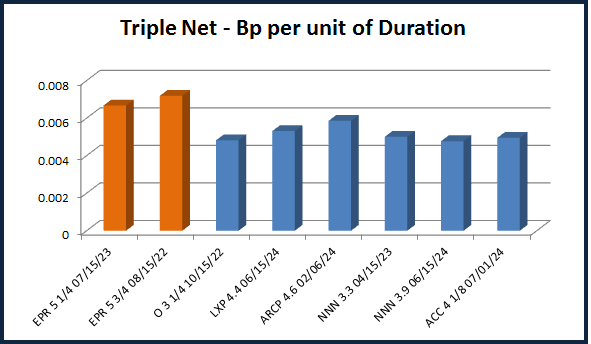 As the chart above shows, EPR is cheap on a "rates basis" as well.
Part of the reason it trades cheaper is that it is lower rated than some of its peers ("5B" if you will), but I would expect that S&P will upgrade the bonds within a couple of quarters of solid performance - which I also expect.
Finally, a look at EPR's "public capital" on a yield basis:

Click to enlarge
While the preferred and the equity have higher absolute yields, on a BPUD basis, the 2020 and 2022 debt are still compelling (the duration of equity is arguable, but if we were to use a longer duration as one would expect, it would also be lower).
Finally, a look at EPR's equity versus peers: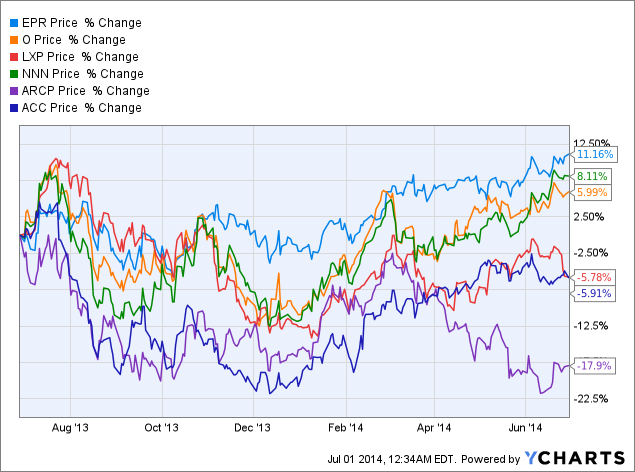 EPR's equity has outperformed over the last year.
Bottom line: I believe that EPR's debt is attractive at current levels and should outperform its peer group going forward. The REIT, while different than many given the nature of its assets, has been improving and has been able to show that its performance is stable and its metrics are strong. The yield/spread available on the debt does not fully reflect the strength of the underlying assets.
Disclosure: The author is long O, NNN. The author wrote this article themselves, and it expresses their own opinions. The author is not receiving compensation for it (other than from Seeking Alpha). The author has no business relationship with any company whose stock is mentioned in this article.