The chart below shows the growth in M2 money supply in billions of dollars. It should be noted that the definition of M2 has changed over the years. More details on the history of M2 and other monetary aggregates can be found here. M2 has grown in size, and the growth appears to be increasing.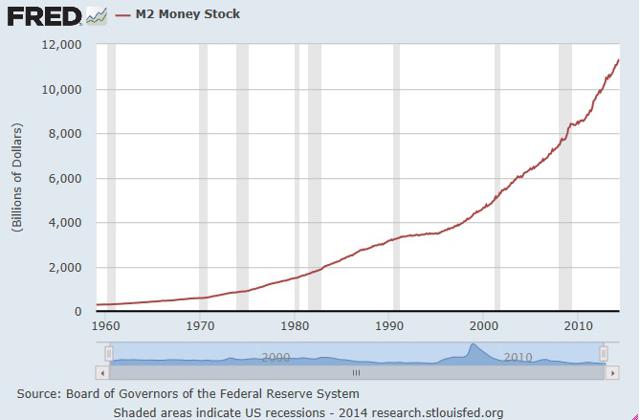 Click to enlarge
The chart below shows the growth in M2 on a year over year basis. The pace of M2 growth is nowhere near its historical high seen in the 1970's. More recently, the pace of M2 growth has trended lower.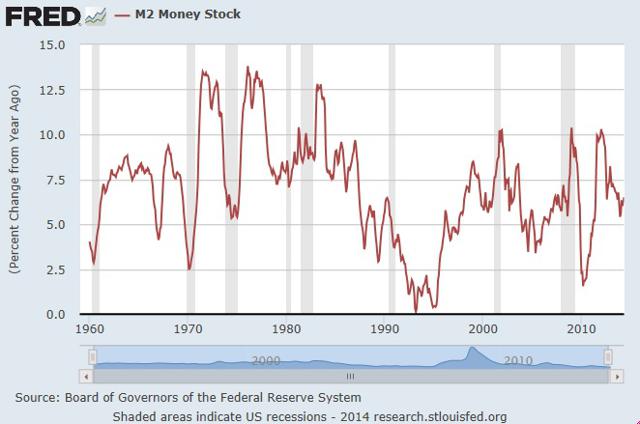 Click to enlarge
M2 money supply exceeded mortgage debt outstanding from 1960 until the middle of 1987.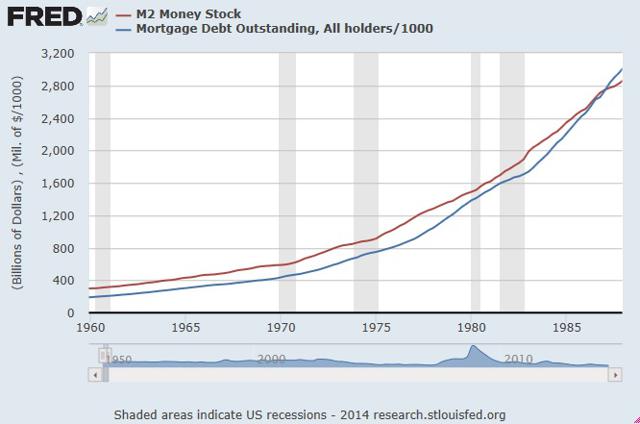 Click to enlarge
For the past decade, mortgage debt outstanding has exceeded the M2 money supply measurement. However, since 2008, the gap has been narrowing.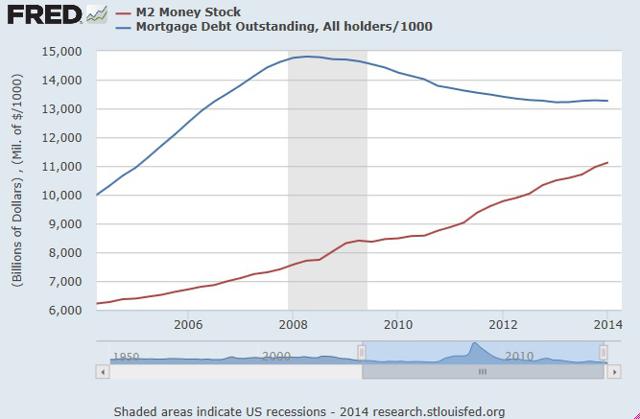 Click to enlarge
Mortgage debt outstanding for each dollar of M2 money supply increased steadily from 1960. The shift was gradual until the late 1990's, when it surged higher before reversing the upward trend in 2008. The 1997 tax law change, permitting the tax-free real estate gain of $500,000 for couples and $250,000 for individuals might have played a part in the spike of mortgage debt outstanding. Given the long and gradual increase from 1960 the acceleration beginning in the early 2000's seems out of character unless there was a policy or tax change to encourage the use of debt. Mortgage debt has fallen sharply since 2008 and is back to near 1990 levels. The key question is why has mortgage debt fallen? If mortgage debt has fallen because of principle repayments and or the payoffs of mortgages, then consumers/businesses may have freed up cash flow. This could assist economic growth prospects. However, if the decline is due to principle write-offs then the financial institutions and investors holding the paper have been harmed. This may make an expansion of credit and growing the economy more of a challenge.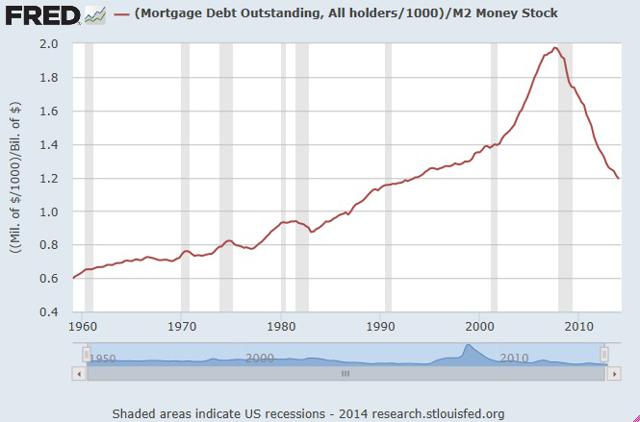 Click to enlarge
Mortgage debt outstanding trailed M2 money supply measurement until the middle of 1987. Then mortgage debt outstanding exceeded M2. The relative difference was minor until 1987 then mortgage debt grew to nearly twice the size of M2.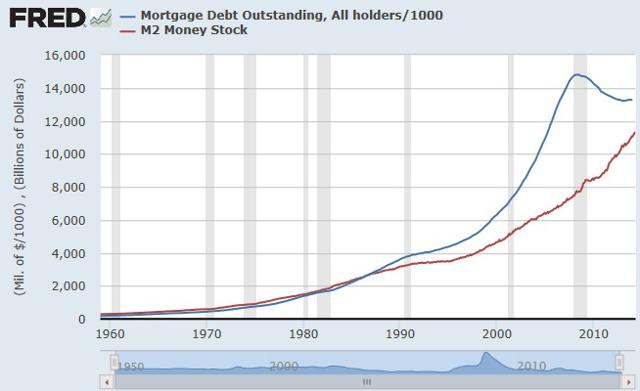 Click to enlarge
The chart below shows the yearly change in mortgage debt outstanding and the M2 money supply growth. Mortgage debt growth has generally exceeded that of M2 growth until the late 2000s.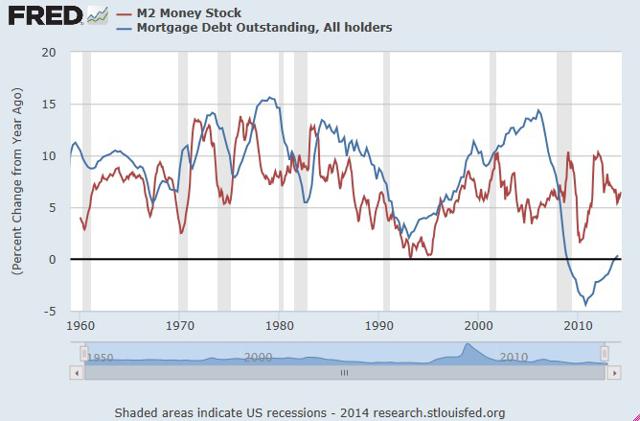 Click to enlarge
The chart below displays commercial and industrial loans for each dollar of M2 money supply. Historically the level of C&I loans per dollar of M2 money supply has been higher than current levels. Might financial institutions have pulled back from C&I loans to fund mortgage lending? Now that mortgage debt outstanding is in a near free-fall, might financial institution refocus upon the commercial and industrial loan sector to boost loan growth? If so, this could assist economic growth prospects.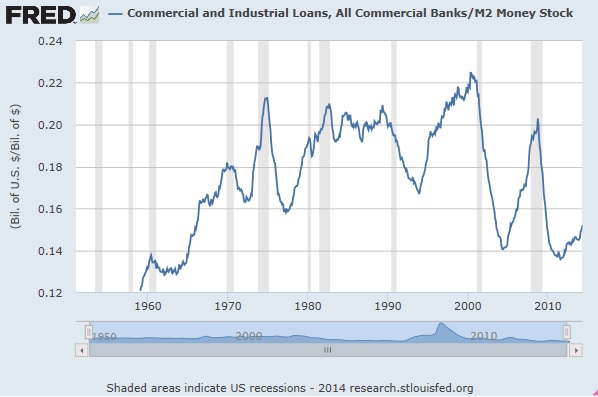 Average mortgage interest rate suggests lower reinvestment rates than earned on older mortgages. This may have an impact upon REITs and some financial institutions.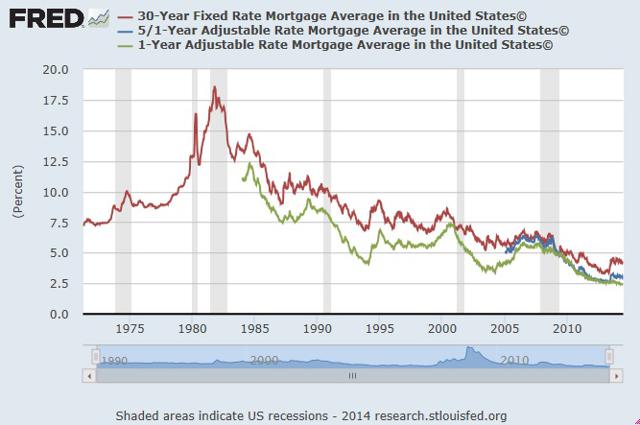 Click to enlarge
Key takeaways and thoughts on the future.
While mortgage debt outstanding has recently fallen sharply the relationship with M2 money supply remains on the historically elevated side.
Financial institutions and REITs may continue to feel pressure as the volume of mortgage debt outstanding contracts combined with a lower interest rate on newer mortgage paper.
I hear a commentator in cable news suggests that higher interest rates are needed to encourage businesses to undertake capital expenditures and or grow their business. It is unclear what financial model is being used as higher interest rates would increase hurdle rates reducing the number of capital expenditures than might be attractive. Higher interest rates could dramatically increase the cost of highly leveraged firms and pressure the bottom-line.
It is unclear how or why higher interest rates would increase the demand for mortgage credit. The decline in mortgage debt outstanding may be a function of an aging population and more risk adverse younger population. Without wage and or dividend income gains it is tough to see where the funds for debt service would be generated. Without a stable ability to service, debt the likelihood of increased debt use seems remote.
Disclosure: The author has no positions in any stocks mentioned, and no plans to initiate any positions within the next 72 hours. The author wrote this article themselves, and it expresses their own opinions. The author is not receiving compensation for it (other than from Seeking Alpha). The author has no business relationship with any company whose stock is mentioned in this article.