So far in 2014, shares of Bed Bath & Beyond (NASDAQ:BBBY) have fared quite poorly as the company has reported dissapointing results. However, due primarily to the drop in share price, I believe BBBY is now a good candidate for a leveraged buyout.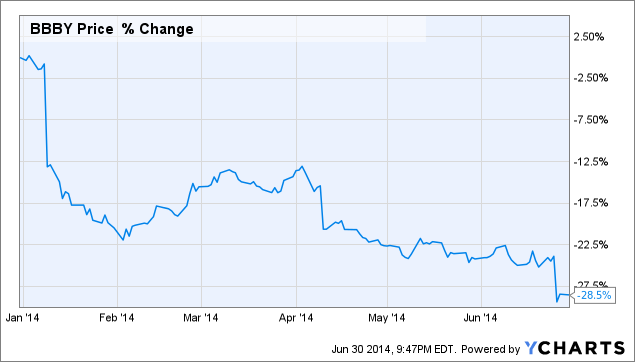 BBBY data by YCharts
Valuation
As shown by the charts below, based on multiple metrics, BBBY is trading at a very attractive valuation. Perhaps the metric that is most interesting is BBBY's current enterprise value (EV) to EBITDA ratio of 5.99. The main reason why this ratio is so low is the strength of BBBY's balance sheet. Currently, BBBY has no long-term debt. I believe this is an incredibly cheap valuation and should attract interest from private equity players. BBBY is also an attractive target based on PE ratio and price to free cash flow. BBBY's current valuation is even cheaper when growth is considered. Despite reporting weak results, BBBY still reported a 18.4% increase in EPS on a YoY basis as well as a 6% increase in revenue on a YoY basis. BBBY is cheap but the business is not in decline.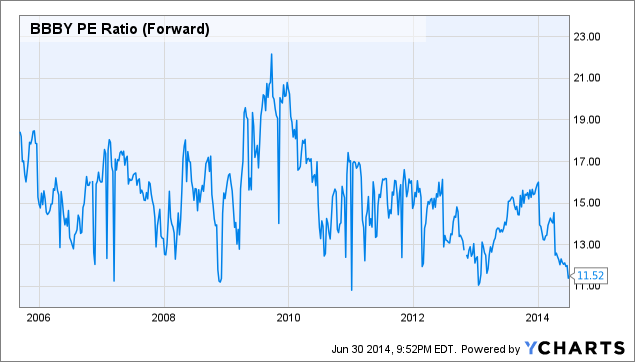 BBBY PE Ratio (Forward) data by YCharts
BBBY Price to Free Cash Flow (TTM) data by YCharts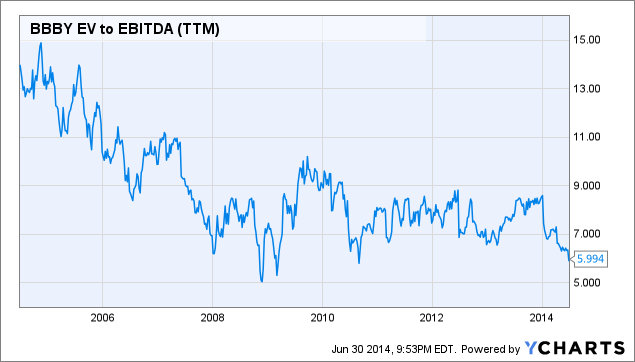 BBBY EV to EBITDA (TTM) data by YCharts
KKR Should Consider Leading Bed Bath & Beyond Buyout
KKR (NYSE:KKR) Co-founder and Co-CEO Henry Kravis has talked about the potential to make KKR look more like Berkshire Hathaway (NYSE:BRK.B) since KKR now has access to permanent capital because its shares are publicly listed. However, since coming public, KKR has yet to launch a cornerstone deal that will make it look more like Berkshire. I believe BBBY could be this cornerstone deal that changes the way KKR does business. I believe BBBY is particularly well suited for KKR because KKR already has significant experience with high profile retail LBO's such as Dollar General and Toys 'R' Us. KKR itself could fund the majority of equity needed for the BBBY deal by issuing stock and use its other capabilitties to help fund the remainder of the deal. Funds that KKR manages for investors could also be investors in the BBBY deal. Finally, KKR's in house operational team, KKR Capstone also makes KKR a logical manager of a long-term investment in a company such as BBBY.
Blackstone To Start Hedge Fund
Blackstone (NYSE:BX), one of KKR's main competitors, announced that it will once again attempt to start a hedge fund. This move does not come as a surprise as Blackstone has long talked about being the alternative investment solution as opposed to just a private equity focused investment manager. Blackstone's move is a part of a larger trend among the leading private equity players to diversify their business mix. Carlyle (NASDAQ:CG) and Apollo (NYSE:APO) have also pursued similar strategies by diversifying their business mix away from traditional private equity towards things such as credit funds. Apollo now has over $100 billion under management in credit funds. Blackstone has moved aggressively into the management of real estate funds and now has over $81 billion in real estate assets under management. KKR, on the other hand, has taken a more measured move to diversification and is still mostly a private equity manager. KKR recently announced it was closing its stock hedge fund. By doing a deal such as BBBY in a way such that KKR itself, not the funds it manages, is the major stakeholder has a way to shift the paradigm that currently characterizes KKR. As Blackstone, Carlyle, and Apollo look to become more like full service investment managers, KKR will begin to look more like a Berkshire Hathaway. A successful BBBY deal would be a blueprint for how KKR could acquire more companies down the road and emulate Berkshire's "perfect private equity model."
Buy Bed Bath & Beyond
While a deal may or may not materialize, I believe BBBY is an attractive long-term investment even if there is not an LBO. The reasons why I believe BBBY is a good long-term investment are basically the same reasons why I believe BBBY is a good takeover target: valuation. Simply put, I believe BBBY is too cheap right now and patient investors will be rewarded. While BBBY does not pay a dividend, the company does have an aggressive share repurchase program that I believe it will continue to expand. I believe the current valuation for BBBY is so cheap that the company should consider issuing a significant amount of debt to fund increased stock buybacks in excess of cash flow. Monsanto (NYSE:MON) recently announced a massive $10 billion buyback which the company plans to fund, for the most part, by issuing debt. Monsanto has a current market cap of around $65 billion so a $10 billion buyback amounts to roughly 15% of the shares outstanding. For BBBY, with a current market cap of $11.5 billion, a 15% share repurchase program would be about $1.75 billion. If a financial buyer does not emerge for BBBY, I believe the company should issue debt to fund a massive increase in its share repurchase program.
Conclusion
The amount of money that has been raised by private equity firms but has not been invested is currently sitting at record levels. However, with the equity market currently trading at all-time highs, there are relatively few companies trading at a valuation that would make an LBO attractive. Due to its cheap valuation, strong balance sheet, and good business, I believe BBBY is an attractive buyout target. In particular, I believe it would be a smart move for KKR to acquire BBBY. Even if a buyout does not happen, I expect BBBY shares will do very well over the next few years as BBBY stock moves back to reasonable valuation levels.
Disclosure: The author has no positions in any stocks mentioned, but may initiate a long position in BBBY over the next 72 hours. The author wrote this article themselves, and it expresses their own opinions. The author is not receiving compensation for it (other than from Seeking Alpha). The author has no business relationship with any company whose stock is mentioned in this article.