UR-Energy Inc. (NYSEMKT:URG) is a U.S. based uranium company. Aside from its main project, which is called "Lost Creek," it has interests in a number of projects in the U.S. and in Canada with land holdings comprising about 98,000 acres in the U.S. and around 140,000 acres in Canada. As the chart below shows, this stock had a major run from about the $1 level in January, to around $2 per share in March. It looks like investors got carried away on the upside at that time due to hopes for a rebound in uranium. However, the uranium rally fizzled out for a few reasons including the fact that a court in Japan ruled against an immediate nuclear restart in that country. However, the Japanese Government appears fully committed to resuming operations at its nuclear power plants and the court ruling was not a final decision, but more likely just a temporary setback. The problem for uranium and many other types of energy started when the financial crisis hit and everything from oil to natural gas to uranium plunged in value. Oil and natural gas have rebounded sharply in the past few years, but uranium has not, primarily because it was hit with yet another major blow. That was the Tsunami in Japan, which caused a nuclear crisis and reduced demand for uranium. However, it seems like it is now just a question of when-and not if-uranium prices will rebound. That means buying uranium assets now could be a great contrarian move, just like it was to buy shares of Bank of America (NYSE:BAC) or Genworth (NYSE:GNW), both of which traded at around $5 or less at the height of the mortgage crisis. Now both those stocks trade for about 300% more than that, which shows there is huge money to be made in buying out of favor assets. Let's take a look at the chart below and consider a number of other reasons why uranium prices are probably at rock-bottom levels and likely to rise. We can also review why shares of UR-Energy look like a classic buy low opportunity now, and why it could have very significant long-term upside.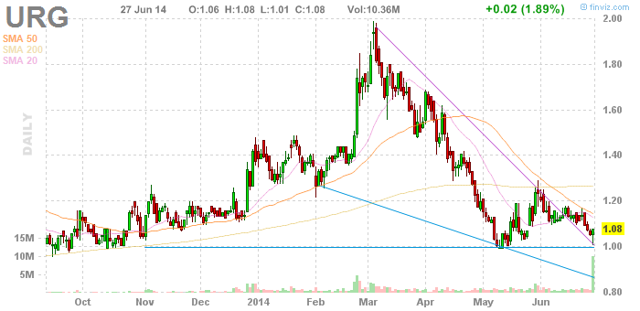 As the chart above shows, this stock was able to make a big move with just the slight hint of higher uranium prices, which occurred in March. This stock also made a huge move from about $1 in late 2010, to over $3 per share in just a few weeks' time. Once again, this shows the kind of upside potential this stock has when investor psychology changes for even a short time. Just imagine the run it could have when Japan's nuclear plants are once again in operation, and when a large number of nuclear plants which are currently under construction in China and other countries, also start using uranium. At that point, another surge in uranium like the one seen in 2007, which took the price to $135 per pound could be possible. Now, uranium trades on the spot market for just around $30 per pound, but that probably won't last too much longer because many nuclear plants are now under construction. That is why buying uranium assets while the price is still incredibly low could lead to major gains for investors. It's worth noting that a uranium company like UR-Energy has fixed costs and that every $1 rise in the price of uranium can produce an exponential gain in terms of the profit margins. Because of this, buying shares of UR-Energy for about a buck could be similar to buying an option that could produce multi-bagger gains in the future. If uranium prices were to rise back over $100 per pound, it would not be surprising to see this stock at about $10 per share, maybe more.
UR-Energy is expected to produce near break-even results this year and actually report profits in 2015, even with extremely low uranium prices. Since this company has already started production, and because it has revenues, which are expected to grow significantly over the years, it is no longer a development-stage company. This significantly lowers the potential risks for investors. If uranium prices drop substantially from current levels, that could be a potential issue, but it seems very unlikely that uranium prices could go lower, unless there were another major nuclear or financial crisis. With the global economy on the rebound, and with a number of new nuclear plants under construction, the most likely scenario is for energy and uranium demand to rise in the coming years. Another reason why potential downside risks appear low now is because multiple insiders have recently been buying even more stock at about $1.23 per share. Insiders usually know a company better than analysts and investors, so when multiple insiders buy even more shares than they currently hold, it is often a sign that the stock is a bargain.
These multiple insiders have recently been buying stock: On May 30, 2014, Wayne Heili (an officer) bought 50,000 shares for $1.23 each in a transaction valued at $61,500. In May, Jeffrey Klenda (an officer) bought 100,000 shares at $1.23 each in a transaction valued at $123,000. In May, Paul Macdonell (a director) purchased 30,000 shares at $1.23 in a deal valued at $36,900. When multiple insiders buy shares, it is often a sign that the stock is undervalued and likely to go higher.
After years of development, this company is now producing uranium. Operations at Lost Creek only began in August 2013, and the company has been delivering orders and generating revenues. The latest presentation from the company states it achieved its target production rate within the first two months of operation and that the daily recovery is exceeding 2,200 pounds, with an annualized rate of 800,000 pounds. The presentation also points out why uranium demand can rise significantly and soon. There are about 66 nuclear plants under construction, 160 more plants in the planning stages, and 319 nuclear plants under proposal around the world.
Shorts have been targeting the uranium sector due to the continued price weakness. However, it appears to be just a matter of time before there is another significant short-squeeze type rally like the one this stock had earlier this year, when it roughly doubled in value in just a few weeks. According to Shortsqueeze.com, nearly 10 million shares are currently short, and with average trading volume of about 980,000 shares per day, the current short position is equivalent to about 10 days' worth of trading volume. That is enough to put this stock in a position for a short-covering rally. I think it's crazy to be short a stock like this for $1, because this company is clearly viable with growing revenues. To be short at this level could create tremendous risk because a major rally may occur at any time. This could be caused by other shorts, positive news on Japan restarting nuclear plants, a rise in uranium prices caused by either natural demand or a production problem that spikes prices, or even a takeover deal for UR-Energy. To be short a stock near levels where multiple insiders were buying also seems to be a very high-risk situation for short-sellers.
This stock traded for nearly $2 not long ago on hopes that Japan would restart its nuclear plants. That shows how quickly this stock can move and that it has significant upside. An analyst at Raymond James described UR-Energy as a "top pick" for this sector and set a price target of $1.80 for UR-Energy. That would give investors upside of roughly 75% from current levels. In the long run however, the potential seems to be much greater. This stock clearly seems to be trading at rock-bottom levels now and with insiders buying, and the potential upside for this stock clearly outweighing the downside, it appears to be a classic buy low opportunity. Contrarians can make a fortune by buying when few investors are interested and that is why buying uranium assets on the cheap makes sense now. For another contrarian stock pick on a high-potential silver stock that is also priced like an option and could pay off big, read this article.
Here are some key points for UR-Energy, Inc.:
Current share price: $1.10 per share
The 52-week range is 92 cents to $1.99 per share
Annual dividend: n/a
Data is sourced from Yahoo Finance. No guarantees or representations are made. Hawkinvest is not a registered investment advisor and does not provide specific investment advice. The information is for informational purposes only. You should always consult a financial advisor.
Disclosure: The author is long URG. The author wrote this article themselves, and it expresses their own opinions. The author is not receiving compensation for it (other than from Seeking Alpha). The author has no business relationship with any company whose stock is mentioned in this article.