The market opened intensely on the upside today, as futures were indicating before the bell. All three of the indices opened to the upside, and QTR's entire big board was painted green - a good way to start the morning, even if some of my shorts inched upwards.
The sole standout on my big board, down all the way at the bottom, was MannKind (NASDAQ:MNKD), who recently had its inhaled insulin product Afrezza approved by the FDA. It had been my thesis leading up to the FDA approval that MannKind could potentially be a short-term short after approval, while the company got its act together and tried to get the sales horse to catch up to the market cap carriage.
Longs confused this with me "bashing" the company and pelted me with insults and ad hominem attacks on both Seeking Alpha and Twitter. Despite me noting that I'm long-term bullish on the company, I just can't seem to get in good with the MNKD crowd.
Oh, well. This is how MannKind looked in early trading this morning, compared to the way the indices were screaming out of the gate: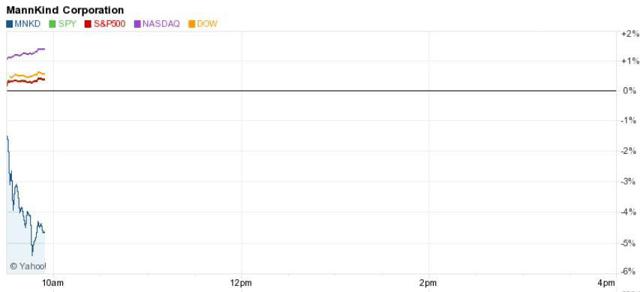 This morning's reality check is a result of an analyst downgrade, which itself is a result of the same type of skeptical "show me the money" thinking that shorts and skeptics of MannKind have been harangued for. Interestingly enough, QTR isn't the only one that thinks the cart may be out just slightly in front of the horse for MNKD trading at $11/share.
Again, I'm stating that I like Afrezza and I think that it's going to be an extremely helpful product in the future for a lot of people - but that doesn't justify a company with no pharma partner (yet) and no sales (yet) sporting a market cap that's over $4 billion.
MLV & Company downgraded the stock this morning, as reported by Ticker Report:
MannKind (NASDAQ:) was downgraded by stock analysts at MLV & Co. from a "buy" rating to a "hold" rating in a report issued on Tuesday, TheFlyOnTheWall.com reports. They currently have a $11.00 price objective on the stock. MLV & Co's price target would suggest a potential upside of 0.36% from the stock's previous close.

MannKind (NASDAQ:MNKD) opened at 10.96 on Tuesday. MannKind has a 52-week low of $3.80 and a 52-week high of $11.48. The stock's 50-day moving average is $9.2 and its 200-day moving average is $6.68. The company's market cap is $4.142 billion.

A number of other analysts have also recently weighed in on MNKD. Analysts at Brinson Patrick raised their price target on shares of MannKind from $12.00 to $15.00 in a research note on Monday. They now have an "outperform" rating on the stock. Separately, analysts at RBC Capital initiated coverage on shares of MannKind in a research note on Thursday, June 12th. They set an "outperform" rating and a $16.00 price target on the stock. Finally, analysts at Zacks reiterated a "neutral" rating on shares of MannKind in a research note on Wednesday, May 14th. They now have a $7.00 price target on the stock. One equities research analyst has rated the stock with a sell rating, four have assigned a hold rating and two have given a buy rating to the company's stock. MannKind presently has a consensus rating of "Hold" and a consensus target price of $9.36.
As you can see, the analyst estimates on MannKind offer up somewhat of a short-term sobering reality for those that are long the stock for the long term. Analysts' consensus seems to point to the fact that MNKD is saturated around the levels where it currently trades, which again goes to validate my argument that the FDA approval was priced in after the ADCOM vote sent shares spiking higher.
This downgrade comes on the heels of debate as to whether or not MannKind's label for Afrezza was a detriment to the potential partnerships and drug sales. That debate continues, with more than enough participants on either side of the coin.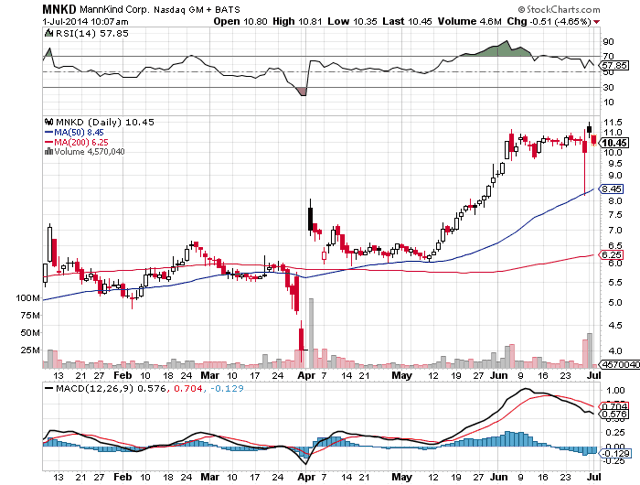 QTR looks at the above 6-month chart and thinks that MNKD may have a little bit of an issue eclipsing $11 for the long haul, and that shares may head down towards the $10 or $9.50 level before bouncing off of the short-term moving average, and then heading back towards where it is now. All the while that's happening, the company is likely to be "turning the wheels to make the deals", as they say - and hopefully giving longs some long-term good news with regard to a partnership or sales.
QTR remains cautious on MNKD for the short term, as I agree with the analyst sentiment out just this morning. I'm staying a little bearish on MannKind here and eagerly awaiting the next piece of news to come out of the company. I'm waiting for the company to show me a plan that's going to allow it to justify a $4 billion market cap.
MannKind, I'm all ears.
Best of luck to all investors.
Disclosure: The author has no positions in any stocks mentioned, and no plans to initiate any positions within the next 72 hours. The author wrote this article themselves, and it expresses their own opinions. The author is not receiving compensation for it (other than from Seeking Alpha). The author has no business relationship with any company whose stock is mentioned in this article.