Today, Chesapeake Energy Corp. (NYSE:CHK) completed a spin-off of its oilfield services business. This is now called Seventy Seven Energy Inc. (NYSEMKT:SSE); and it trades on the New York Stock Exchange under the ticker symbol SSE. Some investors may at first be upset or scared by the roughly $2 per share drop in CHK's stock price today (seemingly as a result of the spin-off). However, they should not be.
CHK shareholders were given one share of SSE for every 14 shares of CHK they owned. CHK closed June 30, 2014 at a price of $31.09 per share. As of 9:43 am in New York, SSE was trading at $23.77 per share. One fourteenth of this is about $1.70. If you subtract this -$1.70 per share from the June 30, 2014 closing price of CHK ($31.09), you get $29.29 (or very close to the price that CHK is trading at on July 1, 2014).
The spin-off of Chesapeake oilfield services is expected to be tax free to stockholders. It is also expected to reduce consolidated debt by about $1.1B. With about 648.87 million shares outstanding, this amounts to a benefit to the company of +$1.70 per share. In other words the stock now has reason to regain the price value that it has lost so far today. Few believed that before the spin-off Chesapeake Oilfield Services was worth the roughly $2.5B figure that Jeffries analyst Biju Perincherii suggested for it. At least the market did not seem to reflect that investors did. The spin-off has effectively "unlocked value" in Chesapeake Oilfield Services -- now Seventy Seven Energy .
Chesapeake Energy is a buy. It has racked up a large number of positives recently.
On May 20, 2014 CHK received a credit rating upgrade from Moody's of its Corporate Family Credit Rating (NYSE:CFR) to Ba1 from Ba2. CHK's senior unsecured notes ratings was upgraded from Ba3 to Ba1. Ba1 is the highest non-investment grade corporate bond rating Moody's gives. This is another positive for a company that has seen its cost of debt fall from 5.9% at the end of 2012E to 5.1% at the end of Q1 2014. This improvement saves CHK about $250 million per year.
On Analyst Day (May 16, 2014), CHK raised its FY2014 production outlook, while simultaneously announcing its intent to sell some producing assets. In effect this makes the production raise a much bigger raise than the numbers indicate. The table below summarizes the production guidance changes.

Click to enlarge
Significantly the raise in oil production alone amounted to about 1 million barrels per year. At $100 per barrel, this amounts to about $100 million in extra revenues. Further liquids are expected to be about 30% of production in FY2014. This is another raise to the percentage of higher revenue production.
This spin-off gets rid of a subsidiary that had become a drag on CHK. Seventy Seven Energy had a $70 million profit in 2012 to a -$20 million loss in 2013. With all of the new technological advancements in oilfield services, the company may have felt that dedicated management was needed to make the company competitive in its industry. Alternatively CHK may not have liked the outlook for the company. It has to compete going forward against the large oilfield services firms such as Halliburton (NYSE:HAL), Schlumberger (NYSE:SLB), Baker Hughes (NYSE:BHI), and Weatherford (NYSE:WFT), which have a plethora of the advanced "walking" rigs that are now used for pad drilling. These rigs can walk to a new site on the same pad without having to be torn down and re-erected. This often saves a company $500,000 to $1 million per drilled well. Other advancements that these rigs often have can also save money in both time and manpower. Many of them are more automated.
HK has benefited recently from higher natural gas prices in 2014 than those experienced in 2013; and these prices are expected to persist throughout FY2014. The higher prices will mean both higher revenues and higher reserves calculations. These last are most significantly done for the end of year report. In the US the reserves calculations are based to a large extent on the rolling twelve month average price of natural gas. This will be much higher in FY2014. Therefore CHK's reserves will be much higher, and its credit situation will improve further.
CHK will also benefit from higher oil prices. As of this writing on July 1, 2014, the Nymex price for WTI is slightly above $105/barrel. Many experts feel the fundamental prices should really be closer to $95 per barrel or below. This higher price is likely being mediated by geopolitical events and uncertainty in Libya, in Ukraine, and in Iraq and Syria. In fact the whole Middle East is currently being viewed as a powder keg with respect to oil.
The recent US Commerce Department ruling to allow Pioneer Natural Resources (NYSE:PXD) and Enterprise Products Partners (NYSE:EPD) to export condensates (ultra-light oil) to foreign countries should act to bring WTI prices more in line with Brent prices. In other words the ruling should tend to move WTI prices higher and Brent prices lower. Since most of CHK's oil is sold at WTI pricing, this too should tend to raise CHK's profits.
Beyond this there are all of CHK's positives that have been delineated in many previous articles about the company. One of these is, "Chesapeake Energy Is Finally Joining EOG Resources In Its Oil Success Story". An article that more fully describes the likely secular bull market in US natural gas prices that should benefit the second largest U.S. natural gas producer is, "U.S. Natural Gas Stores Are Dangerously Low, That's Good For Pipeline And Storage Companies".
CHK is a buy on fundamentals. The two year chart of CHK provides some technical direction for a trade.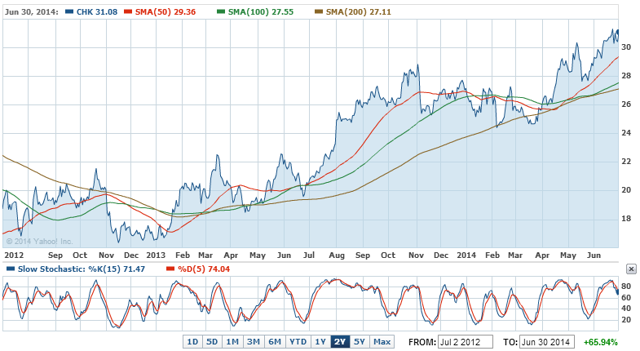 Click to enlarge
The slow stochastic sub chart shows that CHK is neither overbought nor oversold. The main chart shows that CHK is in an uptrend. This spin-off should just serve to help the company. It will decrease the debt. It will unlock value for investors. It will decrease the complexity of the company, which is something virtually all of the analysts have complained about for years. The decreased complexity should act to improve analysts opinion of the stock. Plus CHK still has huge prolific assets in some of the most greatest unconventional oilfields in the U.S. CHK is a buy both fundamentally and technically. The above spin-off should only help the company.
CHK has a PE of 22.78 and an FPE of 12.45. It has an average analysts' next five years EPS growth estimate per annum of 35.03%. This makes its PE and FPE seem very cheap. It even has seen insider net buying of 394,500 shares (+5.8%) in the last six months. It is a buy with a long list of positives. CAPS agrees with me with a four star rating (a buy).
NOTE: Some of the fundamental fiscal data above is from Yahoo Finance.
Good Luck Trading.
Disclosure: The author has no positions in any stocks mentioned, but may initiate a long position in CHK over the next 72 hours. The author wrote this article themselves, and it expresses their own opinions. The author is not receiving compensation for it (other than from Seeking Alpha). The author has no business relationship with any company whose stock is mentioned in this article.