2014 has been an extremely tough year for the restaurant industry as heavy competition and changing customer tastes led to slumping stock prices for many names in the sector. Yet while it has certainly been difficult as of late, a few companies are well-positioned for gains in this space, and may be ready to surprise investors in the second half of the year.
In particular, a small cap burger company based out of Colorado, Red Robin Gourmet Burgers (NASDAQ:RRGB), could be worth a closer look in this regard. RRGB has proven to be an all-star in earnings season, and there is plenty of reason to believe that this trend can continue in its upcoming earnings report too.
RRGB in Focus
In RRGB's last earnings report, the company easily beat the Zacks Consensus Estimate, outpacing this figure by about 12.3%. This reported EPS was also 24.2% higher than the year ago numbers, while revenues were also higher as well.
This strong earnings beat was a bit of a surprise since inclement weather was a culprit for the weak performances by many other companies in the space for the period. RRGB appears to be bucking the trend in the sector, and given its big expansion plans, it could continue to post strong results in the near term.
Earnings
But before investors think that the latest earnings beat by RRGB was a fluke, consider that the stock has beaten estimates in each quarter for the past three years, so clearly the company knows how to rise to the occasion. Plus, in the last four quarters, the average beat was about 13.15%, underscoring the fact that RRGB isn't just squeaking by, but is easily getting by the earnings estimate hurdles.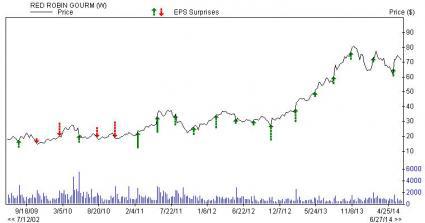 Yet despite this string of beats, RRGB stock hasn't really done very well, as the company is underperforming the S&P 500 on a YTD look. While Red Robin has edged out the benchmark index on a one year look, it has done so with significantly higher volatility, even with its great trend at earnings season.
Outlook
While the recent performance of RRGB has certainly been disappointing, there is some reason to believe that an end to this path is at hand. RRGB has big expansion plans and it is revamping stores as well, two factors which should help the company over the long term. And with rising average guest checks thanks to more premium items, the company is growing revenues even when foot traffic is flat.
Analysts have begun to take note of these trends—as well as RRGB's solid history at earnings season—and have begun to raise their earnings estimates for this stock lately. In fact, for both the current year and next year, not a single estimate has gone lower.
Growth rates for both of these time periods are also impressive, as EPS growth of at least 19% is projected for both time frames. Plus, given how little RRGB has appreciated so far in 2014 despite its promising outlook and beats at earnings season, and investors have to believe that RRGB could be a very interesting pick in the second half of the year.
Bottom Line
Thanks to all of these factors, we have a Zacks Rank #1 (Strong Buy) on RRGB. The stock is well-positioned in a tough industry, and it not only has great expansion plans, but it is doing an excellent job of making more off of the customers already coming through its doors.
So if you are looking for a top company in the restaurant industry, make sure to consider RRGB. The stock is the only company (at time of writing) in the 47 stock group that has a top rank, suggesting it is a best-in-class pick for the sector right now.