There are always issues, which arise when new industries move into areas where they traditionally did not operate. Sometimes the growth is so fast and spread among so many operators that standards are hard to develop and/or implement. That is the case with the oil industry in North Dakota and to a lesser extent in Ohio. Today we are going to focus on North Dakota as it is once again in the headlines due to its flaring laws and the continued use of flaring among its energy producers.
Chart of the Day:
Halcon Resources (NYSE:HK) is just another example of why it is important to have patience with your investments while also maintaining a timeline for events to play out. The company finally started delivering for shareholders and since then the stock has been on a tear, ripping upwards to fresh highs. Earlier this morning the company set a new 52-week high.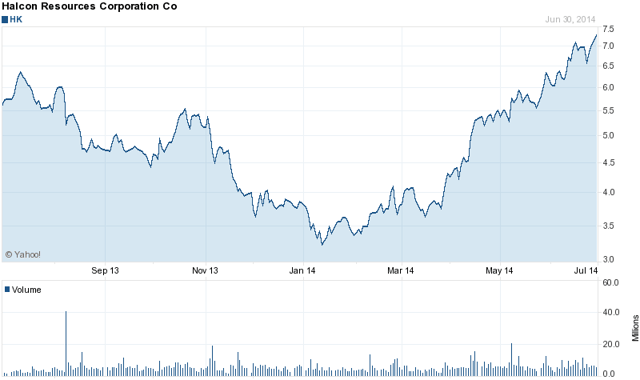 Click to enlarge
Source: Yahoo Finance
Commodity prices are as follows (at time of submission):
Gold: $1,327.70/ounce, up by $5.70/ounce
Silver: $21.10/ounce, up by $0.093/ounce
Oil: $105.08/barrel, down by $0.29/barrel
RBOB Gas: $3.0273/gallon, down by $0.016/gallon
Natural Gas: $4.445/MMbtu, down by $0.016/MMbtu
Copper: $3.204/pound, up by $0.0005/pound
Platinum: $1,509.50/ounce, up by $27.50/ounce
Flare-Up Continues In North Dakota
The headaches in North Dakota continue for the drillers up there, namely EOG Resources (NYSE:EOG), Continental Resources (NYSE:CLR), Exxon Mobil (NYSE:XOM), and Kodiak Oil & Gas (NYSE:KOG). Residents and some regulators in the state are upset that the industry continues to flare a good portion of the natural gas from the wells they drill instead of collecting and processing that production. Having followed the industry for years, we recognize the issues, which are preventing a large buildout of infrastructure, which could alleviate the need to be wasteful of a nonrenewable resource.
There are numerous parties at fault here, from the companies themselves, to regulators and even agencies of the federal government. New laws are helping to get the newest wells connected to infrastructure, which can transport the natural gas production to processing facilities but it will take years to get the needed collection/gathering systems and midstream assets in place to fully correct the problem.
The fact that companies are flaring is only part of the issue, the other key point is that some companies apparently are not paying landowners royalties for the natural gas production that they are flaring. There are cases being filed in North Dakota, and across the country, with lawyers seeking to get their clients compensated for production, which is being flared. Our guess is that a few losses by the oil companies could cause state governments to adjust state laws, which would then force the industry to look at gathering natural gas.
Moving forward the industry is going to be forced to step up their efforts to gather natural gas at the well and have it delivered to markets, but in many cases the problem should fix itself. As these wells decline in areas there will be greater capacity available to transport natural gas production, allowing more wells to be tied into gathering systems and cutting back on flaring practices. Look for this issue to continue to arise from time to time over the next two years or so with the industry making major steps to curb wasteful production methods after that.
Disclosure: The author is long HK. The author wrote this article themselves, and it expresses their own opinions. The author is not receiving compensation for it (other than from Seeking Alpha). The author has no business relationship with any company whose stock is mentioned in this article.