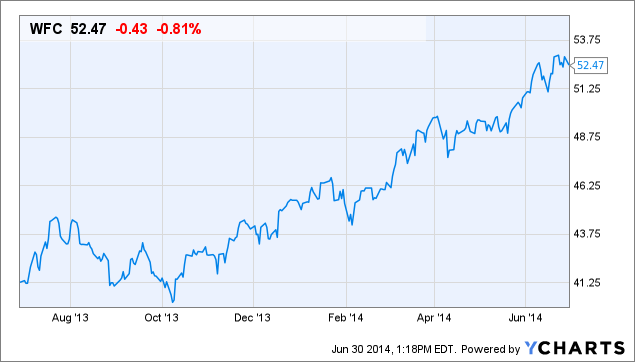 Background: Wells Fargo & Company (NYSE:WFC) is a diversified financial services company providing banking, insurance, investments, mortgage and consumer finance services. The company trades an average of 14.1 million shares per day and has a market cap of $276 billion.
52 Week Range: $40.07 to $53.05
Book Value: $30.48
Price To Book: 1.7
Strong second-quarter earnings growth is expected by Wall Street before the market opens on July 11, 2014. The consensus mean is $1.01 a share, a gain of 3 cents (3.1%) from 98 cents during the corresponding quarter last year.
Analysts' estimates this quarter range from 93 cents to a high of $1.06 per share. The whisper numbers I've looked at are a little higher in the $1.02 - $1.05 range.
Last quarter, the consensus estimate was 96 cents and the bank beat by 9 cents to come in at $1.05. Revenue expectations were on target, and Wells Fargo generated $20.6 billion, right in line with estimates.
Analysts are taking as much of a stand as many of our elected officials typically demonstrate on key issues. Hold ratings can indicate just about anything, however, I think of holds as one small step above sell ratings, and not in between a buy and a sell. It appears 17 out of 32 now rate the company a hold; while 14 recommend buying and 1 recommends selling.
During the last 30 days, Macquarie downgraded the bank from Neutral to Underperform and Citigroup reiterated its Neutral rating, but raised its price target from $53 to $56 a share.
The average analyst target price for Wells Fargo is $52.74 based on Yahoo Finance, $49.87 based on Analyst Ratings Network, and $52.95 according to The Wall Street Journal.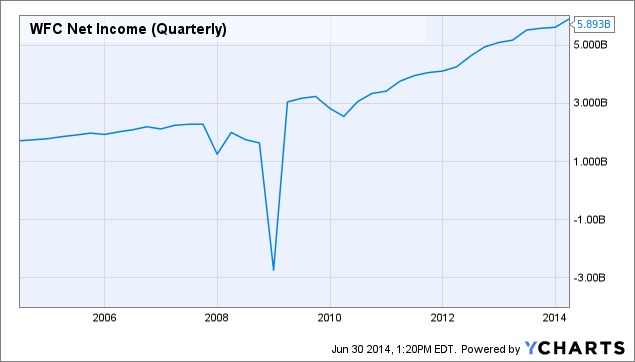 In the last 12 months, the shares had an incredible run and firmly moved higher. The one year return is an eye-popping 27% (plus dividends received).
I like to look at call and put option pricing to get an idea of what the market is expecting. The higher the premium, the more investors are bracing for a major price move.
Option premium tells us that the market is pricing in a 3% or about $1.39 move in the next 11 days.
That means, as a shareholder or potential investor, you should expect the stock to trade as low as $51.51, or pop higher to $54.29 while remaining within one standard deviation.
If you're not already prepared for such a broad move (and there's no guarantee it won't move beyond the expected range), you can look to either sell covered calls or buy puts (assuming you're long) to protect yourself.
After last quarter's 9 cent beat, the shares only increased a small amount immediately after. The closing price was about $47.71 before the earnings release and the following closing price $48.08.
Based on last quarter's beat, current price, option premium, and overall market volatility, I believe it's better to sell covered calls instead of buying protective puts for shareholders seeking protection into earnings. Option premium is rich relative to what investors should reasonably anticipate.
| | | | | |
| --- | --- | --- | --- | --- |
| | | | | |
| Strong Buy | 6 | 7 | 4 | 10 |
| Moderate Buy Buy | 8 | 14 | 10 | 15 |
| Hold | 17 | 7 | 13 | 5 |
| Moderate Sell Ratings | 1 | 1 | 1 | 0 |
| Strong Sell Ratings | 0 | 0 | 2 | 1 |
| Avg Analyst Price Target | $52.74 | $58.21 | $17.19 | $64.15 |
| Revenue | $83.83 billion | $76.77 billion | $88.09 billion | $95.47 billion |
| Est Low EPS | 0.93 | 0.96 | 0.24 | 1.16 |
| Est High EPS | 1.06 | 1.30 | 0.36 | 1.59 |
| 1 Year Stock Price Change | 27.90% | -2.30% | 18.56% | 9.60% |
Compared to Citigroup, Bank of America, and J.P. Morgan, Wells Fargo is my favorite bank. It didn't require a bailout during the financial crisis, much less a massive one that nearly wiped out shareholders. The above chart with comparative stock performances says it all.
While it has some regulatory mortgage issues to work through, I believe it's more of a witch-hunt by regulators smelling blood in the water than actual wrongdoing by the bank.
Shareholders receive $1.40 annually in dividend payments. That makes the yield a very attractive 2.6%.
That said, as much as I like Wells Fargo, I would be amiss if I didn't point out that the monthly price chart is extended and appears near a plateau soon. Of course, soon on a monthly chart could mean three or more months from now and another 20%+ share price rise.
However, analysts obviously cover the bank extensively, and they're not exactly tripping over each other to upgrade and raise their price targets.
If you're already thinking of taking some money off the table, now may be an appropriate time, or better yet, sell some in-the-money calls and capture the rich option premium and let the expected option exercise be your exit strategy.
Disclosure: The author has no positions in any stocks mentioned, and no plans to initiate any positions within the next 72 hours. The author wrote this article themselves, and it expresses their own opinions. The author is not receiving compensation for it (other than from Seeking Alpha). The author has no business relationship with any company whose stock is mentioned in this article.