What Avigilon Does
Avigilon (OTCPK:AIOCF) is a Canadian company that designs and manufactures high-definition (HD) surveillance megapixel cameras as well as HD network video management software.
The company is focused on innovation and creating a new breakthrough in surveillance by designing and manufacturing HD surveillance cameras that boast the world's best image quality.
Avigilon's surveillance systems are "open", allowing the company's clients to create a completely customized surveillance solution that is powerful, scalable, and cost-effective.
Avigilon designs and manufactures its own
HD megapixel cameras
Avigilon Control Centre software
Surveillance network recorders
Analog video encoders
Accessories
Presently, Avigilon manufactures all of its products in its 56,000 sq ft. facility in Richmond, BC, Canada. With the present equipment, this facility has the capacity to take the company to $500 million in revenue by the end of 2016. The key benefits of manufacturing their products in Canada are higher quality control, innovation can be brought to market faster, and more secure protection of IP.
Avigilon's Growth Story
The company launched its first commercial surveillance system in 2007. Since its first full year of sales in FY2008 to the end of FY2013, the company's compound annual growth rate (CAGR) is 102%. This growth has not come at the expense of EBITDA and profits, as the company has also experienced significant growth in those two metrics over the same five-year period.
FY2013 saw the company achieve revenue growth of 78% and net income growth of 201% over FY2012. The fourth quarter of 2013 was a record for Avigilon as the company experienced its best quarter ever, with revenue of $55.9 million. This represented a 71% increase over Q4 2012.
The company markets and sells its products and systems worldwide and in 2013 its revenues were very strong across all regions, which include Canada, US, UK, EMEA, Asia Pacific, and Latin America. Revenue growth per region increased from between 63% to 98% over 2012. Impressive indeed!
Three factors continue to drive this growth.
Expansion of the company's sales team into new regions and adding new sales people in existing regions to increase market penetration.
Increasing the size of the product development team in order to increase the speed with which new products are brought to market.
Increasing brand awareness through increased marketing and promotion.
Here are some FY2013 numbers to sink your teeth into:
Revenues: $178.3 million (78% increase over 2012)
Net income: $21.5 million (201% increase over 2012)
Basic income per share: $0.54
Diluted income per share: $0.53
Avigilon Continues to Shine In Q1 2014
The first quarter results clearly demonstrate that the company's growth strategy is working. Following are the highlights of the first quarter.
Revenue: $55.1 million (74% increase over Q1 2013)
Net income: $8 million (286% increase over Q1 2013)
Diluted income per share: $0.19 compared to $0.08 in Q1 2013
Working Capital as of March 31, 2014: $112.3 million
Alexander Fernandes, founder, president, and CEO of Avigilon said: "The first quarter of 2014 was an excellent start to the year for Avigilon…reflecting the continued successful execution of our growth plan. We continued to grow our team globally, especially in sales, marketing, and product development, to drive continued growth. The quarter was also highlighted by important new product innovations, including our next-generation HD Pro series of cameras, and Access Control Manager (ACM) 5.0. In addition, we completed the acquisition of VideoIQ and are on track with the integration of its operations and technology. Subsequent to quarter end, we launched Avigilon Control Center (ACC) 5.2, and strengthened our balance sheet by completing a bought deal financing for gross proceeds of $100 million." (the company issued 3,448,220 common shares at $29.00 per share)
Looking Ahead In 2014
The company will make significant investments this year to expand its sales reach, speed up innovation and build brand awareness. The management team believes this is going to drive continued revenue growth. However, it's important to note that "as the necessary investments are incurred in advance of associated revenue, these initiatives are expected to put pressure on the company's EBITDA and net earnings."
Of course, this should not come as a surprise to investors. It's prudent to keep in mind that the company's growth target is to achieve an annual revenue run rate of $500million by the end of 2016. And the company's mission is "to be one of the world's largest security companies by providing our customers with superior protection created through innovation." Obviously, this will require significant investment in sales, marketing, and innovation.
The Market
The market for the type of security products Avigilon designs and manufacturers is both large and growing. IHS Research estimated the surveillance market to be $12.6 billion in 2012 and that it will grow to $23.2 billion in 2016.
If Avigilon achieves its target of $500 million in revenues by the end of 2016, that would only represent about 2.5 percent of the total market. Doubling that share of the market to 5% would mean Avigilon achieving $1.1 billion in revenues. How quickly could the company achieve that potential?
Although that's difficult to predict, consider the areas where security and surveillance are needed.
Stadiums/arenas
Hospitals
Critical infrastructure
Airports
Ports
Retail
Banks
Offices
Law enforcement & prisons
Casinos
Public transportation
School campuses
And these needs are only going to increase as time goes on. With Avigilon's superior software, cameras and end-to-end HD security solution and proven (to-date) growth strategy, it's not inconceivable that the company could continue to achieve compounded annual revenue growth rates north of 100% per year, meaning that the company could achieve $1billion in revenue by the end of 2017.
The chart on Avigilon seems to indicate that from a technical perspective, now is a good time to think about purchasing the stock as it bounced off of its 50-day moving average. Its RSI is turning up and so is the CCI at the bottom of the chart.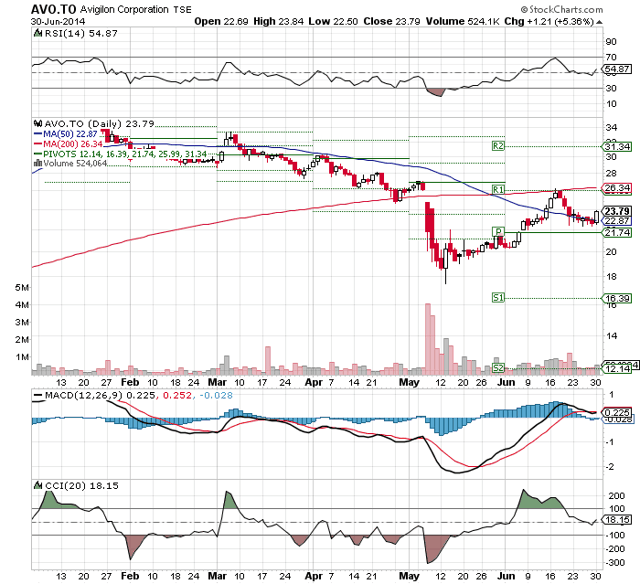 According to Yahoo Finance, of 9 brokers covering the company, 1 rates it as a Strong Buy, 7 rate it as a Buy, and 1 rates it as a Hold.
I am not a registered investment advisor and therefore I would highly recommend that you visit the company's website so that you can do your own DD. Nevertheless, I believe this company is going to experience explosive growth and may be a great choice for growth orientated investors.
Disclosure: The author is long AIOCF. The author wrote this article themselves, and it expresses their own opinions. The author is not receiving compensation for it (other than from Seeking Alpha). The author has no business relationship with any company whose stock is mentioned in this article.