Electronic Arts (ERTS) and Activision (NASDAQ:ATVI) are gearing up for war.
On Tuesday, EA will release the newly-revamped Medal of Honor in an effort to disrupt Activision's industry-leading Call of Duty franchise, which will see its latest edition, Black Ops, drop on November 9th.
Now in doing research for a recent article, I noticed that both companies are engaged in some funny business with the way they're using Google's (NASDAQ:GOOG) Adwords and Youtube advertising programs.
Look at this screen grab (click to make bigger) of a Google search I performed for "Call of Duty":

Click to enlarge
See anything funny?
Well, just look at the right side of the screen under "Sponsored Links." That top link directs you to the official Medal of Honor site.
In other words, EA bought advertising against the search term "Call of Duty" in order to divert attention to the new Medal of Honor game.
But wait, it gets better.
Let's see what happens when we search for "Medal of Honor" on Youtube: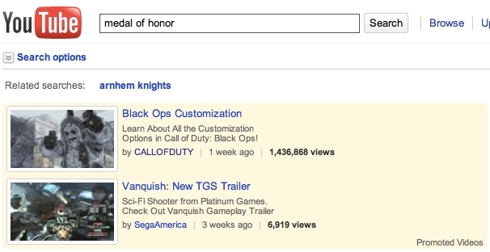 Click to enlarge
Yes, that's right - that top sponsored link directs people to Activision's Call of Duty Youtube channel.
So Activision is playing the same game - it bought Youtube ad space to direct people interested in EA's Medal of Honor to its own Call of Duty game.
What's next? Will Activision reps show up at GameStop (NYSE:GME) and bribe people to cancel their Medal of Honor pre-orders?
Is this unethical? I'm not sure - but I'm laughing at both these companies right now.
P.S. I could use some more followers on here, just click the follow button under my picture on the left side.
Disclosure: No positions