While DSW (NYSE:DSW) stores might be a fashionable place to pick up a new pair of shoes, the stock probably doesn't look great in your portfolio. The company has been under severe competitive pressure this year, while unfavorable weather trends haven't helped matters either.
In fact, shares of the embattled retailer have plunged by about 35% YTD, including a 20% slump in the past quarter alone. The vast majority of these losses came following a terrible earnings report from DSW in which the company both missed estimates, and showed a 16% earnings slump year-over-year.
DSW Earnings
For the most recent earnings report, DSW posted earnings of 42 cents a share, missing the Zacks Consensus Estimate of 48 cents a share. While this miss was obviously unwelcomed news, the real pain arguably came from news that comparable store sales were declining at a rate of 3.7% year-over-year, while the firm also expects comparable store sales to decline by a low single-digit rate this fiscal year too.
And thanks to these declining comparables, the company gave earnings guidance of between $1.45-$1.60/share for fiscal 2014. But since the Zacks Consensus Estimate was at $1.89/share before this report, investors sold-off shares of DSW in droves while analysts raced to slash their full year estimates on this stock as well.
Recent Estimates
Estimates have actually moved universally lower in the past two months in response to this DSW news, pushing the company's growth rates deep into contraction levels. The company is now poised to see earnings fall by 36% for the current quarter (year-over-year), while current year earnings are expected to contract by just over 19%.
This analyst bearishness is especially apparent when investors look to the magnitude of the latest earnings estimate revisions. The consensus for the current quarter has fallen from $0.47/share 60 days ago to just $0.31/share today, while current year consensus has tumbled from $1.89/share 60 days ago to just $1.51/share today, underscoring the dramatic shift in expectations for this stock in the past two months.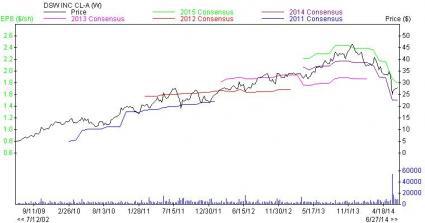 Outlook & Other Stocks
Given this extremely poor trend and the intense competitive pressures, it shouldn't be too surprising to note that DSW has earned itself a Zacks Rank #5 (Strong Sell) and that we are looking for more underperformance from this stock in the second half of the year.
For investors looking for better options though, this weakness in the retail-apparel shoe space is pretty prevalent across the sector, as the segment currently has a Zacks Industry Rank in the bottom 20% overall. However, there are two #1 Ranked stocks currently in the segment, out of 40 in total, and these could be worth a closer look.
Both Christopher & Banks (NYSE:CBK) as well as Citi Trends (NASDAQ:CTRN) receive Zacks Ranks #1 (Strong Buy) and they each crushed earnings estimates in their last reports. So if you are looking for top picks in this competitive segment, either CBK or CTRN could make for interesting choices, and especially so when compared to the embattled DSW.