Markit Ltd. (MRKT) - Buy Recommendation - Price Target $28.50
The 25 day quiet period on underwriter research related to MRKT will conclude on July 13, allowing the firm's IPO underwriters to release research reports on July 14. The firm has maintained impressive income figures throughout this growth, bespeaking solid management. MRKT's solid list of underwriters should boost the stock's price at the quiet period expiration, opening a buying opportunity for investors.
The 25 day quiet period on underwriter research related to Markit Ltd. will conclude on July 13, allowing the firm's IPO underwriters to release research reports on the global financial information services provider.
The publication of the reports will likely lead to at least a brief increase in the price of MRKT shares.
Little Change Since IPO
MRKT's upsized IPO priced at $24 per share, the midpoint of the expected price range. The stock enjoyed a first day return of 11.3%, but has since seen little change, holding between $26 and $27.50 per share. MRKT closed at $26.98 per share on June 30.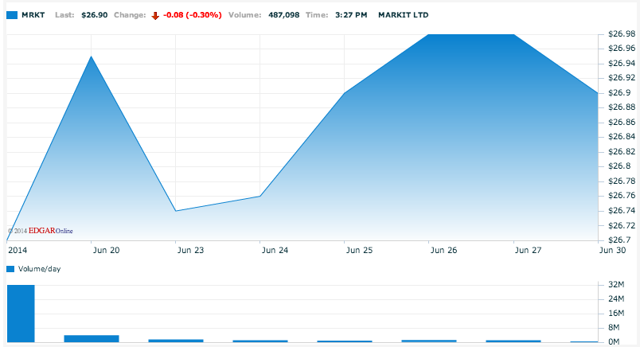 (Nasdaq.com)
Strong Underwriters Could Attempt To Re-Invigorate MRKT At Quiet Period Expiration
MRKT's IPO underwriters, including Barclays Capital Inc; Credit Suisse Securities LLC; BofA Merrill Lynch; Citigroup Global Markets Inc; BNP Paribas Securities Corp.; Goldman, Sachs & Co; Deutsche Bank Securities Inc; HSBC Securities Inc.; Jefferies LLC; J.P. Morgan Securities LLC; Morgan Stanley & Co. LLC; RBS Securities Inc; RBC Capital Markets, LLC; TD Securities LLC; and UBS Investment Bank will attempt to reinvigorate the stock through the release of positive research beginning with expiration of the quiet period.
Several academic studies support the above hypothesis.
The Journal of Finance (VOL. LVIII, NO. 1; 2003) describes how purchases made by experienced investors in anticipation of positive analyst reports can lead to rising share prices days before the quiet period has expired.
Lead author Dan Bradley, PhD, CFA, affiliated with the University of South Florida, and colleagues explain that analysts immediately initiate coverage for 76% of firms at the conclusion of the quiet period, nearly always with a "Buy" or "Strong Buy" rating. Firms with coverage initiated enjoy abnormal positive returns of 4.1% two days before and two days after initiation.
The work of Carter, Piwowar, and Strader (2001) supports Bradley's conclusions, finding that the mean analyst rating at the expiration of the quiet period is a "Buy," with higher returns correlated to higher ratings. Returns have also been found to increase significantly when coverage is initiated by more than one analyst-to 6.4%.
The early purchases create a perception of increasing demand, leading share prices to rise ahead of the expiration of the quiet period and providing a short-term buying opportunity.
Bradley et al also note a significant correlation between the reputation and number of IPO underwriters and a rise in share prices with the conclusion of the quiet period.
The data generated over our past three years of research align with these academic publications.
The Market For MRKT: An Overview of The Financial Information Industry
MRKT provides financial information services and products like trading and valuation services, pricing and reference data, indices, enterprise software, and trade referencing. MRKT's customers include over 3,000 institutional organizations such as banks, hedge funds, regulators, and corporations; users include traders, portfolio managers, risk managers, researchers, and other capital market professionals, as well as operations, compliance, and data managers.
MRKT categorizes its business into three distinct divisions, which it denotes as its Information, Processing, and Solutions divisions. The Information division provides products and services for valuations, research, trading, and risk and liquidity assessments to assist customers in analyzing markets, pricing instruments, and complying with regulations. The Processing division offers trade processing solutions for foreign exchange, OTC derivatives, and syndicated loans, allowing swift transaction confirmation. The Solutions division provides hosted custom web solutions, enterprise software platforms, and managed services.
The vast majority of MRKT's business is generated through European and American users, with some 40.3% of revenue generated through European customers and some 49.9% of revenue generated through American customers for calendar 2013.
See our previous article for further details.
Competitors With Long-Standing Customer Relationships
MRKT various divisions face a wide variety of competitors, including some of which have lengthy relationships with MRKT's potential customers.
Competitors for the Processing division include IntercontinentalExchange (NYSE:ICE), Bloomberg, and Traiana Inc. Competitors for the Information division include FactSet (NYSE:FDS), Thomson Reuters Inc (NYSE:TRI), Bloomberg L.P., and Interactive Data Corporation. Competitors for the Solutions division include IBM (NYSE:IBM), Deloitte, GoldenSource, and Intralinks Holdings, Inc (NYSE:IL).
Management Highlights
MRKT's founder Lance Uggla serves as the firm's chairman and CEO. He previously served as Head of Europe and Asia and Global Head of Credit Trading for TD Securities.
Mr. Uggla holds a BBA from the Simon Fraser University and an MSc from the London School of Economics.
Conclusion: MRKT A Buy At QP Expiration
MRKT is a well-established firm with an excellent recent track record of revenue growth; the firm posted revenues of $762.5 million in calendar 2011, $860.6 million in calendar 2012, and $947.9 million in calendar 2013.
The firm has maintained impressive income figures throughout this growth, bespeaking solid management.
Though its market performance has hardly been explosive thus far, we believe that MRKT merits investor consideration as the quiet period expiration approaches-and suggest this event as a buying opportunity.
We invite readers wishing to join the discussion on IPO Quiet Period Expirations to click the +FOLLOW button above the title of this article-and those looking for the latest updates to click +Get real time alerts.
Disclosure: The author is long MRKT. The author wrote this article themselves, and it expresses their own opinions. The author is not receiving compensation for it (other than from Seeking Alpha). The author has no business relationship with any company whose stock is mentioned in this article.