Renhuang Pharmaceuticals, Inc. (NYSEMKT:CBP) is engaged in the research, development, manufacturing, and distribution of botanical products, bio-pharmaceutical products, and traditional Chinese medicines ("TCM"), in China. All of the company's products are produced at its three GMP-certified production facilities in Ah City, Dongfanghong and Qingyang. The company distributes its botanical anti-depression and nerve-regulation products, biopharmaceutical products, and botanical antibiotic and OTC TCM's through its network of over 3,000 distributors and over 70 sales centers across 24 provinces in China.
In July 2010, Renhuang's common stock began trading on the NYSE Amex under the ticker symbol "CBP".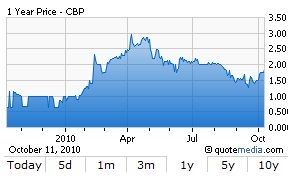 That same month, the company was awarded an AAA(1) rating by Chinese Academy of International Trade & Economic Cooperation of Ministry of Commerce ("the Academy"). The Academy's ratings are conferred only after an extensive review of an enterprise's financial condition and an AAA(1) mark represents the highest possible rating granted by the Academy. The appraisal process involves evaluation of bond management, corporate debt, contract execution, public records, financial status, and financing abilities of each enterprise and is conducted independently by the Academy. The AAA(1) rating certifies that the enterprise has outstanding performance in each of the above areas and is highly recognized by consumers and the government as practicing sound commercial practices.
"It is a great honor and a significant achievement to receive an AAA(1) rating from the Academy," said Mr. Shaoming Li, the Company's Chairman and Chief Executive Officer. "We are pleased that our improved governance measures and strong financial controls have been validated by the Academy's intensive appraisal process. We believe this will reinforce the investment community's confidence in our business and growth prospects as we continue to expand our national and international sales."
In September Renhuang affirmed its fiscal 2010 guidance for net sales in the range of $54.7-$55.6 million, which represents a 26% to 28% increase over reported revenues of $43.4 million in fiscal year 2009. The company continues to expect fiscal 2010 net income, excluding any non-cash, non-operating gains and expenses (such as the change in fair market value of warrant liability), to be in the range of $18.6-$18.9 million, up 26% to 28% from net income of $14.8 million in fiscal year 2009.
Fourth quarter sales and net income are expected to exhibit strong growth, as it is historically our outstanding quarter with peak sales primarily driven by the beginning of the flu season.
Renhuang expects sales of its leading Siberian Ginseng products to expand as it benefits from further market penetration and the company's rapidly growing new products to continue their growth momentum driving future revenue and net income growth. Renhuang plans to terminate sales of Shark Vital Capsules by the end of the fourth quarter of 2010 and launch its new product, Badger Oil -- a natural medicine for the treatment of burns with no known toxic side effects or allergic reactions -- in the same period. The company also launched Qing Re Jie Du Oral Liquid, a TCM for the treatment of influenza and upper respiratory infections in June 2010 and Compound Schisandra Tables in July 2010, a new all-natural anti-depressant and nerve regulation product.
"During the current Spring and Autumn season, China battles with influenza (or common flu), which drives up the sales of our Banlangen Granules and Compound Honeysuckle Granules. These products have established a strong market reputation due to their high-quality and performance," added Mr. Li. "We will continue to maintain our focus on botanical anti depression and nerve regulation products, and invest in research and development of these products. Our target is to become the leading pharmaceutical company in botanical anti depression and nerve regulation medicine in China. In addition to focusing on organic growth, Renhuang continues to actively evaluate external growth opportunities through strategic acquisitions."
Applying the mid point of the 2010 year end net income guidance implies fourth quarter net income will reach $6.5 million or EPS of $0.17. CBP reported 2009 fourth quarter EPS of $0.16. EPS for 2010 could come in around $ 0.50, which leaves us with an astonishing P/E below 4. They are now trading at $ 1.86 just above book value ($ 1,67). At this moment it is the cheapest stock in the China pharma space.
Disclosure: Author is long CBP