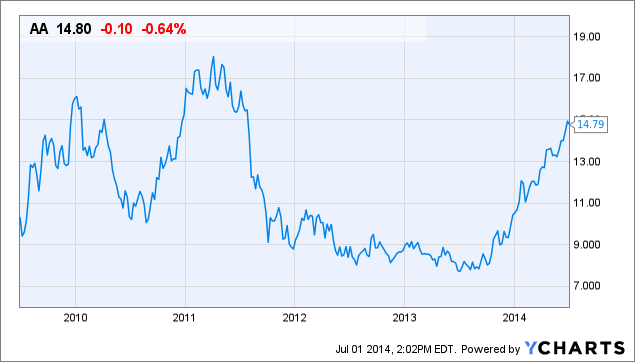 Background: Alcoa Inc. (NYSE:AA) is the world's leading producer and manager of primary aluminum, fabricated aluminum and alumina facilities, and is active in all major aspects of the industry. The company trades an average of 11.5 million shares per day and the market cap for the company is $17.3 billion.
52-Week Range: $7.63 to $15.18
Investors are looking forward to improving second-quarter earnings after the market closes on July 8, 2014. The consensus opinion is presently 12 cents a share, a progression of 5 cents (71.4%) from 7 cents during the corresponding period last year.
Whisper numbers I've read range from 12 cents to 15 cents. That means Alcoa will need to deliver a significant beat and or guidance increase to push the shares higher with any conviction.
Estimates from analysts range from a low of 9 cents per share, up to the highest estimate of 16 cents per share. If earnings come in as expected or higher, this quarter will not only beat the same period last year, but also last quarter's 9 cents per share. The odds favor a meet or beat, in the last three years, Alcoa has only missed twice.
Analyst opinion is mixed. Most of the analysts surveyed don't believe a buy or a sell should be made at this point. As I write this, Alcoa has 6 buy recommendations out of 18 analysts covering the company, 11 holds, and 1 recommends selling.
For a company analysts are mostly rating a hold, the stock really skyrocketed, almost doubling with a gain of 90% from a year ago.
Analysts continue to have their doubts. The average analyst target price for Alcoa is $13.32 on analyst Ratings Network, and $13.57 on The Wall Street Journal. Both are below the current price. S&P Equity Research downgraded the metal maker to a Strong Sell only a few days ago on June 27th. On the same day though, ISIS Group reiterated its Buy rating and RBC Capital raised its price target from $15 to $16.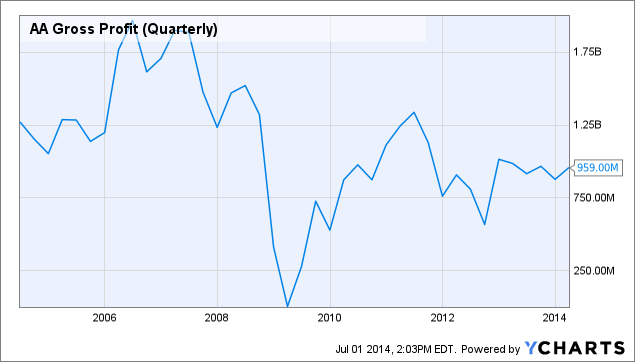 Sterne Agee also raised its price target on June 27th, increasing it from $15 to $18, the highest price target I read. In other words, depending on the analyst(s) you follow, Alcoa may have another 25% to go in the next year, or may drop 25%.
There's good reason for analyst's to remain cautious. Electric power rates appear to be at a cusp of rising significantly. New EPA rules with coal powered electric plants means fewer coal powered electricity available and higher electric costs (not only for Alcoa, but pretty much everyone).
Making the aluminum for all the six-packs is energy intensive and higher utility expenses places a significant forward-looking headwind on the industry. Last quarter's results were favorably impacted because energy cost estimates proved too high. If you're currently a shareholder, you will want to monitor developments carefully, if not already.
On the flipside of the rising energy coin, higher fuel standard requirements increases the incentive for automakers to replace steel with aluminum. Also, aluminum warehouse stock levels have fallen and the spot price held an average price higher this last reporting quarter versus the previous sequential quarter.
Evaluating the options market can clue us in on what the overall market is expecting, or at least what others are preparing for. The contracts expiring immediately following the earnings release are the options in play for earnings.
Based on option premium today, the market is pricing in a 6% or about a 96 cent move in the next 18 days.
That means, as a shareholder or potential investor, you should anticipate the stock to trade as low as $13.93, or jump higher to $15.85, and still remain within one standard deviation. If you're not already prepared for such a broad move (and there's no guarantee it won't move beyond the expected range), now is the time to get ready.
The weekly chart appears extended, not surprising considering the fantastic move higher in the last 12 months. Otherwise, the daily is solidly within a bull trend.
Perhaps the most concerning metric I follow is the short interest. 6% of the float is shorted, and short sellers are generally the smart money. That said, short interest is falling, and the last two reported levels are the lowest in a year.
Disclosure: The author has no positions in any stocks mentioned, and no plans to initiate any positions within the next 72 hours. The author wrote this article themselves, and it expresses their own opinions. The author is not receiving compensation for it (other than from Seeking Alpha). The author has no business relationship with any company whose stock is mentioned in this article.