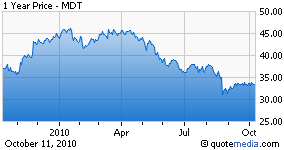 Persuasive arguments, even ones that continue to make sense, can go out of favor for just about any reason - and sometimes for no good reason whatsoever.
Consider the school of thought that once drove the valuations of medical device companies: we're all getting older. The Baby Boomers are nearing retirement and needing everything from artificial joints to new heart valves. We have 77 million of these folks hitting that stage of life, as our first Baby Boomer turns 65 this year. And over the next 20 years, the number of U.S. citizens age 65 and up will double to 79 million.
Such demographics notwithstanding, the argument for medical device demand is apparently no longer valid, at least relative to the stock market's current valuation of the industry. Go figure.
To be sure, there is plenty to worry about in this industry, given health care reform, product recalls and a challenging FDA approval process. Yet there are many reasons to be optimistic about a growing industry relatively unaffected by a tough economy.
Since the "aging Baby Boomer" theory held sway, the medical device industry has only expanded. Medtronic (NYSE: MDT), Minnesota's premier medical device company, has increased everything from their revenue and reputation to their products and pipeline. Yet MDT and other medical device companies have seen their stock valuations drop right off the operating table.
Medtronic is the largest publicly traded company in their industry with approximately $40 billion in market capitalization and $16 billion in annual revenue. Currently that puts MDT trading at 2.4 times sales. Back in 2000, when that "we're all getting older" theme was popular, it traded as high as $60 a share – that's 12 times sales and 50 times forward earnings. Today the stock trades in the mid-$30s at about 10 times forward earnings. That makes MDT more of a "value stock" - meaning it is currently priced more in relation to its balance sheet than its growth potential. That's why we own this stock in our Core Equity portfolio.
Medtronic, as well as other health care companies in Minnesota, such as St. Jude Medical (NYSE: STJ), Synovis Life Technologies (NASDAQ: SYNO) and UnitedHealth Group (NYSE: UNH) are all operating in an uncertain environment. A $20 billion annual excise tax on the medical device industry begins in 2013 – a tax that will have an estimated $150-$200 million impact on Medtronic. That's a real cost, however the expansion of health insurance benefits to an estimated 40 million people (albeit many of them children) could increase demand to help offset that tax. Moreover, the excise tax increases the barriers of entry for start- ups.
Medtronic is no start-up, of course. From its beginnings as a cardiac rhythm management company, Medtronic has grown to seven substantial operating segments: Its core Cardiac Rhythm Disease Management division is accompanied by divisions for Spinal, Cardiovascular, Neuromodulation, Diabetes, Surgical Technology and Physio-control. The two fastest-growing divisions receiving the most R&D funding these days are Neuromodulation and Diabetes.
Neuromodulation is a cutting-edge technology that uses implantable products to perform what's referred to as "deep brain stimulation". This targets debilitating diseases such as Parkinson's syndrome, with potential for treatment of depression and other mental health issues.
Medtronic entered the diabetes segment of the market in 1991 with the acquisition of MiniMed, Inc., a leading manufacturer of insulin pumps. Medtronic now has 30 percent of the U.S. market in Type-1 diabetes patients (childhood and adolescent-onset), but less than 5 percent for Type-2. Type-2 diabetes generally occurs later in life and is closely tied to obesity, an epidemic in the U.S.
Another key growth division is spinal products, as still-active Baby Boomers nurse their aching backs. In addition to being a demographic play in the U.S., Medtronic projects that its revenue from emerging economies will grow from a current 7 percent of sales to 20 percent. Beyond their existing businesses, Medtronic's venture portfolio has invested $320 million in 60 companies, many of them Minnesota-based.
So let's review: Global leader in medical technology. Improving health for millions around the world. Past and potential growth with proven demand. We're still getting older. And the stock trades at ten times earnings. Although investment rationales come and go (as do companies for that matter), many fundamental investment rules still apply. Call me old-fashioned. For long-term growth investors, there appears to be an opportunity right in our own backyard.
Disclosure: Author owns MDT in his Core Equity portfolio.
Disclaimer: The information set forth herein has been derived from sources believed to be reliable, but is not guaranteed as to accuracy and does not purport to be a complete analysis of the securities, companies or industries involved. Stock investing involves market risk including loss of principal. Past performance is no guarantee of future results. Opinions expressed herein are subject to change without notice and are for general informational purposes only and not intended to provide specific advice or recommendations for any individual. To determine which investments and strategies may be appropriate for you, please consult with Marks Group Wealth Management or another trusted Investment Adviser.