Team Macro Man was surprised to see that the renowned dove, Jenet Yellen, in her first speech as Fed Vice Chairperson chose to warn about the dangers of policy being too loose. As we noted last week, the QE2 mania has permeated many asset classes with anything from 350 Gigadollars to 1 Terradollar or even more. The question is, with these numbers flying around whether it is possible for there to be an upside surprise in terms of QE announced?
Team Macro Man notes that historically, the Fed have argued that they do not wish to be seen as monitizing the Federal debt, and as such, a ceiling at the level of net issuance is appropriate. Given that hard limit, Team Macro Man is beginning to wonder if QE2 is the appropriate name. It certainly seems as if the trade is so crowded that the lifeboats have had to be ditched to make room. And that, all of a sudden, makes it look more like the Titantic...has an iceberg been spotted?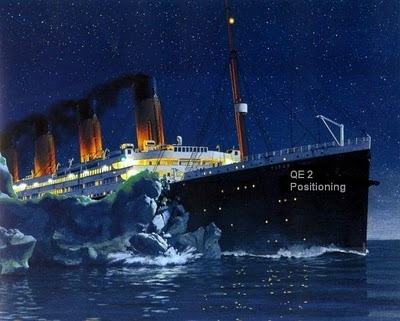 As has often been the case in the "macro is everything" world post-2008, correlation has been comically tight amongst thematic trades. Look no further than Fortescue (OTCQX:FSUMF), an Australian iron ore producer for an AUD proxy. Long term pricing for iron ore by most analysts worth their salt is 50% down from here which makes this all the more remarkable: if this company hits its numbers then iron ore demand has to go up a lot at at time when China is planning on reorienting its growth path to less fixed asset investment.
Similarly, those in the know aren't arguing about whether AUD is fair value but more just how many sigmas worth of deviation we are looking at here. Team Macro Man's estimates range from 1.7 to 3. Hardly a great long term buy unless you really think the USD is going down the toilet, in which case there are better things to buy.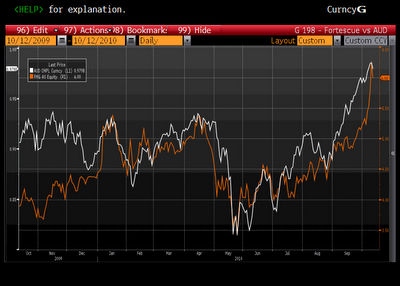 (Click to enlarge)
It is Team Macro Man's view that once again, people's risk models may not be picking up just how much risk they have on and how correlated their books may have become. Which means that those riding the QE2 might want to look at alternative transport or at least know where the lifeboats are.
Disclosure: No positions