We're always happy to spread the word about an interesting opportunity that might otherwise go overlooked.
As of now, Heritage Insurance Holdings, Inc. (NYSE:HRTG) looks like a good bet for people who appreciate low-profile stocks with indisputably strong fundamental values. This is also a good pick for investors not held completely in thrall to the cult of IPOs.
Though this insurance firm's IPO did not meet expectations, this probably says more about the unpredictability of Wall Street than it says about Heritage Insurance. The company's performance to date has already outlined a fairly convincing case for investors.
In the near future, developments are likely to further prove the growing relevance of Heritage Insurance Holdings.
Overview of HRTG's Business and Performance To-Date
A Florida-based firm, Heritage Insurance is involved in both insurance and reinsurance.
With a focus on residential property insurance and casualty insurance, Heritage is poised for an impressive future after a lukewarm IPO on May 22. The company was expected to achieve a first-day share price of at least $14 but only managed $11. At the end of the first trading day, Heritage had only achieved a modest return of less than five percent.
By June 30, HRTG had risen slowly and steadily to a closing price of $15.21 per share.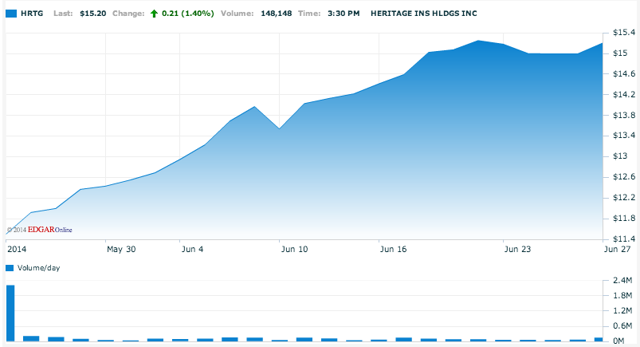 Click to enlarge
(Nasdaq.com)
This alone demonstrates that investors are gradually recognizing the burgeoning potential of this company.
However, HRTG's rise to date is only a preview of the stock's potential future performance. Like any number of historical examples, HRTG is a slow-burning stock that seems poised to take flight with steady assurance.
Positive Reports At Quiet Period Expiration
With the end of the firm's mandated quiet period on June 17, Heritage could be entering a new era of share price appreciation. The underwriters of the HRTG IPO unveiled very positive results of their research and the roots of their faith in the future of this company. These underwriters include such prestigious names as Citigroup Global Markets Inc.; Dowling & Partners Securities LLC, JMP Securities LLC, Sandler O'Neill & Partners, L.P.; SunTrust Robinson Humphrey, Inc.; and Willis Securities, Inc.
James Naklicki, CFA and Citi analyst unleashed his report, "HRTG: A Diamond In The Rough - Initiating With a Buy Rating and a $19 Price Target" at 5:04am on June 17. Naklicki expects HRTG's book value to almost double by the end of 2016, with an expected total return of 32%, and net income tripling over the next three years to approximately $105 million in 2016 from $34 million in 2013.
JMP Securities' analysts Matthew Carletti and Christine Worley also project gross written premium growth of approximately 70% in 2014 and 50% in 2015. SunTrust Robinson Humphrey looks for a 19% ROE this year and 27% for next year, implying stock appreciation of 46%. SunTrust gives a $21 price target.
Citi believes the stock is materially undervalued, trading at an approximate 23% discount to its peers. According to analyst Naklicki, this discount is likely being driven by Heritage's relatively unproven track record, which should be erased as the company's growth strategy plays out.
We agree with the above reports and would add that, being based in Florida and having observed the housing market for a major part of the last 25 years, while many new and renovated homes are including protections for levels of tropical storm damage, few are ever hit.
Thus, as Heritage fundamentally grows, it is entering into what we perceive as a very favorable and lower risk market than investors might at first assume.
Favorable Market Conditions
On June 16, Heritage made an announcement that further bolsters its image as a insurance company to watch.
According to the announcement, a recent court order mandated Heritage to take over 35,000 policies from SSIC, a Florida insurer currently in liquidation. The announced transition is scheduled to take effect on June 27. Affected policies cover a gamut of properties from homes to commercial spaces and condominiums.
Both JMP Securities and Citi describe how HRTG is picking up more policies from its largest competitor, state-owned Citizens, which is depopulating to reduce its FL exposure. This pattern will likely continue to 2017 at least.
"From a macro-perspective," JMP securities analysts note, "as the reinsurance sector remains strained, the focus is shifting toward primary insurers [Heritage writes only primary insurance.]...these companies are seeing a better market environment."
Grounded In Strong Financials
As Heritage takes on this influx of new policies, it shows the confidence of a company with sure footing. With $125 million in surplus and $85 million in reserve equity, Heritage is free of the nagging debts that so often bring promising organizations to their knees.
This responsible fiscal posture adds credence to the company's professed faith in its management team. On average, each member of the 20-strong Heritage management team has 24 years of insurance experience. While experience alone isn't enough to guarantee success, it can go a long way towards signaling long-term security.
Company Organization Poised For Success
Heritage has a management team, which has steered the company toward growth in many segments, including residential, other P&C lines, and geographically.
As a vertically-integrated insurance company, Heritage Insurance can comprehensively control most aspects of its own operational evolution.
As it handles sundry tasks like actuarial analyses, underwriting and claims adjusting, Heritage is well able to reduce inefficiencies that can vex less versatile insurance companies.
At the end of March, Heritage was responsible for roughly 140,000 insurance policies. As Heritage grows by leaps and bounds, the company is well-poised to better establish a brand that is still unfairly uncelebrated on Wall Street.
Strong Yearly Results
For the year ending on January 1, 2014, Heritage reported a net income of over $34 million. Add to this the fact that the company has no outstanding debt and one is presented with a picture of company well-equipped to handle any growing pains.
Risks
As it is competing with large national insurance firms, Heritage Insurance faces competitors with ready access to large reserves of financial resources. In light of this reality, it is all the more important for Heritage to live up to its reputation for financial probity.
A bad hurricane season in Florida will always pose significant risk for Heritage's business and bottom line, if the company is forced to cover a majority of its customers; however, as we noted above, this is a far lower risk than many perceive.
Conclusion: Strong Buy
Whether looking for a long-term winner or a simple medium for short-term profits, HRTG is a stock to watch.
Since its IPO, intelligent investors have caught on to HRTG's growth, industry niche, and favorable regulations in Florida.
If the weather holds, this is a stock to hold as well.
HRTG is set to report its next quarterly earnings around August 1, 2014.
We invite readers wishing to join the discussion on Heritage to click the +FOLLOW button above the title of this article and those looking for the latest developments to click the +Get real time alerts.
Disclosure: The author is long HRTG. The author wrote this article themselves, and it expresses their own opinions. The author is not receiving compensation for it (other than from Seeking Alpha). The author has no business relationship with any company whose stock is mentioned in this article.