The very fact that Arena's (NASDAQ:ARNA) Belviq is being re-launched by marketing partner Eisai (OTCPK:ESALY) tells a bigger story than most will openly discuss, but the re-launch of Belviq starts on July 1st, and the street will certainly be watching things closely. Investors are already aware that 200 added sales reps start today, but the rest of the re-launch is a wild topic of discussion. On one hand, we have those that defend the Eisai launch and feel that bringing a drug to market is a long process. On the other, we have investors that are highly critical of the initial launch and the failure to get sales figures anywhere near the expectations outlined by Eisai in May of 2013. In addition, we have analytical data that demonstrates that the initial trajectory of drug sales in the first months establishes the likelihood of whether or not that drug will become a blockbuster.
July 1st represents the beginning of the second commercial year for the anti-obesity drug, Belviq. Just prior to the Belviq launch, and at the Eisai annual meeting held in May of 2013, the CEO of Eisai spoke to a sales goal of $200 million by March 31st of 2014. Within months of the launch, it became quite clear that $200 million was not in the cards. In fact, $100 million was not in the cards either. Instead, gross sales came in at about $45 million between the June 7th 2013 launch and the end of Eisai's fiscal year on March 31, 2014. It should not be a surprise that Eisai recently spoke about re-launching the product, given that the initial launch fell about $155 million short of the initial goals. Some investors would rather see those initial expectations swept under the rug and pretend that they never existed. Savvy investors see the patterns that brought about the slow launch and watch closely to see if the same dynamics continue with the second launch.
There are essentially three critical components to seeing sales gain traction.
Insurance coverage
Doctor awareness and willingness to prescribe
Patient demand
Each of these elements has many sub-parts, but the bottom line is that a successful launch (the type initially projected by Eisai), or a successful re-launch, requires that all three of these components be successful. We have seen insurance coverage accelerate faster than what Eisai initially projected. That is good news. We have not seen doctors jump on board with more and more doctors willing to write scripts. Increasing sales reps from 400 to 600 should help get even more doctors on board. What we have not seen is consumers bringing about big demand. The sales levels did increase with initial advertising, but is the advertising as effective as we would like to see? In my opinion, the ad campaign may be more critical than some think.
In the advertising world, there is a wonderful service called iSpot.tv. With the iSpot service, investors can track just about anything relating to advertising. The service is designed for the advertising world, but translates very well to savvy investors. If you are invested in any product that advertises on television, you can really drill down into some great information. What if I told you that the Belviq television advertisement launched 2.5 months ago, and has already aired almost 2,300 times on a national basis and another 200 times in strategic markets? What if I told you that over $2.500,000 has been spent on television ads? What if I said that the advertisement has been seen on 49 networks and over 600 shows? These statistics may well impress some people, but the story is much deeper. An example would be the spending that Weight Watchers, Jenny Craig, and others in the sector are doing. I can tell you that these companies spend more on overall campaigns, and spend more on prime time advertising.
If you ask an Arena investor to be honest about how they feel about the launch, most every one of them will say, "It has been slower than we would like". Some will add to that statement by saying, "It will take off soon when Belviq/phentermine or Belviq and smoking cessation happen". Others will add that "The clock is ticking, and they better get this re-launch right". With all of that in mind, I thought it might be prudent to take a look at the television ad campaign statistics and see where we are today, so that we can track what improvements need to be made. Who knows, Arena may even use this data to apply some pressure on Eisai.
My biggest issue with the ad campaign on television is that most of the commercials air when people are sleeping. Another concern is the glaring lack of prime time advertising. Now, in fairness to Eisai, it does have a limited budget to work within. That being said, it needs to really kick-start sales if it wants to meet longer-term projections. The market for anti-obesity is expanding. Vivus' (NASDAQ:VVUS) Qsymia, which had a 9-month head start, is still outselling Belviq. Orexigen (NASDAQ:OREX) is about 2 months away from what many feel will be FDA approval for Contrave. Novo Nordisk (NYSE:NVO) is seeking FDA approval for stronger form of Victoza, a diabetes drug that has weight loss as a side effect. Zafgen (NASDAQ:ZFGN) is in early trials for beloranib, and Rhythm is in the midst of trying to enter the market as well. If you have not figured it out yet, this market will get pretty crowded over the next couple of years. Eisai and Arena do not really have the luxury of a slow launch. It is actually getting more and more critical that Eisai CREATE THE MARKET, rather than wait for it.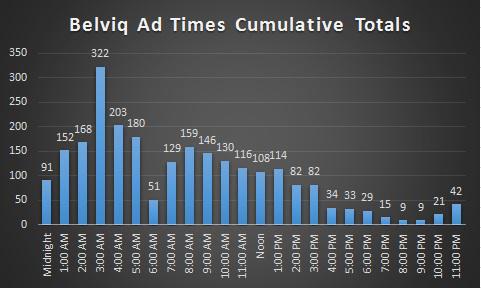 (Chart Source - Spencer Osborne, from data compiled by iSpot.tv)
In the cart above, you can see that since launch, the most frequent hour for the Belviq commercial is between 3:00 and 4:00 AM. The second most popular slot is 4:00 AM, with the third being 5:00 AM. In fact, about HALF of the commercials aired since launch have been between the hours of 12:00 midnight and 5:59 AM, while prime time advertising is virtually non-existent. As an investor, I understand that there is a budget that needs to be considered, but perhaps more prime time ads are necessary, coupled with fewer middle-of-the-night airings. Scripts have been almost flat for 4 weeks now. Yes, there was a holiday during that period, but the second half of the year is going to have at least 6 holidays to contend with, and sales need to show decent traction for the remainder of the year. I am not a marketing person by trade, but I think that 2.5 months of "night shift" advertising has had its opportunity to prove itself, failed, and something more should be on the table with the re-launch. If I were Arena management, I would be asking Eisai pointed questions about what market research has led to buying half of the ads in the middle of the night, when looking at the fact that the advertising of established players in the weight loss space does not carry a similar practice. Simply stated, we are two years removed from FDA approval, and have one year on the market. We should be seeing more. The fact that the word re-launch even comes into the equation is unacceptable, and Arena management owes its shareholders a marketing partner that is held accountable rather than parroting excuses after excuses. Is that statement harsh? Yes. It was designed to be. The first half of the year will deliver about $40 in gross sales. Arena should be asking what the plan is to deliver $80 million in the second half of the year.
As investors, we do not get to see regular updates on the insurance front. We also do not get to see the number of doctors visited, number of doctors writing scripts, or get an insight into what the objections are. We do get to see the sales numbers. We can track television adverting, and we can look at trends on the web and with social media. These are the tools that retail investors have to assess how the situation is going, and it is better to be ahead of the curve, if possible. The dynamic in this space has a very real potential to change in a dramatic manner when the FDA issues its decision on Orexigen's Contrave. If Orexigen's partner, Takeda, puts the rumored 900 reps on the street, the Arena story could shift faster than many may think. I am not saying that Contrave is any better or worse than Belviq, but instead, recognizing what a large, experienced, and motivated sales force can do.
In the very near term, we have the 4th of July holiday coming up that will likely be a negative week on scripts. Typically, the anti-obesity sector peaks in June and then loses traction through December. What the street will be looking for is the degree that the growth curve slows. In my opinion, $100 million in gross sales for 2014 is pretty well done a deal. The key now is seeing $125 million or more, so that this equity can appreciate. Before closing, Arena does have a pipeline that is in early stages. There is potential there. It is simply my opinion that the valuation of Arena is currently tied to Belviq and sales. I look for a rough start to July, and feel that the assessment of the re-launch will begin to formulate by early August. If demonstrable changes are not seen in advertising and sales, I feel that the equity could get into rough waters. Stay Tuned!
Disclosure: The author is long ARNA. The author wrote this article themselves, and it expresses their own opinions. The author is not receiving compensation for it (other than from Seeking Alpha). The author has no business relationship with any company whose stock is mentioned in this article.
Additional disclosure: I have no position in Eisai, Orexigen, Vivis, Zafgen, or Novo Nordisk
Editor's Note: This article discusses one or more securities that do not trade on a major U.S. exchange. Please be aware of the risks associated with these stocks.