U.S. railroads represent the ultimate in wide-moat stocks, a category of transportation infrastructure that can't on a practical basis be reproduced and which become more valuable as the economy grows and as national and international shipping and trade grow. That's why Warren Buffett's Berkshire Hathaway (NYSE:BRK.B) bought one of the best railroads, BNSF, or Burlington Northern Santa Fe.
For Norfolk Southern (NYSE:NSC) and CSX (NYSE:CSX), which cover similar route systems across the Eastern part of the country, the economy's growth hasn't fully been reflected in their results because their biggest customer is the coal industry, and it's shrinking rapidly. Electricity generated by coal fell almost 25% between 2007 and 2012, before rising slightly last year, while cheaper natural gas enjoyed a roughly 33% increase in use for electricity generation during that period, according to the U.S. Energy Information Administration. Tightened emissions standards are also leading to coal power plant shutdowns.
Coal accounts for nearly 25% of revenue at Norfolk Southern and CSX. So, the railroads had to scare up a lot of increased business from manufacturers and other shippers over the last couple of years just to keep revenue sliding sideways, while Union Pacific (NYSE:UNP), which operates in the West, enjoyed stronger revenue growth. As we wrote earlier this year, Union Pacific outperforms BNSF of late.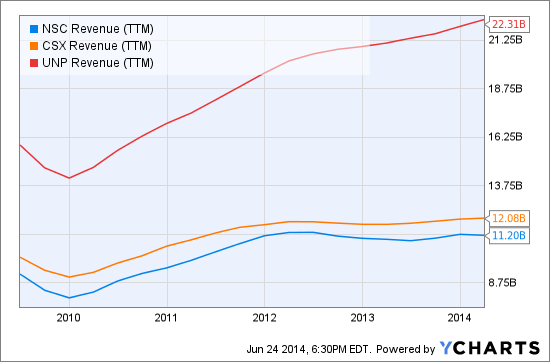 NSC Revenue (TTM) data by YCharts
But there's good news for the Eastern railroads. First, coal's reduced role makes them less vulnerable going forward to further deterioration in coal shipments. Second, the expected completion of the expansion of the Panama Canal late next year should bring increased shipping traffic to ports along the Eastern Coast, where Norfolk Southern and CSX have strong market share. Third, continued growth in the U.S. economy is expected to push up shipping volumes by chemical, agricultural, automotive and manufacturing industries, further boosting the non-coal work at Norfolk Southern and CSX.
Analysts see Norfolk Southern EPS rising from 2013's $6.04, fully diluted, to $6.28 this year and $7.12 next year.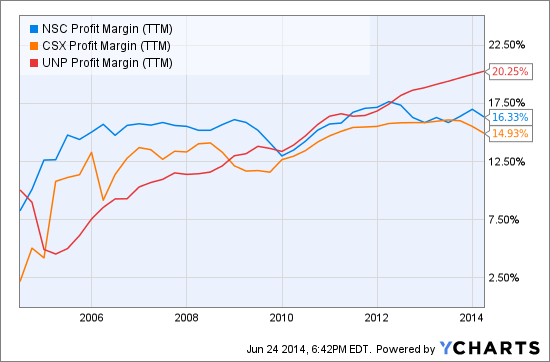 NSC Profit Margin (TTM) data by YCharts
Despite coal's troubles, Norfolk Southern and CSX have put up impressive results over the past decade. With heavy fixed costs, the railroads all enjoy widening margins in an up economy.
There's also financial leverage, as stock buybacks reduce shares outstanding, sending EPS up faster than net income, which rises a lot faster than revenue.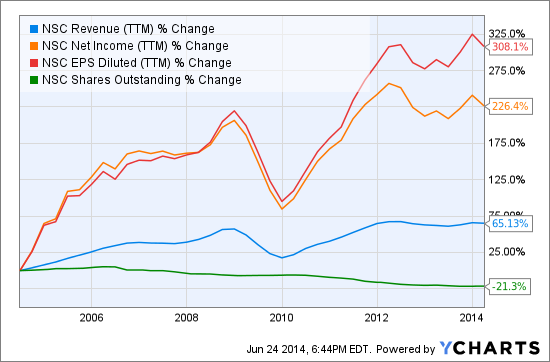 NSC Revenue (TTM) data by YCharts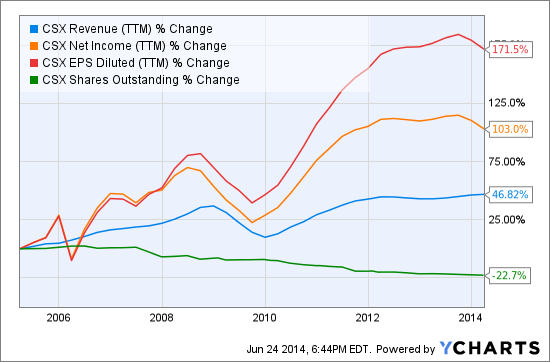 CSX Revenue (TTM) data by YCharts
The dividend yields at Norfolk Southern and CSX are just a tad above 2%, but the attraction here is dividend growth. Payout ratios are in the 35% neighborhood.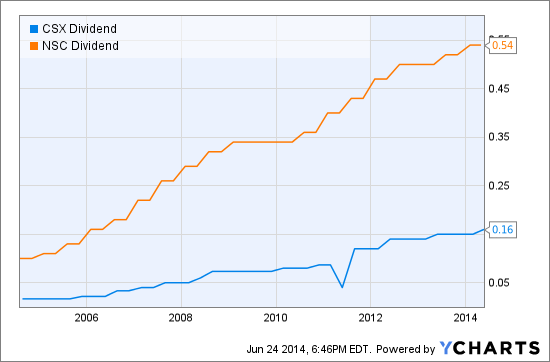 CSX Dividend data by YCharts
Both companies suffered tough first quarters this year, when the cold and snowy winter slowed down operations and cut into shipping volumes. But they're expected to make up for lost time the rest of the year.
The Eastern railroads are reasonably priced for wide-moat companies.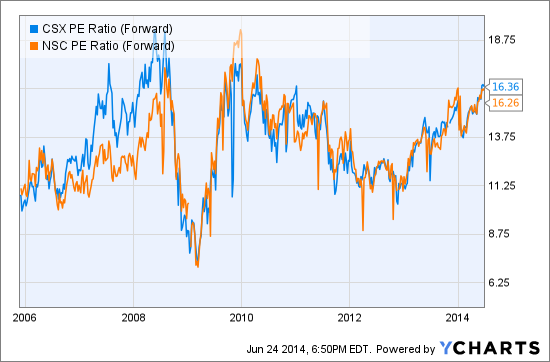 CSX PE Ratio (Forward) data by YCharts
Jeff Bailey, The Editor of YCharts, is a former reporter, editor and columnist at the Wall Street Journal and New York Times
Disclosure: None