Yesterday afternoon GM (NYSE:GM) shares were briefly halted from trading as the automaker announced it would be recalling another 7.6 million vehicles. Monday's announcement brings GM's total yearly recall count to about 26 million automobiles. At what point do we just say that GM is recalling all of its cars? GM only sold an annual average of 9.4 million cars globally over the previous 3 years.
GM is now beginning to single-handedly approach the yearly recall record set by the entire auto industry in 1999 of 58.4 million vehicles. The latest estimates have GM incurring a cost of $1.2 billion to fix vehicles recalled in its second fiscal quarter of 2014 alone.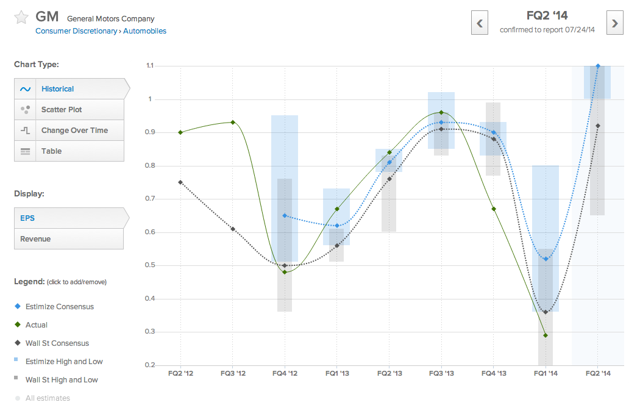 Click to enlarge
Click here for chart source.
GM's $1.2 billion charge will not show up directly on the Estimize.com platform because GM will report the recall repair costs as a one-time charge for accounting purposes. One-time charges are not included in non-GAAP EPS numbers because non-GAAP earnings figures supposedly exist to reflect the company's earnings excluding special one time only events. With additional recalls being announced almost every month, it begs the question, should GM be allowed to label its recall costs a one time charge or not?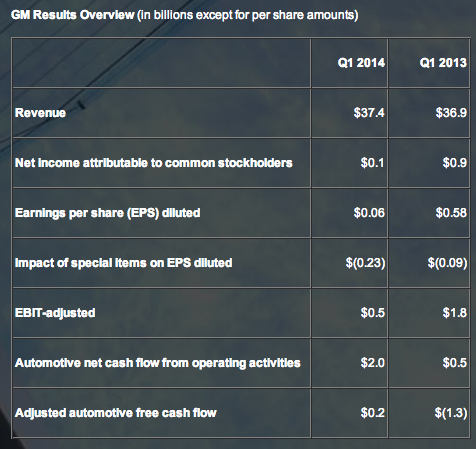 Last quarter the so-called "special items" associated with recall costs reduced GM's GAAP earnings per share by 23 cents. The adjustments for non-GAAP EPS brought GM's EPS up to 29 cents, still far below the Estimize.com non-GAAP consensus of 52 cents and significantly below Wall Street's expectations of 36 cents per share. The silver lining from the quarter was that sales were up 1% and net cash flows from normal business operations rose considerably.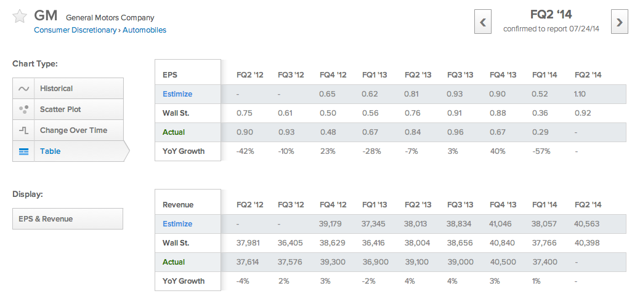 Click to enlarge
Click here for chart source.
While the recall costs will not show up directly in GM's non-GAAP earnings on the Estimize platform, one could reasonably expect to see spillover effects from all the negative publicity the recalls and tragic 13 deaths that have been linked to faulty GM ignition switches may have caused.
However, it seems like GM's PR department has done a excellent job in keeping the public outrage down and keeping up the stream of GM cars moving off the lots. GM's June sales figure was released earlier this morning and it shows that GM auto sales rose 1% last month, despite analysts forecasting a 6.3% downturn. The PR team at GM are a bunch of wizards. That type of outperformance given the never-ending chain of doom and gloom news is really quite astonishing.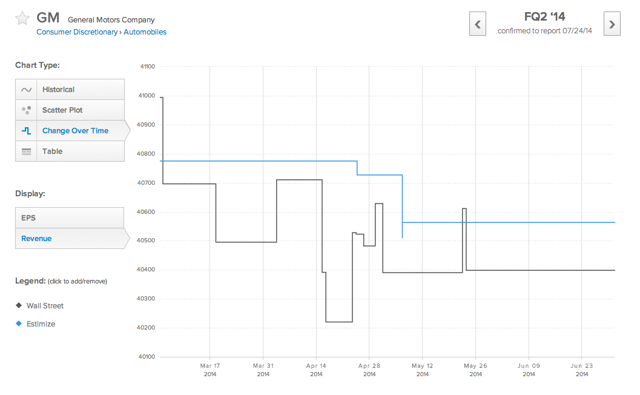 Click to enlarge
Click here for chart source.
Given the better than predicted June sales performance, quarterly revenue estimates for GM are likely to be revised upward from their current positions, in lieu of their downward trajectory so far.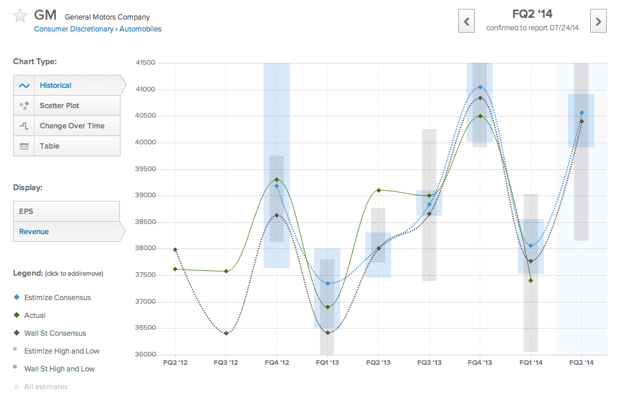 Click to enlarge
Click here for chart source.
It's amazing that after recall after recall, people are still buying GM automobiles. With just 3 weeks to go before GM is expected to report FQ2 earnings, the relative strength in sales appears to be more important to traders than the never ending string of recalls. Shares of GM were up 3% in midday trading on Tuesday.
Disclosure: None.