Philip Morris (NYSE:PM) has oftentimes been a frustrating investment. Shares of the company have been underperforming the broader market for many months now. Indeed, even its domestic peers in the tobacco segment such as Altria Group (NYSE:MO), Lorillard (NYSE:LO) and Reynolds American (NYSE:RAI), have been enjoying a rally in which Philip Morris has not participated. That being said, I still think Philip Morris is cheap and undervalued as a dividend growth vehicle.
Philip Morris cuts its 2014 earnings forecast
On June 26, Philip Morris lowered its EPS estimates for the year to $4.87-$4.97, down $0.22, or 4%, from a previous range of $5.09-$5.19. However, the company continued to reaffirm adjusted EPS growth in the 6%-8% range from 2013's $5.40.
Among the factors impacting earnings for the company are:
A $0.01 per share charge related to ceasing cigarette production in Australia
A $0.24 per share ($495 million) charge related to ceasing cigarette production in the Netherlands
And a $0.61 per share charge related to the impact of unfavorable currencies at prevailing exchange rates
Regarding the plant closures in Australia and the Netherlands, on the surface it appears this is merely a response to declining cigarette volumes in those countries. However, if we dig deeper, Philip Morris' moves are also a response to the unfavorable tax environment in Europe and high labor and transportation expenses in Australia.
The Netherlands facility located in Bergen op Zoom is among the largest owned by the company. However, cigarette volumes in Europe are in secular decline, down 20% in four years. With spare capacity available to other factories on the continent, Philip Morris saw it fit to shut down the plant.
In addition, Philip Morris has been plagued in Europe by an aggressive regulatory regime, which has made it fertile ground for "untaxed" cigarette volumes, especially in Eastern Europe, Ukraine, and Russia.
In Australia, the company is seeing a smaller and smaller smoker base, requiring the plant shutdown. In addition, Philip Morris noted that it was aiming to reducing its costs by moving production overseas to South Korea, which is closer to its growth markets.
As for the negative $0.61 currency charges, this is inline with the improved guidance provided for Q1 2014. Do note that the initial projections for 2014 had the company suffering a $0.71 negative currency impact.
Guidance forecast still calls for robust organic growth
While Philip Morris' reported EPS will come in weak in 2014, its adjusted EPS (which excludes the negative impacts) is still projected to grow at a 6%-8% clip.
For 2015 and beyond, the company is targeting an EPS growth rate in the range of 8%-10%. Furthermore, Philip Morris is projecting $2 billion-$3 billion in annual share repurchases. The share repurchases are down from the estimated $4 billion in 2014 and $6 billion in 2013.
However, a slowdown in share buybacks was already widely assumed by the market. Philip Morris had noted its need to deploy more of its cash flow towards its investments into reduced risk portfolio, including e-cigarettes and other new products.
Among the new reduced risk products, Philip Morris plans to roll out its Marlboro Architecture 2.0. Little details were released. However, the company expects these new product lines to jump-start revenue growth, though at the cost of negative OCI impacts through 2016.
What will the new dividend be?
Among the most important aspects of Philip Morris is its robust dividend growth record. However, I think 2014 will see a smaller than expected dividend increase.
In its release, the company reaffirmed its annual dividend target payout ratio of 65%. This technically leaves little to no room available for a boost for 2014. However, as I noted in my last article on Philip Morris, the company knows full well the value its shareholders place on the dividend.
I believe Philip Morris will listen to its investors and boost the dividend around 1%-3% to about $0.95-$0.97 per quarter from the current $0.94. However, an upside surprise to above $1.00 per quarter is not entirely out of the question.
Philip Morris is undervalued compared to its peers
Lastly, let us look at Philip Morris and its peers such as Altria, Lorillard, and Reynolds American.
Based on their YTD price action, Philip Morris is the clear laggard of the group, down 3% compared to a 9% gain for Altria and over 20% gains for the smaller Lorillard and Reynolds American.
As a side note, both Lorillard and Reynolds American are rumored to be buyout/merger candidates, which explains most of their move higher.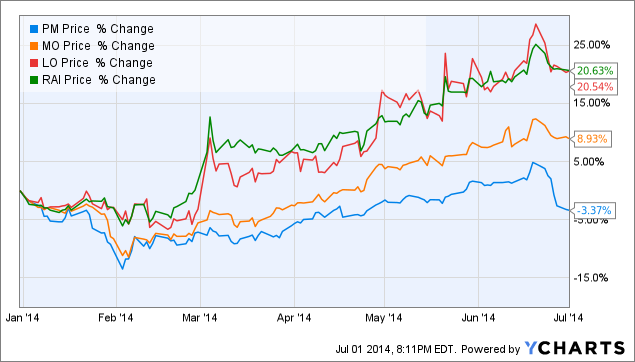 As for valuation, Philip Morris is by far the most undervalued with a 16.4x P/E compared to 20x plus multiples at the other tobacco stocks. By this metric, Philip Morris is being discounted by at least 20%.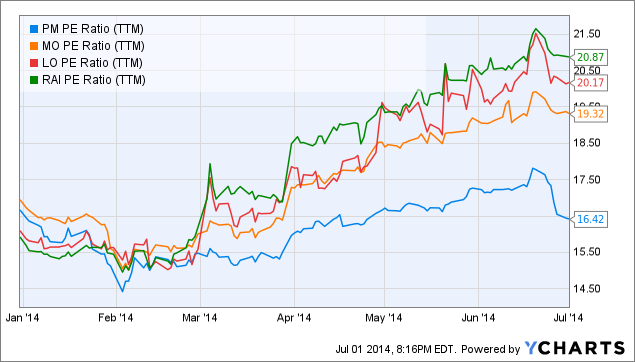 PM PE Ratio (TTM) data by YCharts
In addition, Philip Morris also appears to trade at a discount by TTM enterprise multiple (EV/EBITDA). This metric factors in debt, which is at a quite considerable level at all of the firms.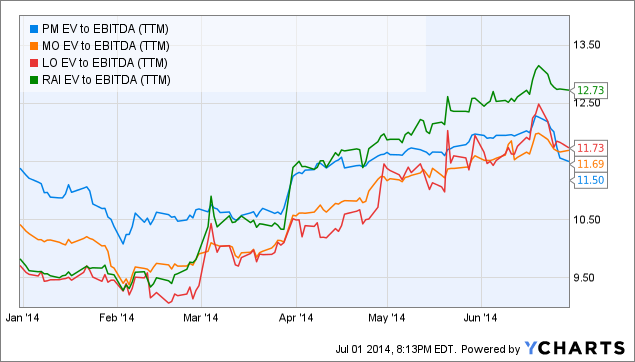 PM EV to EBITDA (TTM) data by YCharts
Finally, Philip Morris seems cheap based on its FCF generation. Indeed, you're getting nearly twice as much cash flow per share than you are with Reynolds American.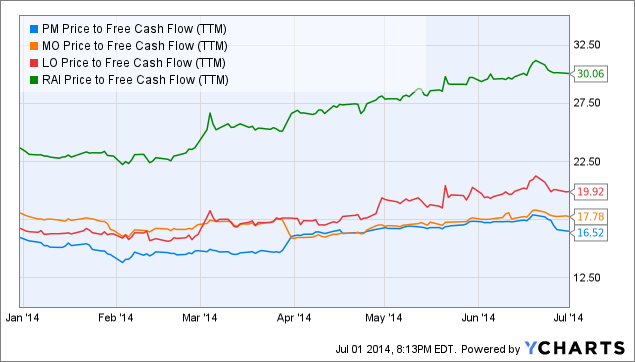 PM Price to Free Cash Flow (TTM) data by YCharts
Conclusion
While the stock is clearly struggling, I think that some mean reversion is due for Philip Morris. The guidance downgrade was unfortunate, but hardly that big of news. Still, the stock is off about 5% from its recent highs, representing a possible buying opportunity. At current prices, Philip Morris yields nearly 4.50%. This level of income is pretty nice, especially when factoring in future levels of dividend growth.
Disclaimer: The opinions in this article are for informational purposes only and should not be construed as a recommendation to buy or sell the stocks mentioned. Please do your own due diligence before making any investment decision.
Disclosure: The author is long PM, MO. The author wrote this article themselves, and it expresses their own opinions. The author is not receiving compensation for it (other than from Seeking Alpha). The author has no business relationship with any company whose stock is mentioned in this article.