Overview
In just under a week GoPro (NASDAQ:GPRO) has quickly become the hottest IPO of 2014. Shares were originally priced at $24, but now trade closer to $48, giving the company a market capitalization of about $6 billion.
This values the company at 6X trailing sales, and gives GoPro a trailing P/E of nearly 98 (based on diluted 2013 EPS of $0.47).
Hero 4
The reason for GoPro's 8% year over year (YoY) revenue decline in Q1 has nothing to do with weakness in the company's core business. It's all about the timing of product launches.
GoPro's latest hit product was the Hero 3, which initially debuted in October 2012. This caused a major boost to Q1 2013 sales, giving GoPro a remarkably tough comp for the period.
Apparently, in October of this year, GoPro will launch the Hero 4. This will be by far the biggest and most scrutinized product launch in the company's history.
The Hero 4 will be a major growth driver in Q4 of this year and into 2015, assuming a successful October launch.
The Hero 4 is rumored to have very impressive specs such as the capability to record in 4K quality, as well as a 13 mega-pixel camera. This enhanced set of features is likely to widen the potential use cases for the device, thus in theory widening its addressable market.
GoPro's brand has also gained a significant amount of traction since the Hero 3 has been released. The company has a much wider audience (10M+ mainly on social media and YouTube) to market its new product to.
GoPro Network
GoPro's user base is developing massive amounts of content. The company has plans to put this to good use and create a whole new revenue stream.
This can be thought of as a very unique razor/razor-blade model for the digital age. GoPro's hardware is the razor, and the razor-blade is high margin content, which can be licensed out and is continually created as GoPro's hardware becomes more ubiquitous.
Below is an excerpt from page 3 of the company's S-1 filing, on GoPro's media arm:

Click to enlarge
Just to show how fast these metrics are growing, I decided to peek at GoPro's latest (as of July 1st) social media data.

The results are amazing. In such a short time, GoPro has significantly grown every social network and added hundreds of thousands of followers.
With a very large (in the millions), and growing fan-base online, GoPro's media arm is already much bigger than one would think. With wildly popular Facebook (NASDAQ:FB), Twitter (NYSE:TWTR), Instagram and YouTube (NASDAQ:GOOG) (NASDAQ:GOOGL) pages, GoPro has the ability to widely distribute and advertise its content at a moment's notice.
With millions of followers, demand is there for GoPro media content, there's no doubt about it.
As stated in the S-1 excerpt above, initial agreements have been with Xbox Live (NASDAQ:MSFT) and Virgin America (NASDAQ:VMED) for GoPro's content. These will begin monetization next quarter, and will be critical in determining the future of this media business.
Besides offering advertising on Virgin America (and potentially Xbox Live), the company also plans to begin advertising on its YouTube channel as well.
If social media data is any indicator, GoPro's channel and agreements with Virgin and Xbox are likely to be very successful. If these perform well, GoPro will easily begin to distribute its content through much bigger and more lucrative content deals.
As Netflix (NASDAQ:NFLX), Amazon (NASDAQ:AMZN) and HBO continue to rapidly invest in proprietary programming, one thing is for certain in the digital era -- content is still king. And GoPro has the potential to create a continuous and growing stream of new, high quality content. For this reason, GoPro's media efforts need to be watched closely for long-term investors in the company.
Valuation
GoPro's valuation as a company could end up being highly correlated to the success of its media business.
GoPro projections w/o GoPro Network: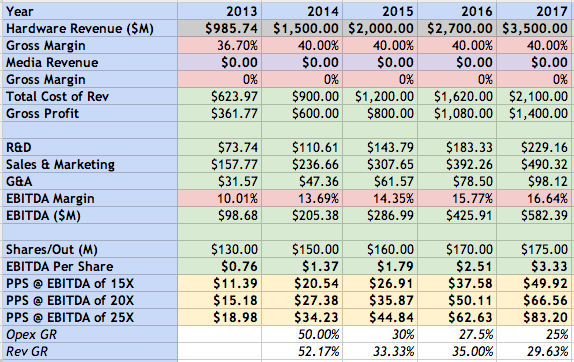 GoPro projections w/ GoPro Network: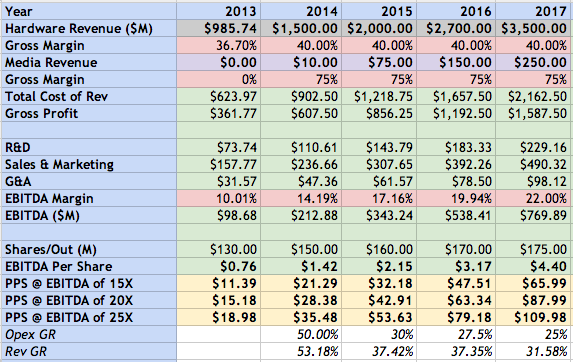 As shown in the model, if GoPro's media business were to generate $250M in 2017 sales (representing less than 10% of overall revenue), it would provide a substantial boost in the company's operating margin.
I decided to assume a higher gross margin for GoPro's media business as the costs to create, store and market that content is likely to be scalable and cheap (thanks to GoPro's extensive YouTube channel and social networks).
Despite gross margin falling to 36.7% in 2013, it bounced back strongly to nearly 41% in Q1 2014 (perhaps the most bullish factor in GoPro's Q1 report). For this reason I have (slightly) optimistically assumed that GoPro's hardware margins will stabilize at 40% for the long term.
At today's prices, investors are paying about 30X 2014 EBITDA, based on the model above (and a $6.2B market capitalization). Based on 2015 EBITDA, investors are paying a multiple of about 18X. These are definitely pricey multiples, and imply a certain level of growth. That being said, GoPro's actual valuation is much cheaper than its trailing P/E of 98 would imply.
Conclusion
With or without the media business, GoPro has a chance to be an attractive investment at today's closing price of $48 per share. Most of this depends on the company's gross margin and market saturation going forward.
If GoPro can show that the market for its rugged video cameras is still in its infancy (with ability to grow at 30%+ for 4-5 years), and gross margins above 35% can be maintained, it's likely to yield a favorable return over the long haul.
The GoPro Network is truly an X Factor. If successful, this has the potential to give GoPro shares major upside.
Going forward, it will be critical to look for updates on the company's progress in scaling its media business to make more accurate financial assumptions.
Disclosure: The author has no positions in any stocks mentioned, and no plans to initiate any positions within the next 72 hours. The author wrote this article themselves, and it expresses their own opinions. The author is not receiving compensation for it (other than from Seeking Alpha). The author has no business relationship with any company whose stock is mentioned in this article.