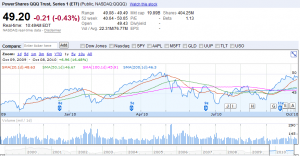 Behind every great man is a great woman, and behind every technical rise is a fundamental reason for a stock to have done so. Technicals tell us whether a greater majority are buying or selling a given stock at any given time. They do not tell us "why." We are bearing witness to a sustained rise in Sirius XM (NASDAQ:SIRI) shares, yet until today the underlying reason(s) for the move have only been speculated upon.
Some feel the recent revelation of market abuses has halted manipulation in the stock, allowing it to trade as it should have done all along. Nope...that's not it. Neither is the reason related to bullish comments by Sirius XM CEO, Mel Karmazin; nor is it speculation on the future of Howard Stern: nor is it being placed on positive credit watch by Standard & Poor's. The talking heads at CNBC, despite two reports on Sirius XM missed the reason (not that they wanted to find it), and it hasn't been published anywhere. Correction, I first mentioned the reason several months ago, but it has not become a factor -- until now.
The answer lies in Sirius XM's $5 Billion market cap. At this level, Sirius XM will be added to the Nasdaq 100 index in December. So what does December have to do with October? Everything. The list that the Nasdaq will reveal in December, is determined by "end of October Nasdaq market data." Now call me psychic, but I know what you are thinking. The inclusion in the Russell indexes was supposed to be a major catalyst for SIRI shares, and that fell short. I'm right, aren't I? Go ahead...you can say it...I already know.
Besides the obvious point of the NASDAQ 100 being 1000% more important than the Russell, inclusion of Sirius XM into the Russell portfolio also meant inclusion in the Russell Ultrashort portfolio. The timing of the last event coincided with a period in the market in which the bears had control, and the market was in fear of a double dip recession. Although to some extent those fears still exist, the threat of quantitative easing (QE2) by the Fed is keeping shorts at arms length.
In a few weeks, the SEC's new modified uptick rule will also be put into place. Sirius XM will be added to the QQQQ's after this takes effect, making comparisons to the Russell inclusion an excercise in futility, as it's comparing apples to pine cones. I know it's oranges, but both apples and oranges are food, and there are simply no similarities between inclusion in the Russell Indexes and Nasdaq 100. Except for one perhaps; with the inclusion into the Russell came greater analyst attention. Get ready for more analysts to begin coverage on Sirius XM based on the "Q's" inclusion.
Here's a list of the NASDAQ 100. Companies highlighted in bold type have market caps lower than Sirius XM:
Company Name Symbol
Activision Blizzard, Inc (NASDAQ:ATVI)
Adobe Systems Incorporated (NASDAQ:ADBE)
Altera Corporation (NASDAQ:ALTR)
Amazon.com, Inc. (NASDAQ:AMZN)
Amgen Inc. (NASDAQ:AMGN)
Apollo Group, Inc. (NASDAQ:APOL)
Apple Inc. (NASDAQ:AAPL)
Applied Materials, Inc. (NASDAQ:AMAT)
Autodesk, Inc. (NASDAQ:ADSK)
Automatic Data Processing, Inc. (NASDAQ:ADP)
Baidu, Inc. (NASDAQ:BIDU)
Bed Bath & Beyond Inc. (NASDAQ:BBBY)
Biogen Idec Inc (NASDAQ:BIIB)
BMC Software, Inc. (NASDAQ:BMC)
Broadcom Corporation (BRCM)
C.H. Robinson Worldwide, Inc. (NASDAQ:CHRW)
CA Inc. (NASDAQ:CA)
Celgene Corporation (NASDAQ:CELG)
Cephalon, Inc. (NASDAQ:CEPH)
Cerner Corporation (NASDAQ:CERN)
Check Point Software Technologies Ltd. CHKP
Cintas Corporation CTAS
Cisco Systems, Inc. CSCO
Citrix Systems, Inc. CTXS
Cognizant Technology Solutions Corporation CTSH
Comcast Corporation CMCSA
Costco Wholesale Corporation COST
Dell Inc. DELL
DENTSPLY International Inc. XRAY
DIRECTV DTV
DISH Network Corporation DISH
eBay Inc. EBAY
Electronic Arts Inc. ERTS
Expedia, Inc. EXPE
Expeditors International of Washington, Inc. EXPD
Express Scripts, Inc. ESRX
Fastenal Company FAST
First Solar, Inc. FSLR
Fiserv, Inc. FISV
Flextronics International Ltd. FLEX
FLIR Systems, Inc. FLIR
Foster Wheeler AG. FWLT
Garmin Ltd. GRMN
Genzyme Corporation GENZ
Gilead Sciences, Inc. GILD
Google Inc. GOOG
Henry Schein, Inc. HSIC
Hologic, Inc. HOLX
Illumina, Inc. ILMN
Infosys Technologies Limited INFY
Intel Corporation INTC
Intuit Inc. INTU
Intuitive Surgical, Inc. ISRG
J.B. Hunt Transport Services, Inc. JBHT
Joy Global Inc. JOYG
KLA-Tencor Corporation KLAC
Lam Research Corporation LRCX
Liberty Media Corporation LINTA
Life Technologies Corporation LIFE
Linear Technology Corporation LLTC
Logitech International S.A. LOGI
Marvell Technology Group, Ltd. MRVL
Mattel, Inc. MAT
Maxim Integrated Products, Inc. MXIM
Microchip Technology Incorporated MCHP
Microsoft Corporation MSFT
Millicom International Cellular S.A. MICC
Mylan Inc. MYL
NetApp, Inc. NTAP
News Corporation NWSA
NII Holdings, Inc. NIHD
NVIDIA Corporation NVDA
O'Reilly Automotive, Inc. ORLY
Oracle Corporation ORCL
PACCAR Inc. PCAR
Patterson Companies Inc. PDCO
Paychex, Inc. PAYX
priceline.com Incorporated PCLN
Qiagen N.V. QGEN
QUALCOMM Incorporated QCOM
Research in Motion Limited RIMM
Ross Stores, Inc. ROST
SanDisk Corporation SNDK
Seagate Technology. STX
Sears Holdings Corporation SHLD
Sigma-Aldrich Corporation SIAL
Staples, Inc. SPLS
Starbucks Corporation SBUX
Stericycle, Inc. SRCL
Symantec Corporation SYMC
Teva Pharmaceutical Industries Limited TEVA
Urban Outfitters, Inc. URBN
VeriSign, Inc. VRSN
Vertex Pharmaceuticals Incorporated VRTX
Virgin Media Inc. VMED
Vodafone Group Plc VOD
Warner Chilcott plc WCRX
Wynn Resorts, Limited WYNN
Xilinx, Inc. XLNX
Yahoo! Inc. YHOO
Disclosure: Long SIRI