Eventually, you had to figure shares of Twitter (NYSE:TWTR) would rebound. The key question was when. Well, it looks like $30 was basically the floor, as Twitter has rallied strongly in recent weeks. When I detailed how the tide had started to turn, I meant it. Now that shares are up tremendously from their lows, it is time for the company to deliver. In a few weeks, the company will report Q2 earnings, and that will be a key test for the stock, one that has been a failure at the first two quarterly reports. Today, I'll look at where Twitter stands now, and explain why the company needs more than just a good report.
Recent news:
Tuesday's rally came after Twitter announced that it has replaced CFO Mike Gupta with Goldman tech banker Anthony Noto, who also is the former CFO of the NFL. Noto's hiring comes about 2 weeks after COO Ali Rowghani resigned. Twitter has seen a bit of executive shuffling since the company went public.
Twitter may also make some major changes to the site. Currently, the company is experimenting with longer posts. One highlight could be a "retweet with comment" feature that would prevent the text of a retweeted post from counting against a reply's 140 characters. Tensions over the product and what Twitter does next is one reason why the COO may have left. Twitter is trying to battle growth and engagement concerns, and Evercore recently stated that the US user base in Q2 might have grown faster than Q1. The analyst there reiterated a $48 price target and Overweight rating on the stock.
Where things stand now:
If you look at the headline numbers, Twitter's first two earnings reports as a public company were very good. The company, like peer Facebook (NASDAQ:FB), has done very well in terms of the top and bottom lines. Revenues and non-GAAP EPS have blown past analyst estimates, which has caused these estimates to rise. Unfortunately, concerns over Twitter's user base growth have knocked down the stock at these earnings reports. Twitter shares fell more than 24% after the Q4 2013 report and more than 8.5% after the Q1 2014 report. The lockup expiration also did not help.
With the recent rise in Twitter shares, the company is going to have to prove itself again in a couple of weeks. If you look at Twitter's recent guidance, analysts are looking for another strong report in terms of revenues and non-GAAP EPS. In the table below, I've detailed the important changes in analyst estimates going back to early February.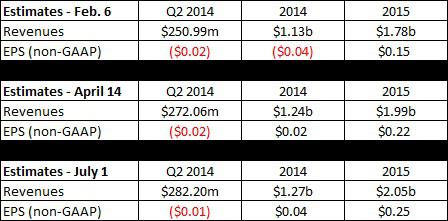 Twitter guided to Q2 revenues of $270 million to $280 million, so analysts are expecting a bit more than the high end. That's probably not a surprise given Twitter's two past blowouts. However, the yearly forecast is where things get interesting. Even though Twitter raised its 2014 revenue forecast at the Q1 report to a range of $1.20 billion to $1.25 billion, that range is a bit below where estimates are now. If Twitter only maintains its forecast at the Q2 report, investors and analysts are most likely going to be disappointed.
Short interest has come way down:
One of the reasons I was so bullish on Twitter as it fell into the $30s was that short interest was on the rise. Right after Twitter went public, the first update on short interest showed just 6.3 million shares short. However, that number climbed dramatically, reaching a peak of over 50 million shares by the end of April. Recently, however, short interest has come well off its highs, as seen in the chart below.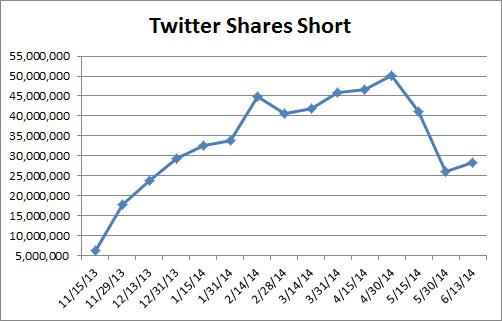 At the latest update on short interest, the figure stood a little above 28.3 million shares. That's more than 43% off the high reached a few updates earlier. Additionally, Twitter's days to cover ratio, which measures how many days it would take all short sellers to cover, has come way down. After reaching a high of 5.31 days, Twitter's days to cover ratio at the latest update was under 1.00. Twitter's volume has certainly picked up in the second quarter, and short interest is well off its highs.
Is the valuation stretching again?
Obviously, with such a sharp rise in Twitter shares recently, the valuation may become a concern to investors again. First, let me show what the 2014 growth picture is like, when comparing Twitter to Facebook, LinkedIn (NYSE:LNKD), and Zillow (NASDAQ:Z). The table below is based on current analyst estimates for growth, with the valuations being based off of Tuesday's closing prices and those estimates. As a reminder, Facebook has two pending acquisitions that could impact its valuation.

*Non-GAAP EPS.
Twitter remains the leader in revenue growth, although the company is only expected to become profitable on a non-GAAP basis this year. Even so, analysts only expect a couple pennies of earnings. Looking strictly at these numbers, Twitter remains the most expensive on both valuation fronts. Even Zillow, which continues to see its shares rise tremendously by the month, is not as expensive as Twitter. Some may believe these valuations are all ridiculous, but the growth numbers are impressive.
In my previous Twitter article, I detailed how Twitter shares were actually trading at a P/S discount to Facebook and Zillow when it came to 2015. However, that situation has changed a bit, as you can see in the table below, detailing P/S valuations from my last article and as of Tuesday.

Don't forget, these numbers above are based on analyst estimates, which are a bit higher than Twitter's forecast. So if Twitter does not raise its forecast, analysts are likely to reduce their estimates. In that case, the stock probably comes back down as well. Twitter has again become the most expensive name on P/S for 2014, and for 2015, Zillow's premium has declined.
Final thoughts:
Twitter shares have come well off their lows, and now it is time for the company to deliver. With estimates rising and short interest heading lower, the company cannot disappoint again. The first two earnings reports were not great for shares, despite top and bottom line beats. Analysts are looking for another strong quarter, as well as the possibility of a revenue guidance raise for 2014. The company's executive shakeup also continues, as Twitter continues to rethink its strategy and make acquisitions. With shares getting back to astronomical valuation levels, it is now time that the business delivers, or shares will again find themselves in the low $30s. I still love Twitter's potential growth, but a large move has already been made. Further upside will only come if Twitter's user base growth can finally come through in the clutch.
Disclosure: The author has no positions in any stocks mentioned, and no plans to initiate any positions within the next 72 hours. The author wrote this article themselves, and it expresses their own opinions. The author is not receiving compensation for it (other than from Seeking Alpha). The author has no business relationship with any company whose stock is mentioned in this article.
Additional disclosure: Investors are always reminded that before making any investment, you should do your own proper due diligence on any name directly or indirectly mentioned in this article. Investors should also consider seeking advice from a broker or financial adviser before making any investment decisions. Any material in this article should be considered general information, and not relied on as a formal investment recommendation.