3D Systems (NYSE:DDD) posted a huge 6.12% jump yesterday. This most-shorted 3-D stock is now again trading above my average March buy-in price of $62. DDD fans should celebrate this momentous occasion by drinking 3 beers. After more than three months of a roller coaster bearish run, the stock market is again hot for DDD.

Click to enlarge
What happened yesterday was a big contrast to what a Benzinga writer published. DDD certainly did not fall $5. The after-hours trading yesterday confirms that DDD went up to $63.50. The big rally of DDD yesterday was in spite of the report that 3D Systems will not be attending the Pacific Crest Securities next month. The Bloomberg article is insinuating that the cancellation might further add speculations over a takeover scenario for 3D Systems.
Shorts Covering Their Position
I share the same view that 3D Systems is ripe to be taken over by Hewlett-Packard (NYSE:HPQ), Epson, or even Google (NASDAQ:GOOG). However, I think that big rally yesterday is due to shorts failing buying shares to cover their position. 3D Systems is the most shorted among additive manufacturing tickers.
| | | | |
| --- | --- | --- | --- |
| Name | Total Shares (millions) | Short Interest as of 6/13/2014 (millions) | % of Shares Outstanding Sold Short |
| 3D Systems | 103.51 | 33.97 | 32.82% |
| Stratasys | 49.3 | 7.0 | 14.2% |
| ExOne | 14.4 | 3.2 | 22.2% |
| Voxeljet | 10.5 | 1.7 | 16.2% |
Source: Nasdaq/Yahoo Finance
The unusually high trading volume of 20,448,872 of shares yesterday was more than five times the average. I believe this is again likely due to shorts covering their bets. The buy-side crowd is winning because the bear case for DDD is hard to sell when Bloomberg proliferates takeover rumors of 3D Systems.
Takeover Rumors
Takeover rumors are strong market movers. Remember that DDD went up significantly last year due to the November 2013 rumors that it was a takeover target. I believe that these earlier speculations contributed hugely to the big run-up of DDD to hit a 52-week high of $97.28.
I hope this new round of speculations of DDD as an M&A target helps the stock recover some of what it lost this year. Mega-cap companies like Hewlett Packard, Apple (NASDAQ:AAPL), and Google can certainly afford to buy DDD.
3D Systems is Google's major partner for its Project Ara modular phone venture. Google did not mind paying $3.2 billion for a thermostat startup company. Google might also be willing to buy 3D Systems to complement its robotics and Internet of Things ambitions. Google is better off buying 3D Systems than creating its own 3-D printer.
Hewlett-Packard is the leading inkjet/laser printer company. Unfortunately, it does not have any real background in additive manufacturing. It will take a long time for HPQ to develop 3-D printers. Whitman can just buy 3D Systems to expedite her company's entry to enterprise-centric 3-D printing.
Conclusion
Like I mentioned in previous article, I'm still very bullish on DDD because short-term technical indicators from BarChart Opinion still gives 3D Systems an average rating of 100% Buy. Ten analysts at BarChart also share my Buy recommendation for DDD.
Experts and technical indicators say DDD is still a Buy for the near-term. The improved guidance is certainly a good reason why DDD is shooting up. However, the market-wide tech short-squeeze is also benefiting 3D Systems and other 3-D printing stocks.
Momo tickers like those involved in additive manufacturing are on a 30-day bull run.

Click to enlarge
Lastly, a takeover rumor is always a good incentive for speculators to invest in any Mergers & Acquisition target. There is a good chance that DDD's upside run will continue this week. I will end this write-up with this forecast chart from MacroAxis.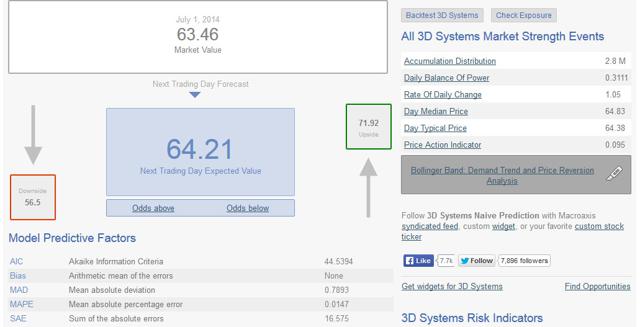 Click to enlarge
Source: MacroAxis
Disclosure: The author is long DDD, AAPL. The author wrote this article themselves, and it expresses their own opinions. The author is not receiving compensation for it (other than from Seeking Alpha). The author has no business relationship with any company whose stock is mentioned in this article.