By Julian Murdoch
As of Thursday last week, Copper was up 194% since hitting bottom after the crash,and up 14% in the past 6 weeks alone. We haven't seen prices like this since the end of April. Should investors be paying attention?
Copper inventories falling
The dollar support
Miners versus metals

Charts like this, showing the price of a tonne of copper on the London Metals Exchange, make investors giddy, and it's easy to see why. As an long-investor, it's just plain to see prices take flyers like this. But with commodities, we at least have a chance of figuring out what's causing the run, and make some predictions about sustainability.
Supply
Copper supply and demand are never perfectly counter-correlated, but the reality this time seems to be clearer than normal. Copper supply has been getting tighter in the past few months, with copper inventories dropping to recent lows. The chart below shows copper and the actual worldwide LME stocks.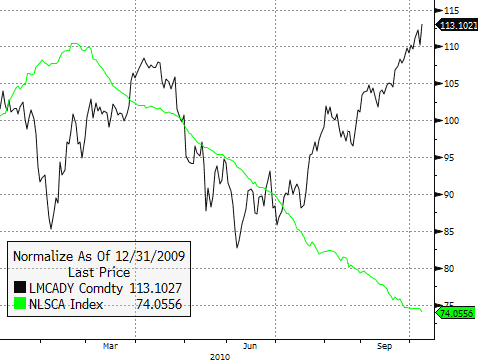 Copper as an Indicator
How copper is doing is often a good indicator for how the economy is doing. Copper demand is linked to construction (think copper pipes and electrical wires), transportation (electrical systems of cars and trucks) and consumer electronics such as PCs, TVs and cell phones. If consumers are confident about how the economy is going, construction tends to be strong and people spend more on discretionary items. If people are worried about the economy, construction, spending slows and demand drops.
Government policy decisions affect copper prices as well. For example, Shanghai recently introduced measures to slow down their roaring domestic housing market, attempting to slow skyrocketing home prices through increasing down-payment requirements, raising mortgage rates and cutting down on loans for third-home (!) purchases. The ripple affect means less copper demand for construction, and since China is the world's largest copper user, if the measures work, we could see lower demand.
Dollar Drive
We have inventories falling,and governments around the world making policy decisions that impact demand,but if you want to know what's underlying copper's volatility, look at the dollar, or specifically, the dollar index in relation to the price of copper.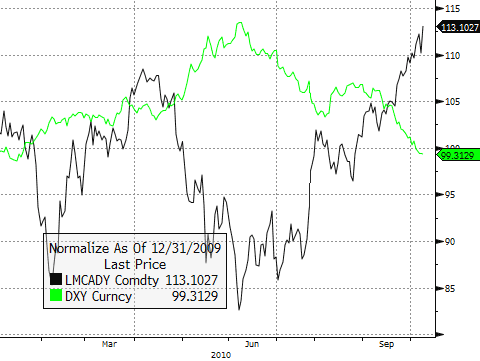 A weaker dollar supports commodities priced in dollars, making them cheaper for foreign investors. For the past few months, the two curves have been almost mirror images of one another. And now, the market is speculating that the U.S. Federal Reserve will take measures to stimulate the economy,increasing the supply of dollars in the system.
No Simple Answer
There is never a simple answer in investing, but commodity investors get at least a few good sources of data. Still, speculators have real influence.
On one hand, analysts like Michael K. Smith, president of T&K Futures and Options are looking for a correction of some kind based on speculative trading patterns. Bloomberg quoted him on Thursday as saying:
These rallies are starting to look tired. Technically, we are overbought and due for a quick correction.
But on the other hand, the IMF is concerned about mine productivity. In the IMF's World Economic Outlook: Recovery Risk and Rebalancing report released on Wednesday, they stated:
Deteriorating mine productivity (copper and tin) and the impact of policies targeted at reducing the impact of metal smelting on the environment (lead) are among the most important constraints on supply.
They went on to forecast that the "medium-term balance of risks for prices should remain tilted toward the upside, particularly for copper."
Copper Miners
What does this all mean for companies involved in the mining and refining of the red metal? To get a general idea of how the sector is performing, let's look at two ETFs focused on just those types of companies. COPX (NYSEARCA:COPX) is the Global X Copper Miners ETF. It tracks the Solactive Global Copper Miners Index, which includes companies that are primarily engaged in copper exploration, mining and refining. First Trust ISE Copper Index Fund (NASDAQ:CU) tracks the ISE Global Copper Index which also tracks companies involved in copper production, but includes diversified mining companies. Those large diversified mining companies are included by using a methodology that adjusts weights according to the percentage of revenue generated by each companies copper production.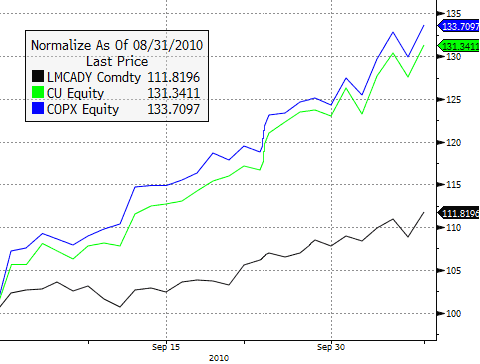 As you can see from the chart above, so far this fall there has been little difference in performance between the two ETFS, but a huge difference compared to the price of copper. Copper has done well, going up almost 6.5% in a month, a bit over 11 percent since September 1st. But the companies that produce copper, or at least the indexes that track them, have done better, ending up almost 21% even with copper (and copper miners) dropping a bit by close of business Thursday.
Can the industry sustain gains like these? Impossible to say for certain, of course, but the long term trends seem to be with those able to keep supply coming. The US recovery may be in doubt, or at best anemic, but copper isn't just a luxury. Some amount of demand is truly endemic. And for the near term, at least, the miners seem to be in the catbird seat.
Disclosure: No positions