Amazon's (NASDAQ:AMZN) consistent innovation and execution, the size of opportunities it is pursuing and its positioning within those future opportunities make the Seattle, Washington-based company one of the highest qualities companies in the internet sector. On a global stage, there are very few retailers which can compete with Amazon from a purely competitive standpoint. The breadth of the company's offerings, the depth of its distribution network, and the consistency of its shipping has made Amazon the dominant player in online commerce.
The company is a market leader in e-commerce and is rapidly gaining share of the retail market given its focus on execution, a superior user experience, and everyday low prices. Despite its premium valuation, I think Amazon represents one of the best risk/reward propositions in the sector.
Growth Still the Priority
Over the past 5 years, Amazon's revenues have compounded at an impressive rate of 30%. While the revenue growth has slowed down recently, it is still growing in the low-to-mid 20% range. Despite these impressive revenue growth figures, the company's margins are nearly 0% because of the company's entire focus on growing and improving its infrastructure. No matter how fast sales grow, Jeff Bezos, Amazon's CEO, simply uses the money to grow everything else more quickly. I don't think there is a specific end in sight and it can take many years before the Seattle-based company can start reducing its infrastructure spending.
The company continues to price its products and services on the basis of growth rather than margins. As a market leader with scale and status, Amazon has cultivated a model focused on large selection and low prices. The company has lowered its prices 42 times at its AWS segment and the pricing pressure is expected to continue going forward. Moreover, the company's priority of putting the customer's interests first even at the expense of margins, squeezes its many would be competitors and is the reason that it became the largest online retailer, largest e-book seller, and a major market share holder in cloud computing. According to a Barclays report, Amazon is roughly 20% of online retail and ecommerce is still only 6% of total retail sales, which shows that a huge growth opportunity in ecommerce exists and Amazon being the global leader is well positioned to gain share within the ecommerce.
Bezos Is Not Interested In Margins Yet, If You Want Margins Look Elsewhere
The company's focus on growth has grown its revenues and escalated its share price at a very fast clip but has also kept its margins depressed for years. However, the stock trading at higher multiples shows that the market is willing to look past low margins as the factor is largely in the company's control and if the company decides to flip the switch, it can generate much higher margins. Though the company has potential to move up its margins over time, there is little interest from management in changing this dynamic anytime soon. Moreover, the management has shown in the past that it has the potential to operate the business at very low margins for an extended period of time.
While investors can expect a modest increase in margins on the core retail side, a major move up in margins is not expected. In the U.S., margins seem to be holding steady and a very gradual increase in margins is expected. On the international side, heavy investments will continue to pressure margins. Amazon plans to keep investing heavily in its international growth and is specifically focusing on Spain, Italy, and particularly China. Therefore the capital expenditure is expected to continue for the foreseeable future. The margins are expected to improve over the next year or two; however, any material change in margins is not expected because of the management's heavy focus on growth.
Fire Phone, a Disappointment?
Following the footsteps of other internet giants, which are expanding and diversifying into new areas far from their core businesses, Amazon has also recently jumped into the growing smartphone business with its new Fire phone. However, Amazon's fire is unlikely to set the smartphones on fire.
First of all its premium pricing ($200 for 2 year contract or $649 without contract) is a strange move coming from the company known for offering value-oriented products and services to its customers. The phones three main features that differentiate the Fire phone from its competitors are its Dynamic perspective, Firefly, and Mayday. Mayday is probably the only unique feature other smartphone producers are not offering. Moreover, the company is also offering a limited time $99 worth 1-year Amazon Prime for free to the Fire Phone buyers.
Despite heavy marketing and some innovative features, the overpriced Fire phone lacks a "wow-factor" and after a few days of launch sales have now dropped to 64 in Amazon's electronics category.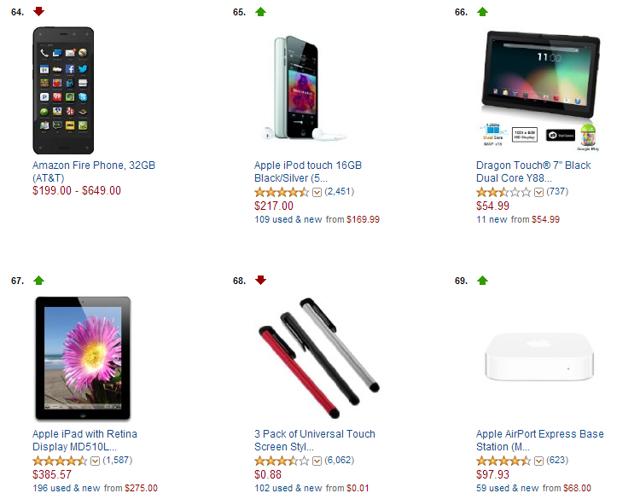 In the beginning, the unmatched value provided by the Prime membership likely boosted the phone's sales. However, the customers are turned off due to the high price and AT&T exclusivity and its unattractive appearance. Moreover, Fire's lack of Google integration has scared off the rest. I believe Amazon shouldn't have shifted away from its traditional business model of providing its customers with value and product exposure in an online store, which works for the company. The company has a customer base which is sensitive and seeks value and their only loyalty is value.
It's obvious the phone is designed more with Amazon's interest in mind than the consumers. Amazon like Apple (NASDAQ:AAPL) does not boast a loyal customer base, who would upgrade regardless of the cost. Today, consumers expect something much better from a $650 phone. I think Amazon has come up with a phone, which few people would want and more importantly is a wasted effort. Fire is unlikely to boost digital revenue as previous launched devices such as Kindle and Kindle Fire did.
Conclusion
The Fire phone disappointment aside, there are very few retailers who can compete with Amazon globally from a competitive perspective. Amazon's consistent innovation and execution, the size of opportunities it is pursuing and its positioning within those future opportunities make Amazon one of the highest quality companies in the internet sector. If you're looking for a company which reports healthy margins, Amazon is not for you. Despite bringing in billions of dollars in revenues, the company has barely turned a profit. However, Bezos has a long-term horizon in mind and by the time he's done, he would have built a company which is market leader in all the markets it operates in. The international market in particular represents a great long-term growth opportunity.
Historically the main bear case for Amazon has been its premium valuation, which, as the bears put it, reflects neither the current nor the long-term margin and profit profile of the business. But this bear case based on valuation has not worked for a long time now. Moreover, I think with the recent pullback it's hard for bears to make that argument any longer. I think, with growth in AWS, Amazon is becoming less comparable to traditional retail peers. Despite that, the gap between Amazon and companies like Wal-Mart Stores (NYSE:WMT) and Target (NYSE:TGT) has contracted to the lowest levels in years. As Amazon continues to sustain a high level of returns and deliver faster relative growth, the multiple is likely to revert to prior levels.
Disclosure: The author has no positions in any stocks mentioned, and no plans to initiate any positions within the next 72 hours. The author wrote this article themselves, and it expresses their own opinions. The author is not receiving compensation for it (other than from Seeking Alpha). The author has no business relationship with any company whose stock is mentioned in this article.