The FDA showed it was playing hardball this October by delivering two completes response letters (CRLs) last Friday – one to Jazz Pharmaceuticals (NASDAQ:JAZZ) and the other to Alexza Pharmaceuticals (NASDAQ:ALXA). While the Jazz CRL was generally expected, Alexza Pharmaceuticals was widely expected to gain approval on first pass - RBC even stated odds of approval as high as 65%. As a result, the share price took a 55% haircut in the first day of trading after its rejection and continues downward today. While making a play on this stock before Alexza reports its discussions with the FDA about the CRL is a risky proposition, those that buy at these low prices stand to be handsomely rewarded when the uncertainty is resolved.
The issues brought up in the CRL according to the conference call held this morning appear to be based on the following four points.
Pulmonary safety
Suitability of stability studies
Manufacturing facility inspections
Validation that product can be used effectively in the setting proposed in the label
The suitability of stability studies and manufacturing facility inspections appear to be rather innocuous. The stability studies are rather straightforward and the company has completed both 12-month standard and 12-month accelerated stability programs. Manufacturing concerns are relatively common – especially when dealing with new drug delivery platforms – and management believes those concerns can be resolved in a face-to-face meeting with the FDA. It would appear that the data to address both of these claims is readily available and the management has stated is does not expect either of these issues to be rate limiting.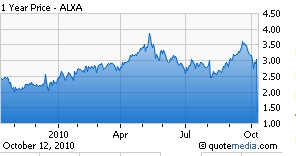 The validation that the product can be used effectively was raised by the Center for Devices and Radiological Health and it's a reasonable concern. After all, AZ-004 is a treatment for agitation in bipolar and schizophrenic patients. Will a psychologically agitated patient be able to effectively use the device?

Alexza did not include a human factor study in its new drug application (NDA); instead relying on what the company thought was comprehensive phase III data showing that the treatment could be used effectively. Performing the now requisite study, however, does not appear to be particularly time consuming. The company has stated that the study has already designed and that the study could be completed by the end of the year.

The big concern, then, is the pulmonary safety issue. This has, apparently, caught the company completely off guard as there were no communications specifically about pulmonary safety between the FDA and Alexza for quite some time. This concern lies primarily in the drug treatment arm of patients with asthma and chronic obstructive pulmonary disease. Reductions in FEV1 (force expiratory volume in one second – a measure of lung function) were higher in both placebo and treatment groups, but higher in the treatment arm.

The important thing to note, however, is that there were no severe adverse events (SAEs) and all events were self-limiting or readily managed with an inhaled bronchodilator. Total respiratory events in the phase III study were less than 2%. While the concern stands to bring doubt to the entirety of Alexza's inhalable drug platform, it is not something that can't easily be managed through excluding patients with existing impaired lung function or through new labeling to warn of possible contraindications. And again, none of the adverse events were considered serious – patients or doctors can simply opt out of the AZ-004 treatment is the events are particularly bothersome.

While losing a year or two of marketability on the front end of a product life span can be particularly costly, it does not justify a 55% drop in share value. The FDA is conducting its own due diligence and siding with caution for a relatively new platform for drug delivery. The CRL does not bring long term doubt into AZ-004 or the Staccato platform as a whole. Those that buck the trend and buy into the currently depressed share values should stand to profit handsomely in the long term.

Disclosure: No positions