We are in the midst of our DIY Dividend Investors Club series which is dedicated to the open discussion and analysis of building and managing a long-term dividend portfolio. The goal of the series is to build a dividend portfolio "watch list" by sector (based on the 9 major sectors in the S&P 500 as well as alternative sectors like MLPs, REITs and BDCs).
Merck & Co. (NYSE:MRK) is one of our "stocks to watch" in the Healthcare sector and this article highlights some key information and analysis from our Buy Zone Report for MRK.
Merck & Co. Business Overview (source: S&P Capital IQ)
Merck & Co., Inc. provides various health solutions through its prescription medicines, vaccines, biologic therapies, animal health, and consumer care products worldwide. The company serves drug wholesalers and retailers, hospitals, government agencies, physicians, physician distributors, veterinarians, animal producers, food chain and mass merchandiser outlets, club stores, and specialty channels, as well as managed health care providers, such as health maintenance organizations, pharmacy benefit managers, and other institutions. The company was founded in 1891 and is headquartered in Whitehouse Station, New Jersey.
Parsimony Rating
The core of our investment philosophy is to buy great stocks at reasonable prices and we use a combination of fundamental and technical analysis to determine which stocks to buy and when to buy them.
We created our ranking system, which ranks over 750 U.S. dividend stocks on a monthly basis, to help us find the best dividend stocks. In our experience, if you rank all of the stocks in a universe against their peers on a consistent basis, it becomes clear which companies are the strongest and which offer the best investment opportunities going forward. Our composite rating is derived by ranking each stock based on 28 key fundamental and technical data points in five sub-rating categories.
The table below for Merck highlights some of the key data points that we look at when determining our rating.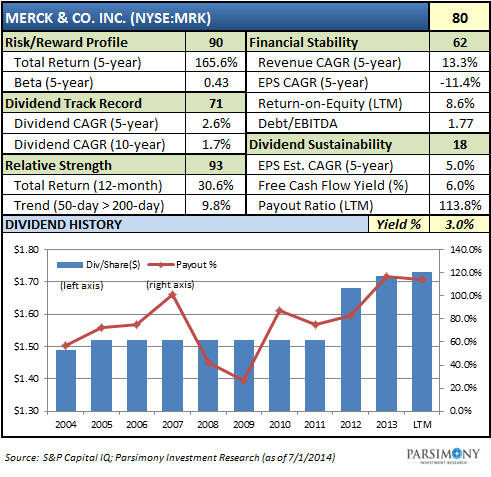 As highlighted in the table above, Merck has a solid overall Parsimony Rating of 80, primarily driven by high ratings for Risk/Reward Profile (90) and Relative Strength (93).
MRK has a very low beta (0.43) and the stock has exhibited low volatility in the past. The company has a solid dividend yield of 3.0% and it has delivered shareholders a 166% total return over the past 5 years. In addition, MRK has a strong balance sheet with low debt levels.
After holding its dividend steady for 6 straight years, Merck finally increased its dividend payment in 2012 (+10.5%) and 2013 (+2.4%). While we don't expect the company to grow its dividend by double digits going forward, it seems that management has realized the importance of consistent annual dividend increases for shareholders and investors should expect Merck's dividend growth to keep pace with the rate of inflation (2%-4%). As shown in the chart below, MRK has raised its quarterly dividend 3 times in the past 11 quarters.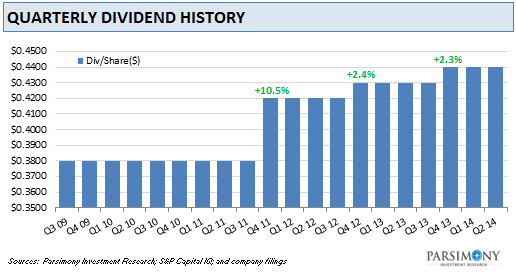 Consensus estimates show that Merck is expected to grow earnings at a compound annual rate of 5% over the next 5 years, so future annual dividend hikes under 5% are likely.
Is Merck In The "Buy Zone"?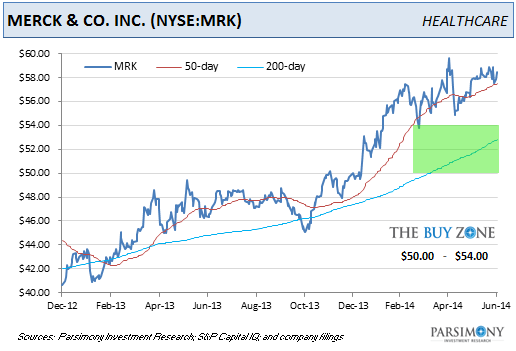 Merck is hovering around its 52-week high and it currently trades 8.4% above the top range of its Buy Zone. Ideally, we would like to purchase MRK under $54.00 (which would equate to a forward P/E ratio around 15.0x and a forward yield around 3.25%).
Conclusion
Merck is a decent dividend stock with strong fundamentals and a stable track record. While we don't recommend buying at this level (due to valuation), we will consider buying the stock on any meaningful pullback.
Disclosure: The author has no positions in any stocks mentioned, and no plans to initiate any positions within the next 72 hours. The author wrote this article themselves, and it expresses their own opinions. The author is not receiving compensation for it (other than from Seeking Alpha). The author has no business relationship with any company whose stock is mentioned in this article.