Recently MLV & Company initiated coverage on several smaller Health Care REITs. The five new REITs added to MLV's equity research group consists of Aviv REIT (NYSE:AVIV), BioMed Realty (NYSE:BMR), LTC Properties (NYSE:LTC), Physicians Realty (NYSE:DOC), and Sabra Health Care(NASDAQ:SBRA).
MLV's coverage of these small cap REITs was triggered by the company's "neutral view that balances the (health care) sector's attractive investment opportunities against above-average risks from a rising interest rate environment". As MLV explained:
Within the (health care) sector, we believe focused small-cap REITs are positioned to outperform peers, driven by value-additive acquisitions and selective development.
In a presentation, MLV presented a bullish case for focusing on the small fish as MLV remains skeptical regarding the bigger fish (large cap REITs) who are gobbling up larger more expensive portfolios, while sacrificing quality. As MLV explains,
We have chosen to cover smaller-cap REITs whose acquisition yields avoid compression due to 'portfolio premia' and whose investment strategies are closer to our preferred 'sharpshooter' (versus 'shotgun') ideal.
Like MLV, I am also attracted to several of the smaller Health Care REITs and I currently own shares in Omega Healthcare Investors (NYSE:OHI), Healthcare Trust of America (NYSE:HTA), and Physicians Realty. I also own 2 of the whales: Ventas, Inc. (NYSE:VTR) and Health Care REIT (NYSE:HCN). Here's a chart that illustrates the performance of my current Health Care holdings:

MLV's research report provides ample evidence that the more focused small-cap REITs should outperform (the larger whales). As MLV explains:
The investment horizon of active investors is ill-suited to exploiting long-run demographics. Bullish stock valuations can embolden companies to over-invest ahead of demand realization, creating boom-bust cycles. We favor 'sharpshooters' whose targeted investment strategies and expertise help them outmaneuver more diversified investors. We prefer to 'zig' when others 'zag' in order to capitalize on valuations that are disconnected from near-to medium-term fundamentals.
I tend to agree with MLV and if it wasn't for the sell-off in Ventas and Health Care REIT shares a few months ago I would likely not be riding the wave of the big Health Care whales today. I summed up this point in a recent article:
It's true that the health care property sector remains highly fragmented; however, is it possible that at some point will growth be sacrificed by operation acumen? Does it make sense at some point for the larger Healthcare REITs spinoff into smaller entities like Washington Prime Group?
MLV explained it another way:
Observers of the REIT industry over the past decade will have noticed a significant difference between the behavior of Healthcare REITs and peers in other property types. The sector's three largest companies: Ventas, HCP, and health Care REIT (not covered by MLV) have executed acquisitions programs that grew their asset bases by a combined 10-year CAGR 28%.

Ten years ago, combined assets were just over $5B; today, the trio controls $60B. By contrast, the largest Office REITs (BXP, SLG, and VNO) have grown at a CAGR of just under 10%, while the top Shopping Center REITs (KIM, FRT, and DDR) grew at a 6.5% rate.
MLV's research is spot-on and it's great to see broader coverage in the "sharpshooting" health care sector. The common thread in my research and MLV's is centered on the trends that are continuing to unfold where "investors will increasingly value companies with sharply defined strategies and a scale where more selective, off-market transactions can still move the needle." Here's another way that I said it:
That's what happens with many REITs that grow to such a large scale that they are limited with organic growth opportunities and they are forced to either invest in sub-par deals, expand into other sectors (i.e. outlet centers for SPG), or prune assets.
Physicians Realty Can Move the Needle
Physicians Realty is the only REIT that I currently own that is covered by MLV. I purchased shares in the small-cap REIT back in May (9th) after selling out of Medical Properties Trust (NYSE:MPW). I have been pleased with the performance to date as DOC has returned over 10.5% since May 9th.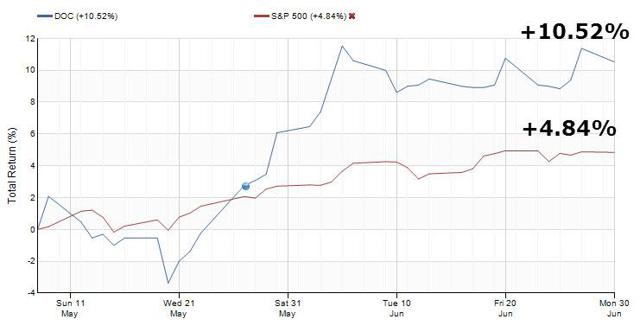 I sold out of MPW for a variety of reasons, including competition (with the hospital sector) and share underperformance. I'm glad I made the swap since MPW has been a flat-liner.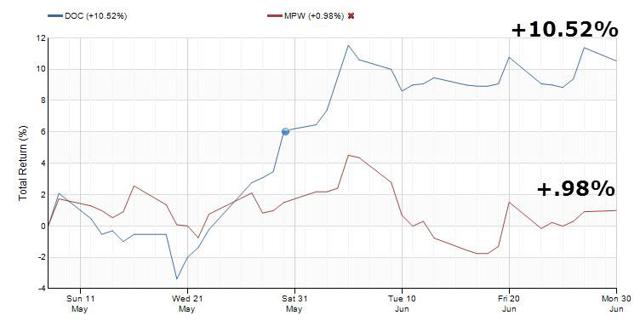 I started covering DOC back around a year ago when the Milwaukee-based REIT listed shares on the NYSE (on July 18, 2013). Since that time I have written a few articles on the company (the last one is HERE). MLV based its BUY rating on MLV based on the following considerations:
DOC has stormed out of the gate as a public company, having completed its IPO less than a year ago and investing $344 million in a steady flow of acquisitions over the past twelve months- a testament, in part, to management's relationships in medical office. Our model incorporates $200M of acquisitions in 2H14, though the current relationship-based pipeline suggests that our estimate could prove conservative.
DOC completed the $135 million IPO in July 2013 and a $110 million secondary offering in December 2013. In May, the company initiated a $158 million secondary offering.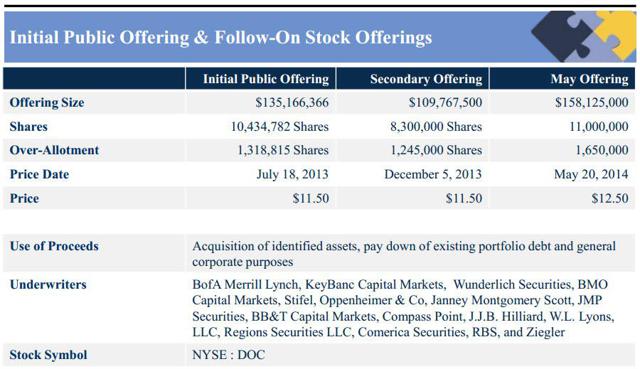 Since the IPO, DOC has closed over $344 million in transactions consisting of 27 buildings totaling more than 1.1 million square feet.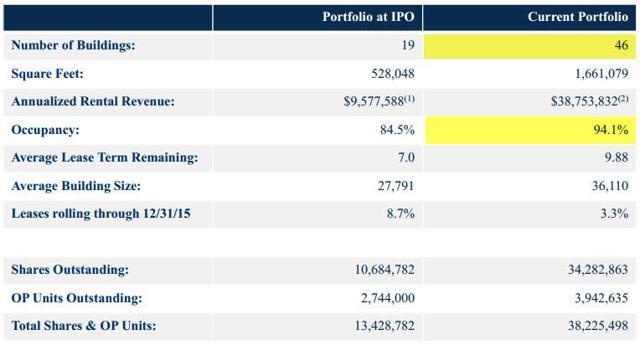 Approximately 91% of the annualized base rent from DOC's portfolio is subject to long-term, triple-net leases.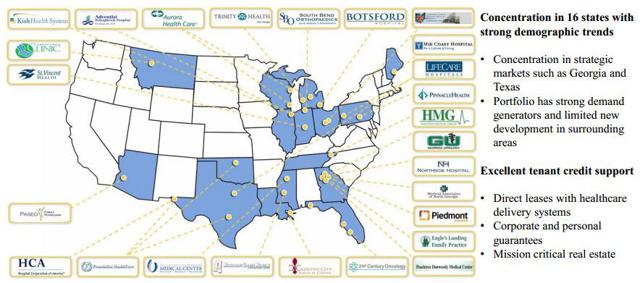 DOC's current portfolio occupancy is 94.1% with a weighted average lease term of 9.88 years. Over 74% of the company's medical office space is affiliated with a healthcare delivery system or located within ¼ mile of campus. Only 3.3% of the company's leases roll through December 2015 with no material lease expirations prior to 2016.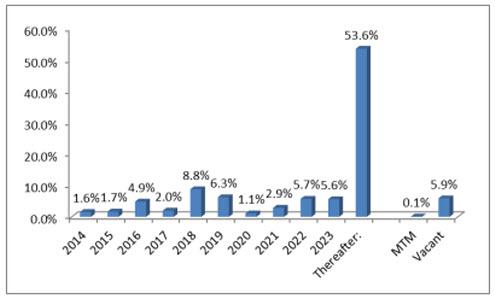 The company's strategy is focused primarily on medical office / outpatient care properties. Here is a snapshot of the company's top 10 tenants: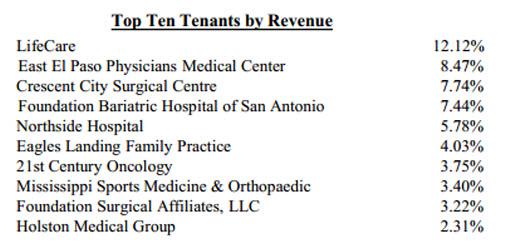 Ehh, What's up DOC?
As mentioned above, I'm already invested in DOC (at a price of $13.04). I'm pleased with the short duration success and I believe that this REIT has plenty of room to run. I support MLV's price target of $16 as I believe that there is strong momentum to support the estimated 34% growth rate (by MLV) in 2015. DOC's management team has demonstrated that its track record is solid and DOC's strategy of flying under the radar should further bolster earnings expansion.

Based on DOC's current share price (of $14.39) and P/FFO multiple of 18x shares appear expensive; however, the true valuation for DOC is better assessed utilizing Adjusted Funds from Operations (or AFFO). I believe that investors may have a better entry point when the lock-up restriction on the Ziegler shares (insider) are released at the end of July (Ziegler as a 12 month restriction selling).

DOC's dividend yield is attractive (6.25%) and is one of the highest yields in the Health Care sector. DOC's guidance for 2014 has AFFO in the $.88-.92/share range, and thus fully covering the $.90 annual dividend ($.2250 per quarter). With such rapid growth, that estimate is best stated as an annual number, as quarter by quarter numbers can be lumpy.

In summary, DOC seems fit and I'm satisfied that this Health Care REIT will benefit from the prospects and outperformance generated by strong external growth. I plan to maintain my current allocation and for new investors I would wait for a pullback that could possibly occur at the end of the month. So now we know; Ehh, what's up DOC?
REITs mentioned: (NYSE:NHI), (NYSE:HR), (NYSE:UHT), and (NYSE:SNH).
Sources: SNL Financial, Physicians Realty Investor Presentation.
MLV & Co provides comprehensive investment banking services to our clients in our focus sectors. We take particular pride in providing both differentiated and creative advisory and capital markets solutions.
Disclaimer: This article is intended to provide information to interested parties. As I have no knowledge of individual investor circumstances, goals, and/or portfolio concentration or diversification, readers are expected to complete their own due diligence before purchasing any stocks mentioned or recommended.
Disclosure: The author is long O, DLR, VTR, HTA, STAG, UMH, CSG, GPT, ARCP, ROIC, HCN, OHI, LXP, KIM, WPC, DOC, UDF. The author wrote this article themselves, and it expresses their own opinions. The author is not receiving compensation for it (other than from Seeking Alpha). The author has no business relationship with any company whose stock is mentioned in this article.