By Kyle Dennis
AcelRx (NASDAQ:ACRX) has been one of our favorite companies over the last two years, which we have written on a few times during that period. AcelRx develops therapies for acute and breakthrough pain that help solve the problems patients have with intravenous delivery systems. The 2H of 2014 should be an inflection point for the company as its product Zalviso is expecting an approval decision from the Food and Drug Administration (FDA) July 27.
Technology: ZALVISO Sublingual Sufentanil Nanotab System
AcelRx is developing Zalviso, which is designed to address intravenous patient controlled analgesia (IV PCA) problems, which can cause harm following surgery. Zalviso uses an already approved generic FDA pain medication called sufentanil.
Usually sufentanil is delivered intravenously with infusion pumps, which can cause infections, dosing errors, and irregular gaps in treatment. Zalviso uses NanoTab technology to deliver a high dosage of sufentanil underneath the tongue. This delivery method eliminates the complications of an IV, increases the drug's efficacy, and provides patients and doctors with a safer treatment.
Top-line data from the final pivotal trial treating pain after knee or hip surgery was released in May of 2013 and highlighted many benefits.
Some Doctor and Patient Benefits:
Patients experienced better, longer lasting, and more complete pain relief after orthopedic surgery.
Nurses reported that it was much easier to use the Nanotab system.
Traditional IV PCA is known for its confusing administering program and Zalviso avoids this problem.
Increased mobility in the hospital.
Decreased chance of IV-related infections.
Political pressure and the opioid market
The FDA has been under pressure recently because opioid abuse is becoming a growing problem. In 2010 the Centers for Disease Control and Prevention (CDC) declared prescription drug abuse to be an epidemic. On April 17 of this year, the FDA announced stronger warning labels for all extended-released opioids. The continued social pressure has negatively affected several small-cap companies, while leaving others with opportunity. Because of this pressure, the FDA has been more apt to approve drugs that tackle this issue head on. AcelRx should benefit from this because it is improving the delivery system of approved drugs. Zalviso should provide a safer, more effective, and a more cost-effective solution with higher quality of care.
BioDelivery Sciences International (BDSI) is a company that recently benefitted from the recent trends. BioDelivery develops several drugs that are in late stages of clinical trials in the pain and opioid dependence marketplace. The company recently received FDA approval for Bunavail, which delivers Subxone (buprenorphine/naloxone sublingual film) as a therapy for opioid dependence. Subxone was approved by the FDA in 2002 and has been very successful, generating $1.4B in sales in 2013.
BioDelivery is hoping to gain a share of that market using its BEMA (BioErodible MucoAdhesive) technology. BEMA technology delivers drugs using a bio-erodible film across a mucous membrane. The film adheres to an oral mucosa membrane in about five seconds and takes fifteen to thirty minutes to dissolve. The BEMA platform has been proven to work, since the company already has received approval for its other product, Onsolis. BioDelivery recently received FDA approval for Bunavail on June 6. BioDelivery's platform has been shown to be safer and more effective which is certainly what Obamacare aims for in part.
BioDelivery is similar to AcelRx in that both companies are improving the delivery method for drugs that have been approved by the FDA and have a strong safety profile.
Recently, Zogenix (ZGNX) has been in the news regarding its FDA-approved drug Zohydro. Since the drug's approval last October, Zohydro has been under scrutiny by many physicians, as some are calling Zohydro "heroin in a capsule" because it is a pure hydrocodone, and not a mix of Tylenol 3 and hydrocodone.
Subsequently, some physicians have been encouraging the FDA to rescind its approval. Additionally, there were bills drawn by the House and the Senate to recommending the FDA reverse its decision. However, proponents of the drug agree with the FDA and believe Zohydro serves a great purpose for a subset of pain patients who suffer from unbearable pain that the currently available opioids cannot effectively treat.
We tend to agree with Zohydro proponents and feel the FDA was correct in approving Zohydro.
Additionally, Durect Coproration (DRRX) and Pain Therapeutics (PTIE) are two partnered companies that have also been in the news regarding its chronic pain drug. The companies are developing Remoxy, which is a sustained release oral gel-cap of oxycodone. The companies are also partnered with Pfizer (NYSE:PFE), who is handling most of the development. The FDA has rejected Remoxy multiple times to date, and the organization is now asking for additional studies to be conducted before the companies can resubmit the NDA. As a result, the companies are currently conducting a Phase I safety study on the potential abuse factor. The FDA did not require any additional efficacy studies, but obviously was concerned with identifying any other potential safety issues with the drug.
Catalyst: Drug Approval Decision on July 27, 2014
AcelRx announced in December 2013 that the FDA accepted the NDA for Zalviso and set a Prescription Drug User Fee Act (PDUFA) date for July 27, 2014. This date is extremely important for the company because it will be its first approved product and the first revenue generator for the company.
We believe there is a high chance that Zalviso receives approval because of the strong Phase III trial results. Since AcelRx is using an already approved drug, this significantly de-risks the event. Additionally, the FDA has been highly focused on approving treatments that improve patient safety. From the Phase III trial results we can see that patients experienced better safety and better efficacy profiles.
We give a 90% chance for approval, with the only wild card being a CRL for manufacturing. However, given that the company has experienced management and board members, we think this chance is relatively low.
The company began partnering and preparing to commercialize Zalviso worldwide over 7 months ago. Recently, AcelRx tripled jobs and doubled space to prepare for commercialization. Although there is never a guarantee for approval, these signs are very positive and show the company is well-prepared to market Zalviso, unlike many developmental companies who prepare poorly by not hiring the needed personal.
Zalviso Economics and Obamacare
When it comes down to it, the most important aspect of a biotechnology company is the profits. Zalviso is poised to take a significant share of the acute pain market because it is not only safer, but also more cost-effective.
The company recently published a cost analysis study of IV PCA's. The study concluded that it would cost between $200-$240 for two days of post-surgical IV PCA's. Zalviso has been projected as low as $140. Additionally, Zalviso avoids the high cost of IV infections or other complications.
Since "Obamacare" is beginning to further subsidize the healthcare system, the FDA and insurance companies favor more cost effective treatments. This bodes well not only for approval, but also for its long-term commercial success.
Cost effectiveness and quality of care are important as Obamacare seeks to cut down on the volume of patients in hospitals. Zalviso is certainly a product that can help hospitals achieve this goal. Hospitals that comply by cutting down on patient volume and improve patient satisfaction are eligible to receive reimbursement incentives under Obamacare.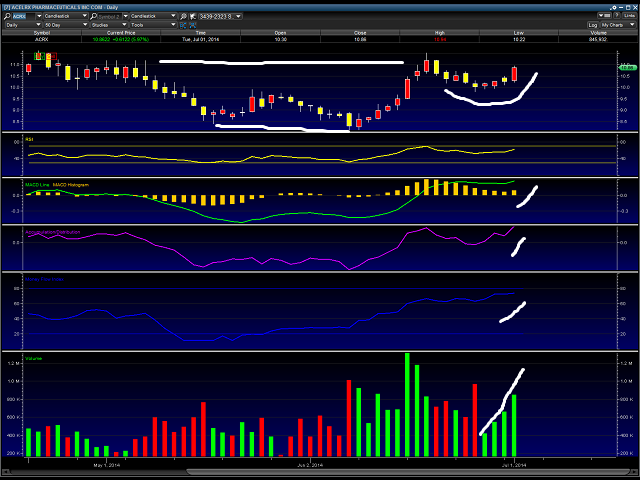 Based on the chart above, we think the stock price has a good chance here to see the mid $12 range. We have marked on the top of the chart in white a cup and handle formation in the chart, that is normally a very bullish sign. Additionally, we have also marked with the bottom white line a double bottom type pattern that shows up as a "W" in the chart, also bullish.
Also, when considering the risk on market condition, with markets exceeding all-time highs, along with Zalviso having a strong chance at approval, we think the 52-week high of $13.64 is possible here.
We believe July 27 is an inflection point for the company and that Zalviso will be approved that day. Given the strong trial results and political situation, we think the chances of approval are very high. On the rare chance the FDA rejected Zalviso, the stock price would likely be cut in half.
We are also bullish on AcelRx management and are confident in the company's ability to market the product. Zalviso may not be a blockbuster drug or a revolutionary treatment, but it is a drug that should help provide significant revenue to grow this small-cap company. We believe AcelRx can reach 52-week highs in the near term, and could see its valuation much higher in the longer term considering the advantages a product like Zalviso can enjoy under the new healthcare changes that Obamacare implements.
Disclosure: The author is long ACRX. The author wrote this article themselves, and it expresses their own opinions. The author is not receiving compensation for it. The author has no business relationship with any company whose stock is mentioned in this article.
Additional disclosure: Disclaimer: This article is intended for informational and entertainment use only, and should not be construed as professional investment advice. They are my opinions only. Trading stocks is risky -- always be sure to know and understand your risk tolerance. You can incur substantial financial losses in any trade or investment. Always do your own due diligence before buying and selling any stock, and/or consult with a licensed financial adviser.