By David Russell
Smithfield Foods (NYSE:SFD) has pulled back to a key support level, and now the bulls are stepping in.
optionMONSTER's Heat Seeker tracking system detected the purchase of more than 2,400 November 16 calls for $0.55 and the sale of about 4,100 November 15 puts for $0.55, with volume far above open interest in both strikes. Most of the activity occurred in less than one minute, indicating that a new position was implemented.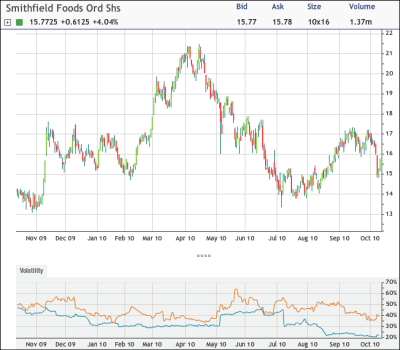 The strategy is a modified version of a synthetic stock trade that will make money if SFD pushes over $16. It will start to incur losses below $15, though the extra premium earned from selling more puts will afford some protection to the downside.
The meat-processing is up 4 percent to $15.77 in morning trading, having rallied shortly after the option activity appeared. SFD fell last week after grain prices soared, causing investors to worry about its exposure feed costs.
Some commodity prices are falling today as the dollar rebounds and emerging markets lag. The weakness, however, appears to be affecting metals and oil more than agriculture.
The recent decline in SFD sent the stock to $14.80, an area where it peaked in October 2009 and later found support.
The company's last earnings report on Sept. 8 was in line with expectations as improved pork pricing offset weak revenue.
Overall options volume in SFD is almost 6 times greater than average so far today.
Disclosure: No position