Does a robust growing, well-run business in a booming industry in its infancy sound like a marvelous investment? If so, then get onboard Noah Holdings (NYSE:NOAH), the leading wealth management company in China that has among the fastest-growing high net worth population in the world.
NOAH is a juggernaut pursuing its Holy Grail of success
Noah Holdings is a small cap, fast-growing wealth management services provider focusing on distributing/selling OTC wealth management products, such as fixed income securities, mutual funds, private equity funds, high-end insurance policies and asset management, including proprietary private equity funds, real estate funds and fund of funds to a growing high net worth population in China. NOAH, a well-recognized brand in China, provides direct access to China's high net worth population, with 604 relationship managers in 56 branch offices as of March 31, 2014 serving 55,519 registered clients across China's wealthiest regions and Chinese people living outside the country. NOAH generates revenues from commissions, recurring services fees, asset management fees and interest from short-term loans. The company is actively pursuing other products and revenue generators.
Shanghai-based Noah Holdings Ltd. has grown its revenue over 10 times from $14.6 million in 2009 to $163.8 in 2013, and grown its net profits over 13 times from $3.6 million in 2009 to $51.4 million in 2013. Even with its massive growth, NOAH remains a great value, with a P/E of 11, P/S of 4 and a very strong balance sheet. In its first quarter ending March 31, 2014, CFO Theresa Teng jubilantly stated,
"Both transaction value and net revenues reached record heights in the first quarter as we continually grow customer base and execute strategic initiatives. More importantly, operating margin and net margin increased from the previous year which demonstrated improvement of operational efficiency."
There are risks in investing in China, such as an evolving Chinese securities regulatory system and new, potentially unfavorable laws regulating their fledgling money management industry that may go into effect. As more Chinese get rich, there will be more competition from foreign wealth management firms. There are pessimists about China's future, including prominent short seller investor, Jim Chanos. Macroeconomic factors like corruption, heavy bank debts and an iron fist government are also frequently discussed by the China bears.
While there are macroeconomic problems in China, this dynamic country is home to the world's fastest bullet train, longest bridge and largest hydroelectric dam. Another indication of more people with more disposable income is that Macau, China is now 7 times greater than Las Vegas, Nevada U.S.A. China's GDP growth in 2013 was 7.7%, compared to the United States' paltry 2.6%.
A Titan Of China's Young Investment Management Industry
When highly acclaimed CEO, Jingbo Wang founded the investment advisory management firm, she chose the name Noah Holdings to demonstrate that the company will showcase Christian values of honesty and integrity, which is very wise in an industry where trust and reputation are crucial. CEO Wang owns 24% of all shares of Noah Holdings.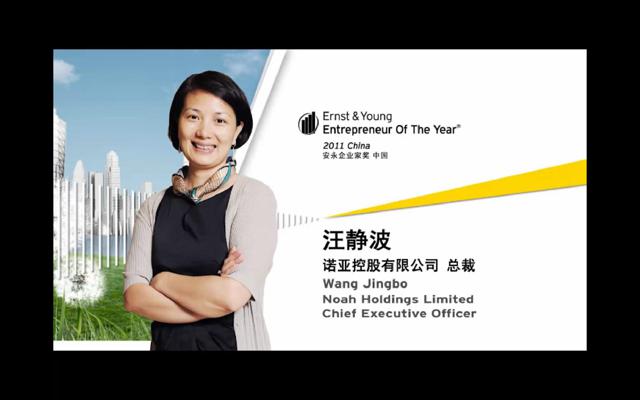 I found the 42-year old CEO Jingbo Wang impressive during the 1Q14 earnings conference call on how skillfully she answers tough questions about China's real estate, knows the minute details of the business such as investments, its IT infrastructure, regulatory changes etc. and her command of the English language, fluently answering questions in both Chinese and English.
China's rich are growing in numbers
The Chinese high net worth population is booming, with China now #2 in the world for number of millionaires, behind #1, the United States. The growing number of Chinese millionaires have limited choices for wealth management and investment advisory services, compared to a mature wealth management industry in the U.S.A. In fact, the first mutual fund companies in China only started in the 1990s. Most of China's millionaires are first-generation, being in their 40s and 50s, and in need of professional advice on investing in equities.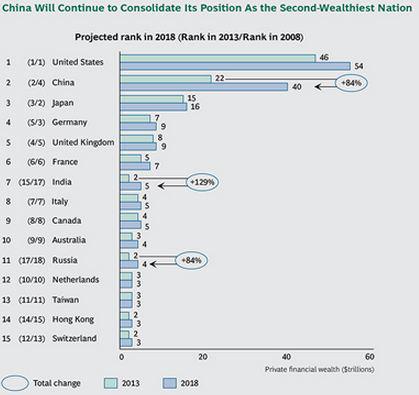 Opportunities like NOAH do not come around often
Imagine 20 years ago, you invested in wealth management financial advisory stocks like BEN, TROW or BLK, and how much better you would have done than the S&P 500 (SPX). I liken investing in China's leading independent wealth management leader NOAH to investing in BLK or TROW 20 years ago, with NOAH in a more fledgling market and with greater economic moat.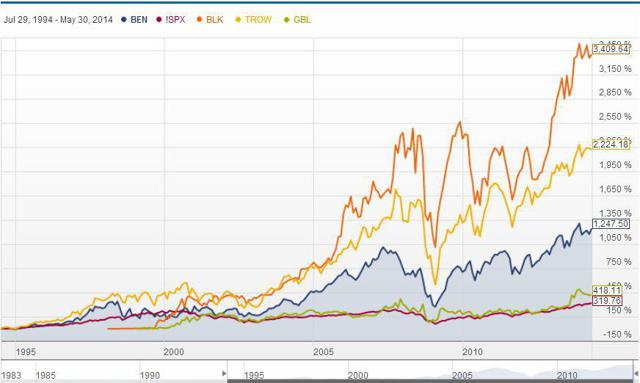 Noah Holdings is in the right place at the right time as a dynamic leader in the burgeoning Chinese wealth management industry, being well-positioned to capitalize on the powerful secular trend of a growing number of high net worth consumers in China.
Disclosure: The author is long NOAH. The author wrote this article themselves, and it expresses their own opinions. The author is not receiving compensation for it. The author has no business relationship with any company whose stock is mentioned in this article.