Introduction
There's no challenging AMD's (NYSE:AMD) position against Intel (NASDAQ:INTC). AMD is the underdog and is behind in almost every field it specializes in. Even its unstable stock price history shows the company trading from above $40 to $4 twice. When you mix a late mobile start with the pounding it gets from Intel through a dying PC market, AMD is easily viewed as a high-risk, absolute avoid for many investors. However, I'd beg to differ. So here I'll write a few reasons why I think AMD is worth some of your time and money, even in the long run.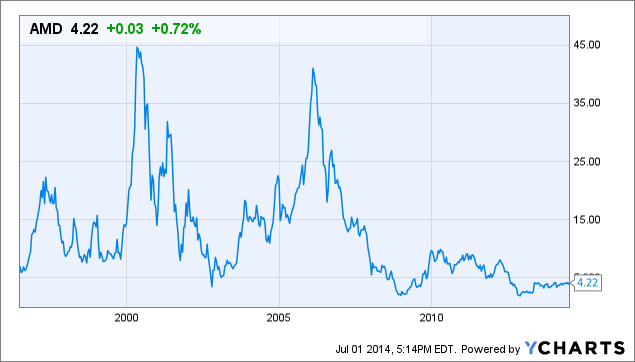 1. AMD is miles behind Intel and is priced as such
It's quite common to see leaders become complacent. Even if this doesn't apply to Intel, it appears that the road ahead is rough. Competition drives us to new altitudes and Intel's giant lead has served as a very motivational bar, just like Apple's first iPhone in the smartphone industry. Intel's competitors like AMD are anxious to close the gap just like how Samsung and other phone makers did.
Fortunately for Intel, its manufacturing process is years ahead of AMD which obtains its wafer supply from Global Foundries and TSMC (TSMC). Intel's fabs are a world-class leader. However, others have taken notice and now tech giant Samsung and Global Foundries are cooperating to push out 14nm 3D nodes to counter Intel's 14nm 3D process that will arrive later this year. As a customer of Global Foundries, AMD will be a very happy beneficiary from the results to come. Especially since it is still on a highly inferior 28nm 2D node.
AMD is still around and has made way with its inferior processors but the tables are turning in its favor. With better technology, AMD will be able to provide competitive processors that will help gain back the massive market share Intel has taken over the last few years.
2. AMD made a serious comeback in graphics
Author's note: Firstly, this section is more than a rebound in graphics; it is a portrayal of a competitive edge that has been absent from AMD for years. What's happened in graphics over the last year shows AMD tackling down their competitor, Nvidia (NVDA), and I view it as an important shift of positive momentum that will reflect upon all sectors of the company.
Last October, AMD launched a barrage of new consumer graphics cards, dubbed the "Hawaii Series." Offering extreme value and performance, these GPUs were wildly successful and were a top choice for gamers and even "miners" that used these processors to mine crypto-currencies.
At the time, AMD also took down Nvidia's long reigning, top-of-the-line, high margin, $1000 "Titan" GPU with the launch of the $550 R9 290X GPU. With a smirk, Nvidia swiftly responded by taking out a superior and ostensibly pre-ready GPU out of its pocket. However, AMD responded with a low price, $399 R9 290 (Non X) that held a lower performance but offered unmatchable high-end value.
Several months later, Nvidia announced an "incredible" dual-GPU called the Titan Z while stating it would cost a shocking $3000. Nvidia was very proud of this GPU and described it on its website with the following:
"GeForce GTX TITAN Z is a gaming monster, built to power the most extreme gaming rigs on the planet. With massive 5760 cores and 12GB of 7Gbps GDDR5 memory, TITAN Z gives you truly amazing performance - easily making it the fastest graphics card we've ever made.

This is a serious card built for serious gamers. TITAN Z is designed with the highest-grade components to deliver the best experience - incredible speed and cool, quiet performance - all in a stunningly crafted aluminum case."
Before Titan Z's launch, AMD whipped out its own dual-GPU, the R9 295X2, that also became the first reference design to feature a water cooler. The results shocked the industry, especially Nvidia who then delayed the Titan Z multiple times. Even after Titan Z's launch, AMD's R9 295X2 still reigns as the gaming champion and the best part is that it costs half as much at $1500. Good change has surfaced from AMD and I believe that this type of momentum will be carried throughout the entire company.
3. Still room for a small short squeeze
Other data keeping longs happy is the potential bonus that comes with a relatively high amount of shares short. As AMD starts to reel in success, the ratio has been on a steady decline. However, the latest data from the NASDAQ website still indicates approximately 109 million shares short with 7 days to cover. This is just over 14% of the total float, which isn't a lot but is still certainly noteworthy. AMD's short interest is highly driven by an ocean of doubt as I explained in the introduction. However, longs that believe in an upside have a potential to benefit from a slight squeeze in the coming months. This could happen earlier with AMD's earnings around the corner.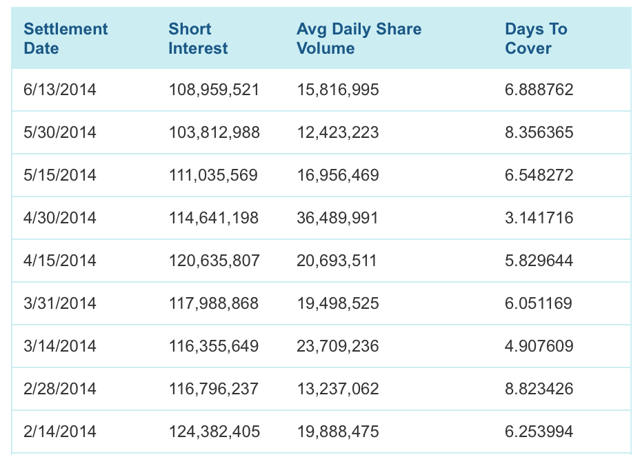 Source: NASDAQ
Conclusion
Sometimes, people and companies just don't change and often people don't believe they can. As I mentioned, AMD's stock has gone from over $40 to $4 twice. AMD has indeed made attempts to restructure in the past but in the end it's still a small fish. However, AMD has never undergone a restructure like this, and to add to this, AMD is now under a new, highly skilled and knowledgeable management team.
I have a very extensive write-up on the restructure if you're interested, but in short, the underdog is expanding its expertise across a variety of high growth markets to generate a diverse revenue stream. At the same time, AMD will also end its dependency on the PC as well as its venerable position against Intel. However, this doesn't mean AMD is done with the PC. In my previous write-up, I explained that AMD's PC problem is over. I am highly optimistic of AMD's future.
Disclosure: The author is long AMD. The author wrote this article themselves, and it expresses their own opinions. The author is not receiving compensation for it (other than from Seeking Alpha). The author has no business relationship with any company whose stock is mentioned in this article.