By David Russell
Chico's FAS (NYSE:CHS) is back in vogue with the bulls.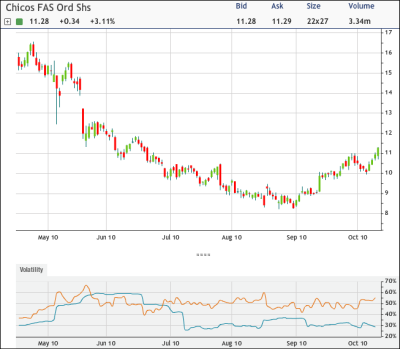 optionMONSTER's Heat Seeker tracking system detected heavy call buying in the specialty retailer. Capital is flowing into the October 11s, the November 12.50s and the November 11s, pushing total option volume in the name to 5 times the daily average.
The October 11s were the most active, trading more than 5,600 contracts against open interest of 2,761, with the premiums climbing from $0.15 to as much as $0.50 as the session progressed. The November 12.50 contracts fetched $0.30 to $0.50 and the November 11s mostly traded for $0.90 to $1.05.
CHS is up 3.11 percent to $11.28 in late morning trading and has gained 26 percent in the last month. The company narrowly beat earnings estimates the last time it issued results on Aug. 18, though revenue missed forecasts. The stock has been rebounding along with other consumer-discretionary names since early September after a sharp selloff between April and July.
Calls outnumber puts in CHS by a bullish 35-to-1 ratio so far today, according to the Heat Seeker.

Disclosure: No positions