"If you wait to do everything until you're sure it's right, you'll probably never do much of anything." - Win Borden
It has been a while since I penned anything about high yielding energy partnership Linn Energy (LINE). This limited partnership was brought low by a couple of hit pieces in Barron's last summer questioning some of its accounting practices which are by and large standard in Linn's industry.
As I stated then I believe these concerns were overblown if not downright inaccurate. I took a quite a stake in Linn Energy when it declined down into the low $20s on the back of the spurious articles in Barron's. It proved to be a good investment as the shares have since rebounded into the low $30s. I have cut my position substantially as the entity is not the screaming buy it was last summer.
However, I still have some stock of Linn Energy in my income portfolio due to its high yield and continual growth. I have to admit it is not as fun a stake to own now that the naysayers have gone away and the focus by Barron's on Linn Energy is a distant memory.
I am revisiting the investment case on Linn as it recently initiated a huge purchase of productive acreage from Devon Energy (NYSE:DVN), a mid-major E&P play I also have shares in. The properties in the $2.3B purchase include ~900K net acres across the Rockies, Mid-Continent, east Texas, north Louisiana and south Texas regions with ~4,500 total wells. Linn has stated it has identified 1,000 plus future drilling locations and ~600 recompletion opportunities.
Linn will fund this purchase through the sale of its Granite Wash assets and other non-producing acreage in its portfolio. This is a good deal for both companies and both stocks are up since the deal was announced. Devon gets divest non-core assets and can reduce debt or allocate additional capital budget towards its faster growing productive acreage. The company also becomes more "oily" as ~80% of the production from this non-core acreage is natural gas.
For Linn, it is more an exchange of assets which should improve the company's performance. Raymond James has come out and postulated that the company "may need to reserve only 20% of EBITDA to maintain the cash flow from these new assets vs. ~40% of EBITDA likely need to maintain the Granite Wash; through this transaction and the Permian divestiture program". These swaps should also reduce Line's capital budget needs by some $400 million annually. A win-win all around for both energy concerns.
For income investors, the investment case for Linn is still solid. The entity pays a 9.3% yield and earnings are tracking towards more than quadrupling this year after posting just 34 cents a s share in profit in FY2013. As analysts digest this latest purchase, forward earnings estimates should be revised up and I look for other analysts to issue positive comments on Linn like those of Raymond James.
Bottom Line: The partnership may not be as volatile or as cheap as when Barron's and other naysayers were taking potshots at it. However, it is still a solid position for income portfolios and recently has staged an impressive move above its 200 day moving average. ACCUMULATE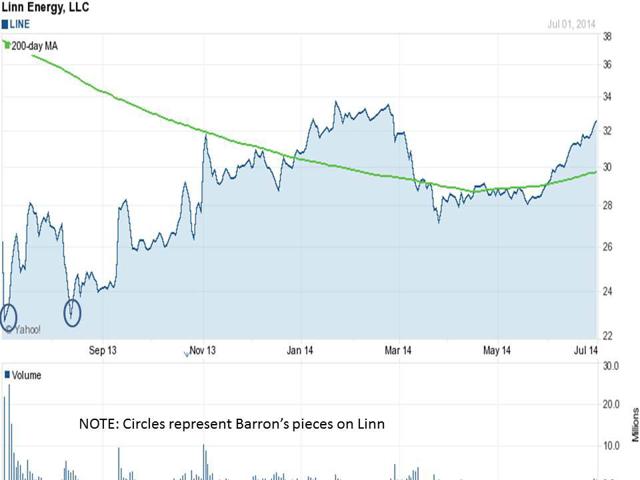 Disclosure: The author is long DVN, LINE. The author wrote this article themselves, and it expresses their own opinions. The author is not receiving compensation for it (other than from Seeking Alpha). The author has no business relationship with any company whose stock is mentioned in this article.