Here is a look at how the 2.9% decline in first quarter GDP may influence jobs reports coming Thursday and the next two months. We will look at the non-farm jobs (establishment survey) and the job numbers in the household survey.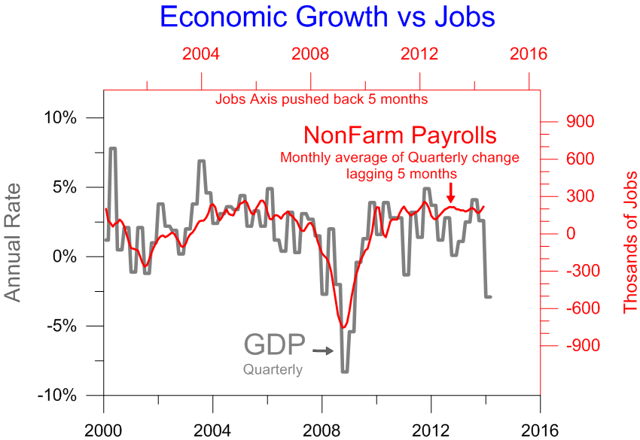 The red line in the chart above shows the quarterly change in jobs shown as a monthly rate and how it compares to quarterly GDP growth 5 months earlier. In an effort to look at more signal and less noise, I am using a somewhat smoothed jobs number. The last point on the line, 219.8 thousand, is calculated by averaging the last three months of the non-farm jobs number, then subtracting the average of the previous 3 months and finally dividing the difference by three to get the monthly average.
The 219.8 May number is the highest in just over two years and is the second monthly increase in a row. The negative quarter of GDP suggests this growth rate in jobs will start to trend down with the June report.
The Household survey job growth shown below has been smoothed in the same way the non-farm jobs numbers were above.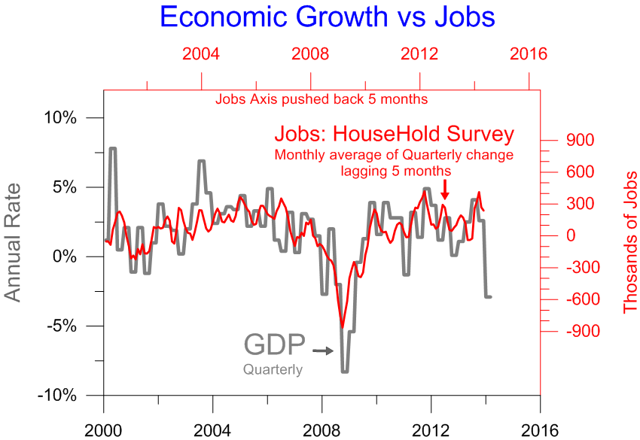 The last number for May was 238.8 thousand. It hit a two-year high in March and has declined the last two months.
The negative GDP for the first quarter implies the non-farm jobs growth will turn down and that the Household jobs growth rate will continue down. Unless the economy is in recession a plunge in quarterly GDP does not lead to a loss of jobs, but rather a decline in the growth rate of jobs.
It is possible the Thursday jobs report could show a loss or a continued increase in the growth rate, the more likely outcome appears to be modestly weaker growth.
Disclosure: The author has no positions in any stocks mentioned, and no plans to initiate any positions within the next 72 hours. The author wrote this article themselves, and it expresses their own opinions. The author is not receiving compensation for it (other than from Seeking Alpha). The author has no business relationship with any company whose stock is mentioned in this article. There is no guarantee analysis of historical data their trends and correlations enable accurate forecasts. The data presented is from sources believed to be reliable, but its accuracy cannot be guaranteed. Past performance does not indicate future results. This is not a recommendation to buy or sell specific securities. This is not an offer to manage money.