It still amazes me that the market priced BlackBerry (NASDAQ:BBRY) as a soon-to-be bankrupt company earlier this year. Investors who were willing to take the risk have enjoyed a decent upside with this company. It is safe to conclude now that BBRY isn't going anywhere in the foreseeable future. However, I have noticed on recent SA articles some rather extreme optimism.
BlackBerry's turnaround still depends on perfect execution. So far, Chen has done an outstanding job. But even if the bulls enjoyed a number of tailwinds, many challenges lie ahead for this company.
Before investors can laugh all the way to the bank with a multi-bagger, BlackBerry's multiple strategies for generating top line growth have to pay off. I believe the launch of BES 12 is the most important stepping stone in the coming quarters to this end. Make no mistake, despite recent developments, BlackBerry continues to be a high risk/high reward play.
BlackBerry's Push for Growth
You have to give credit to this company for performing under great pressure and coming up with a credible and viable game plan. Nevertheless, most of its initiatives will take time to mature and will only contribute with a small part of its revenue for the time being.
A quick read of the most recent MD&A recaps the company's game plan:
An initiative, code named Project Ion, to offer end-to-end solutions for the Internet of Things era, powered by QNX.
The investment in healthcare information technology provider, NantHealth.
A partnership with Amazon to make 240 thousand Android apps available to BlackBerry users.
A three-year agreement with EnStream LP to provide a secure platform to support transactions.
The first two, Project Ion and NantHealth, constitute the advancement of BBRY's strategy to position itself as the go-to company in the rise of the Internet of Things. Through QNX, BBRY is already the indisputable leader in the automotive infotainment industry. However, as promising as this sounds, QNX is still in its infancy relative to its potential. BlackBerry registers QNX's revenue under "Services" along with the development of third party products. In the latest quarter, this business segment generated an unimpressive $54 million, or 5.6% of total revenue for the period. In the long road ahead to cash in QNX's revenue potential, investors have to account for a number of potential risks inherent to the sector.
The third initiative, the Amazon partnership, is a great move to overcome one of the main disadvantages of owning a BlackBerry smartphone. However, it is also a confession that this company no longer sees itself fit to compete for developers through its own app store. In the same line, the Foxconn agreement is also a concession to its competition, accepting that BlackBerry can no longer compete for relevant market share in the global smartphone arena. For additional proof, investors can take John Chen's word for it: "If we ship 10 million phones in a year, we'll be profitable on phones (hardware). That's the model we're going after." Ten million smartphones a year is a mere 0.83% of the estimated 1.2 billion smartphone shipments during 2014.
Even BlackBerry Messenger is a promising but distant prospect to support the company's future growth. In the recent earnings report, the company disclosed 85 million MAU along with 160 million registered users, which is zero growth in MAU and a 42% growth in registered users from fiscal 4Q14. Given that the MAU figure is really the number that counts, I'm disappointed in BBM's growth. BBM has an uphill battle if it wishes to catch up with its competition anytime soon.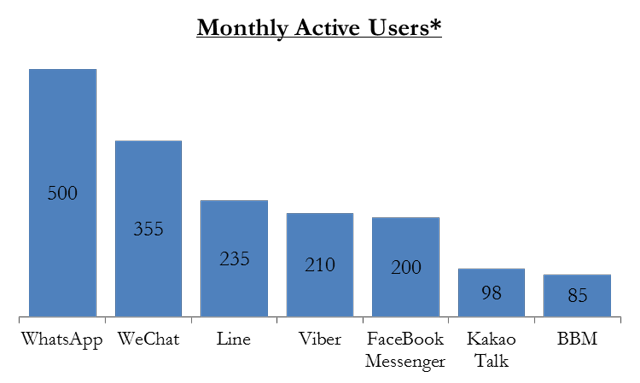 Source: Statista, Business Insider, Tech in Asia. * Numbers for the period between January and March 2014.
Even if the company's guideline for $100 million in BBM revenue in fiscal 2016 is achieved, which includes potential revenue for the EnStream LP agreement, it would still represent less than 3% of total revenue, assuming top line of $3.8 billion (annualizing 1Q15's $966 million).
Enterprise Mobility Management
So, after painting a rather bleak picture of BlackBerry's future, let me explain why I'm still bullish on the stock, rather than cashing in my current +20% upside. I believe Enterprise Mobility Management, or EMM, has the potential to carry this company until longer term initiatives can take flight.
EMM is a very dynamic industry. In its first stage, it was centered around devices. It offered inventory management, device status and health and help desk support. In its current state, EMM vendors' offering is centered around the management of mass deployment of applications. The challenge for vendors is to offer ways to secure corporate data while allowing users to take full advantage of their mobile devices.
Despite taking steps in the right direction, BlackBerry's current EMM offering (BES 10) suffers from important shortcomings. One of them is the inability to manage BlackBerry 7 devices. This issue, along with a few others, has so far hampered migration from earlier versions to BES 10 (conceivably even pushed customers to competitors such as Mobile Iron (NASDAQ:MOBL) or Good Technology), and potentially affected revenue.
However, BES 12 is designed to manage all BlackBerry/iOS/Android/Windows devices within a single system, which at the end of the day means fewer costs for customers. BlackBerry's EMM strategy through BES 12 is to provide an application based environment and ecosystem centered around end-user productivity.
Mobile Iron's prospectus summarizes the potential size of the EMM market. Citing IDC, Mobile Iron estimates the total installed base of business-use smartphones around 498 million for 2014, growing to 887 million by the end of 2017. Using Gartner's estimate of the cost of mobile IT management software of $55 per device, this means that the EMM market could be worth $27 billion in 2014 and $49 billion in 2017 (a CAGR of 21%).
BlackBerry is the indisputable leader in its segment inside the EMM industry, and I believe its advantage is poised to growth. I provide two pieces of evidence to support this claim.
Its main competition is Good Technology, Mobile Iron and AirWatch.
First, based on information from Google Play, BlackBerry's BES 10 has grown its installed based from the 1 million-5 million bracket to the 5 million-10 million bracket. Compared to its competition, BlackBerry's size could now be even greater than before.
| | | |
| --- | --- | --- |
| | Installs Jan-14 | Installs June-14 |
| BBRY BES 10 | 1m - 5m | 5m - 10m |
| Good Technology | 500k - 1m | 500k - 1m |
| AirWatch | 100k -500k | 100k - 500k |
| Mobile Iron | 100k - 500k | 500k - 1m |
Second, both Mobile Iron and Good Technology disclosed their customer base in their recent registration forms. Mobile Iron reports a corporate customer base of 6,000 as of December 2013, while Good Technology reports 5,000 clients as of March 2014. Both numbers pale in comparison to BlackBerry's 35,000 BES 10 customer base disclosed in the recent earnings report and a total estimated client base of 80,000 (taking into account earlier versions of the product).
To facilitate the migration to BES 12, BlackBerry offered the EZ Pass (basically free migration from earlier versions of BES and competitors' products to BES 10, followed by a free upgrade to BES 12 by the time it is launched). In the latest earnings report, Chen announced a "very strong uptick" of the EZ Pass Program with over 2,600 customers and 1.2 million licenses. Remarkably, 10% of these were traded in from the competition.
If BlackBerry sustains this momentum, by the time it launches BES 12 the migration rate should be a success, further positioning the company as the leader in the EMM market. If BlackBerry's revenue growth from this segment can match the estimated trend of the industry (21% CAGR), the top line of the company can begin to turnaround in the next few quarters.
Disclosure: The author is long BBRY. The author wrote this article themselves, and it expresses their own opinions. The author is not receiving compensation for it (other than from Seeking Alpha). The author has no business relationship with any company whose stock is mentioned in this article.