Buying solid dividend growth companies at reasonable and discounted valuations is the main strategy I use to secure my financial future. With the market hitting highs, it's getting increasingly difficult to find companies which I want to own for a growing stream of income.
I set up portfolios of different industries on Seeking Alpha, and look through them from time to time. One company, which I owned before, caught my attention. It was Raytheon (NYSE:RTN).
About Raytheon

Raytheon is an international aerospace and defense company having government and commercial clients in the businesses of:
1) Integrated Defense Systems
2) Intelligence, Information and Services
3) Missile Systems, and
4) Space and Airborne Systems
In 2013, Raytheon faced difficulties such as the sequestration; however, Raytheon was still able to grow its margins, earnings, and cash flow in 2013 compared to 2012. At the end of Q1 2014, it had a backlog of $32.2B. In 2013, international bookings made up 30% of total bookings, an increase of 10%. This helps its business to diversify from reliance on domestic business.
It is a high quality company, having an S&P credit rating of 'A', and manageable debt.
Valuation
Raytheon is priced at P/E 14 with a forward P/E of 12. I believe in the long-term, it should head towards a P/E of 15. In the F.A.S.T. graph below, we see the beautiful P/E expansion occur between January 2013 and March 2014, reaching for the orange earnings line of P/E 15. Then, the fair price by the end of 2014 is $103. As a result, Raytheon is trading at a discount of 10%.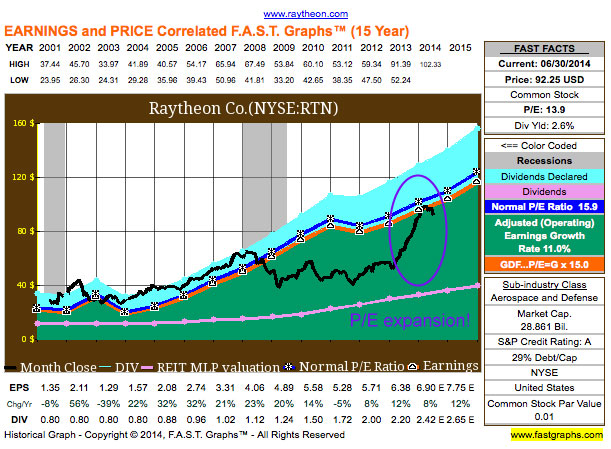 Morningstar indicates Raytheon to be fairly valued with the 3-stars, and gives Raytheon a fair value estimate of $93. For high quality companies, I use the 10% mark, resulting in a fair value range of $84 - $102.
Raytheon estimates that the 2014 earnings per share will come in at $6.74 to $6.89. With a P/E of 15, that indicates a price of $101.1 to $103.35.
All of the above sources align nicely with Morningstar's numbers being the most conservative.
Current Yield and Dividend Growth History
Raytheon has a yield of 2.6% with Tuesday's closing price of $93.1.
Raytheon has raised dividends for a full decade. Its dividend growth rates are as follows:
1-year: 11.4%

3-year: 14.4%

5-year: 14.4%

10-year: 10.4%
(source: David Fish's Champions, Contenders, and Challengers list of May 2014)
With analysts expecting earnings growth to be 8 - 9% for the next 5 years, I expect Raytheon to continue growing dividends between 8 - 10%.
My Lessons Learned after selling out of Raytheon at the end of June last year
I owned Raytheon shares before, but regrettably sold out at the end of June last year.
At the time, I found out the foreign stock dividends are taxed unfavorably in the non-registered account for Canadians, which is where I bought my RTN shares. (US dividends are actually taxed more favorably for Canadians in the RRSP account). In addition, technically, the stock was overbought with the relative strength indicator [RSI] going over 70.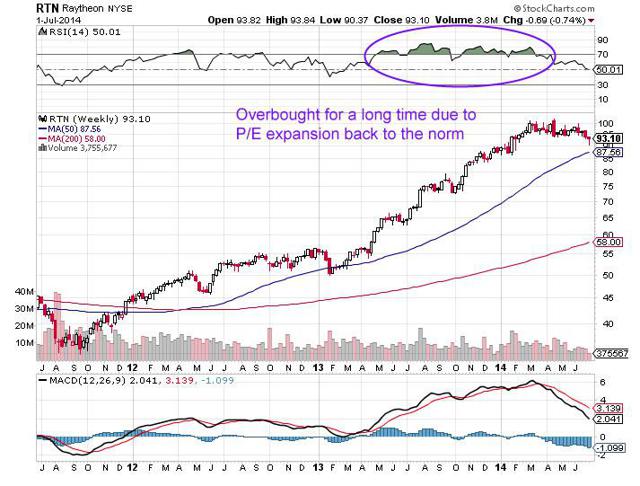 Click to enlarge
Further, I was getting for the first time 20%+ gains (in a very short period). Looking back, I was affected by my emotions, and a lack of experience as an aspired long-term investor.
This lesson taught me that fundamentals trump technicals. Since then, I've heard others with specific stock gains of 100%+ and even 1000%+. The only way that can be achieved is by buying great businesses at a proper valuation, and then, holding on for a very long period of time, through their valuation oscillation between fair value, undervalue, and overvalue. One should actually buy more shares when an undervaluation situation occurs, and hold on the rest of the time to receive a growing income stream.
I saw the price rose to the $70s, but I couldn't buy it back (because of selling out at a lower price). And I outright ignored the stock thereafter until I noticed it reached the $90s and then over $100. Finally, I started a small position again in the low $90s this week.
I think this time, I'm holding Raytheon for good. To reduce the chance of trading by emotion, I've since set up an alert system to better use capital to get a higher income and a higher total return.
Resources
If you like what you've just read, consider clicking the bolded "Follow" link at the top of the page above the article title to receive an email notification when I publish a new article.
Note: Please use this article as initial research material. Do your own due diligence before buying or selling a stock.
Disclosure: The author is long RTN. The author wrote this article themselves, and it expresses their own opinions. The author is not receiving compensation for it (other than from Seeking Alpha). The author has no business relationship with any company whose stock is mentioned in this article.