Gilead Sciences (NASDAQ:GILD) is a world class research based company with particular expertise in infectious diseases. GILD currently holds a dominant share in the HIV field through a host of innovative products released over the past decade. GILD has recently branched out into a different sector of infectious disease with Sovaldi, a potential cure for Hepatitis C. This article will discuss the short-term implications of today's price action along with a brief discussion of GILD's likely reaction once earnings are released.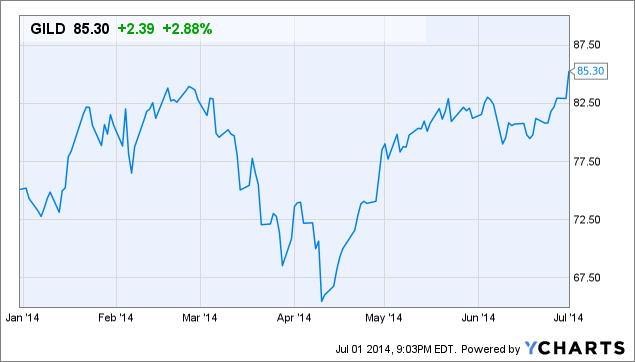 There are times when a mere picture can sum up far better than words the price action of GILD. GILD started to recoup quite a bit of lost ground once their recent earnings report was released on April 22nd. Interestingly, once the report was released the shares went nowhere, as there was a battle between the bulls and the bears. The next day the shares began their ascent, as investors in my opinion began to digest the magnitude of the earnings report.
Sovaldi generated over $2 billion in sales for the first quarter of its commercial existence. To add further context to the sales number, Sovaldi managed to generate almost as much revenue as GILD's other established franchises. To say the least, the sales growth of Sovaldi will greatly enhance GILD's free cash flow which will allow them to reward shareholders through a combination of share repurchases, and self funding of new promising therapeutic candidates. For a more thorough discussion of the free cash flow machine GILD has morphed into, click here.
The shares of GILD have been in a sideways pattern for the past 6 weeks. The shares have been trapped in a range of $79-$84, as the shares attempt to break out into new highs. Notice from the chart below, volume tends to pick up dramatically once "bad news" is released concerning GILD. The shares tend to absorb the selling and have trekked higher a few sessions after the supposed "bad news" is released. While I am excited to see the shares carve out a new all-time high, I wish it was on high volume instead of the mediocre volume generated today.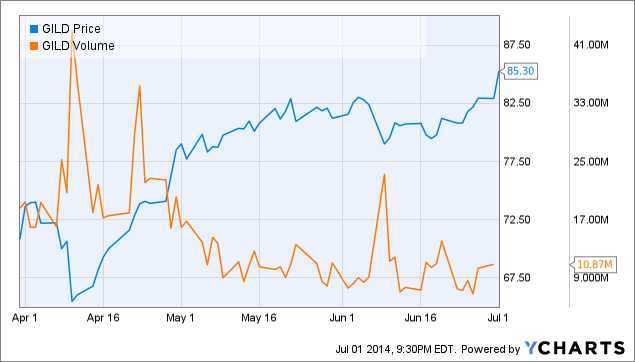 I anticipate GILD will continue to trend higher into its earnings report due to two factors. The first factor revolves around the strength of its hepatitis franchise. There is a pervasive belief that the franchise isn't durable due to its ability to "cure" people. The bears anticipate there will be a rush for treatment amongst the infected population, depriving GILD of an "annuity" type revenue stream. I find this is to be highly improbable for two reasons. The first reason is the sheer cost of the product. I expect the product to be designated as a prior authorization type product which generates an immediate review by the insurance company. The process requires the MD to submit proof of need for the product instead of simply writing a prescription. While not impossible to navigate, I expect the insurance companies to limit the product to those who are "most ill" similar to what is being done in some European countries. I find it highly improbable we will see a rush for treatment, instead I expect to see a relatively consistent revenue stream for the foreseeable future.
The second part of the bears' argument revolves around price competition from inferior competitors. I find this argument as quite weak due to the pricing mechanism involved in branded medication. After spending enormous sums of money to develop the product, competitors will be looking to "cash in" on the vast sums spent to develop this product. Competing on price in my opinion isn't a viable outcome.
The major risk to GILD's Hepatitis franchise, in my opinion, won't come from the bear case. The major risk is innovation, specifically if a competitor is able to develop a better product. GILD is well aware of this risk and is taking steps to further strengthen its Hepatitis franchise through the development of ledipasvir. GILD is actively testing a combination of ledipasvir along with sofosbuvir (Sovaldi). GILD is anticipating the combination of these two compounds will generate a faster, more complete response for patients seeking treatment from this terrible ailment. While nothing is guaranteed until the FDA gives its blessing, I anticipate GILD will have success with this combination further strengthening its franchise. The combo product strategy is one that GILD has used quite well over the past with its HIV franchise.
The bears have managed to generate exaggerated selling on any sort of perceived "bad news". The selling is quickly absorbed by new investors eagerly waiting for a pullback to acquire shares of this innovative company. With today's breakout, even though it was done on weaker volume, I expect the shares to continue its recent pattern and trend higher. I believe the bears aren't deterred, as they will look to enter into short positions again ahead of the earnings report. An increase in shorts ahead of earnings will provide some fuel for a potential short squeeze, if earnings come in better than expected. Now that the shares have made a new high above $85, the path of least resistance is higher. I wouldn't be surprised at all if the shares rally an additional roughly 5% to $90 per share heading into earnings.
In conclusion, today's price action is rather encouraging for the GILD bulls. I am optimistic we will see higher prices for the month of July, especially if earnings come in better than expected. I would like to thank you for reading and I look forward to your comments.
Disclosure: The author is long GILD. The author wrote this article themselves, and it expresses their own opinions. The author is not receiving compensation for it (other than from Seeking Alpha). The author has no business relationship with any company whose stock is mentioned in this article.
Additional disclosure: Investors are always reminded that before making any investment, you should do your own proper due diligence on any name directly or indirectly mentioned in this article. Investors should also consider seeking advice from a broker or financial adviser before making any investment decisions. Any material in this article should be considered general information, and not relied on as a formal investment recommendation.