It feels like an eternity ago that Reuters published its epic, 129-word article about how BlackBerry (NASDAQ:BBRY) was quitting the phone business. It was like the shot heard round the world, except it wasn't the start of World War I, only the planting of the seed for what may be one of the most memorable short squeezes in recent times.
"If I cannot make money on handsets, I will not be in the handset business," BlackBerry CEO John Chen was quoted as saying during an off-camera interview. That was April 9th, 2014. Every news source and their collective sisters pushed the story, and the stock promptly sold off heavily, from $8 to just over $7 in just a few days.

Source: Google Finance (annotations added)
Just one day after the story was published, and following vociferous objections raised by BlackBerry and shareholders, Reuters decided to publish the "fuller story" with a softened headline. A bunch of really positive stuff was added to the extended piece, stuff that would have given anyone pause when digesting the original headline. In fact, the bit about getting out of the handset business was so far out of context, it wasn't even included in the actual Reuters video that was the reason Chen was in the room in the first place.
Thank You Reuters!
What should have been bullish news about Chen's strategy turned out to be one of the most inaccurate (although technically factual) pieces of news reporting in recent financial news memory. What could have been a very positive video interview featuring Chen's outlook about getting the company to break-even (and potentially moving the stock way up) caused the exact opposite, in my opinion.
I will never forget how furious I was. I had been steadily accumulating shares from $6 to $10 during the previous couple of months. Anyone with half a brain could see that Chen had a plan and a track record, and the bleeding had pretty much been stopped. In hindsight, I owe Reuters and the rest of the news media herd a huge debt of gratitude! After all, practically everyone was now thoroughly convinced that BlackBerry was just steps away from Chapter 11! I remember going into the AT&T (NYSE:T) store the very next day to get a SIM card for my incredible new BlackBerry Z30. The clerk gave me a funny look when she saw the phone, exclaiming, "didn't you see the news that BlackBerry is going out of business?"
She was not the only one to have the wool pulled over her eyes. The retail shorts jumped in with a vengeance, and the message boards lit up with a form of BlackBerry hatred I have never before witnessed. While they were shorting, I was buying like a madman. I was not alone. You see, $7 looked a whole LOT more attractive to me all of a sudden. My thinking was this: If BlackBerry was trading at $7 when the entire world thought they had one foot in the grave, what would happen to the stock when the real story got out??
Meanwhile, the media and other pundits hit the pause button on the BlackBerry turnaround story, and the narrative was decidedly negative over the next couple of months, until the most recent earnings report came out, re-confirming - surprise - what we all thought we already knew. Duh!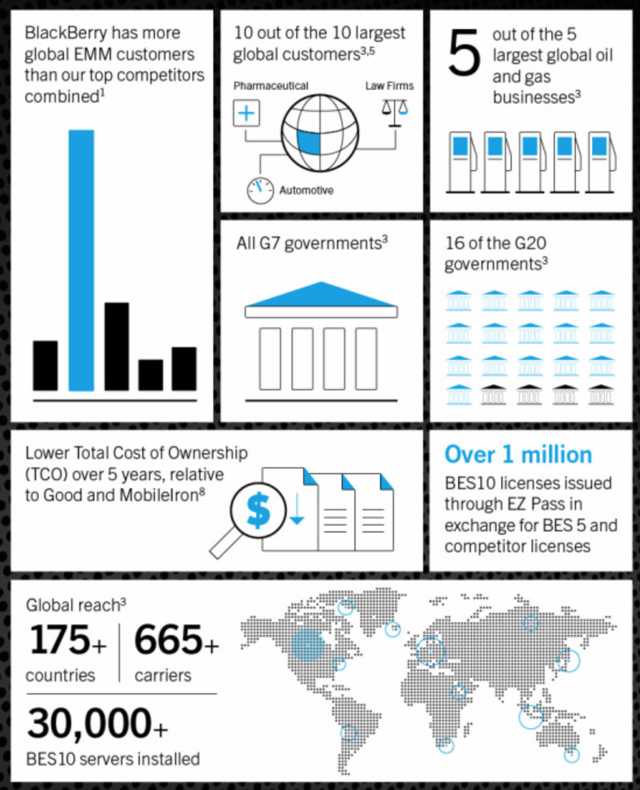 Source: berryflow.com
While everyone was obsessing over Chen's "misquote," little attention was being given to what BlackBerry was shouting from the mountain tops, specifically that over 1 Million BES10 licenses were issued through the EZ Pass program, many exchanged for licenses from less secure competitor products.
Well what do you know - BlackBerry has new phones coming out!
So against an immensely negative backdrop of BlackBerry purportedly quitting the phone business, BOOM the earnings release blows away expectations, and at the same time BlackBerry starts leaking out photos and specs on its new Passport phone, due out in September 2014. Oh and by the way, the Z3 was successful enough in its Indonesian launch to be released in India and a bunch of other Asian and Middle Eastern Markets.
Where we find ourselves now is that the investing world is very quickly waking up to the fact that not only is BlackBerry NOT quitting the phone business, but whadayaknow - they are INNOVATING again in handsets, at the same time moving aggressively to execute in their other core lines of business - QNX, BES, and BBM.
The Passport Will Be Game Changing
Oh, and you can put me on record, the Passport is going to be a game changer for BlackBerry. You have to read Crackberry.com's pre-release review of the Passport. The folks at CrackBerry are not always complimentary about BlackBerry products, believe me. The reason I know I want one of these things is that I could never type on the legacy BlackBerry keyboards, the keys were too small for my nubby left thumb that I partially lost in a car door when I was a kid. And I hate virtual keyboards. To quote from the review:
"The keyboard isn't clicky. It's soft. The keys are wider and you need two thumbs to use it. It doesn't matter how big or small your fingers are, the accuracy is there. It's easier for women who type with their nails because the keyboard is soft and not plasticy. It's more of a tap than a click now. I got a friend of mine who is a nail typer on her BlackBerry and I had to [yank?] the Passport out of her hands because she loved it so much."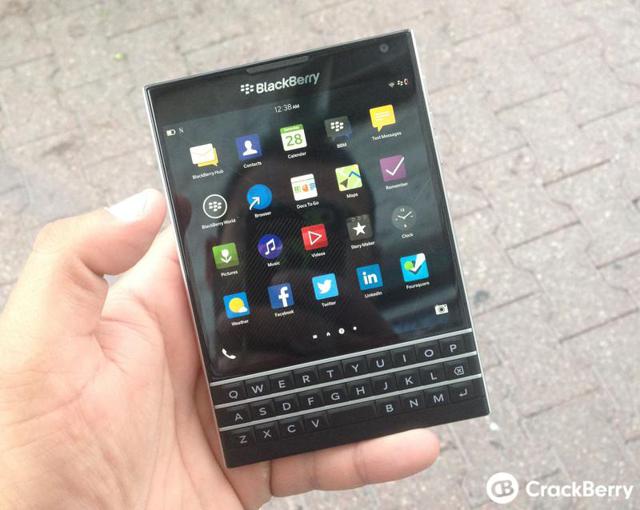 Source: CrackBerry
Take my word; the Passport will be the new status symbol for the financial, media, education, and medical elite. There is nothing even remotely like it. It will be what finally bridges the gap between a phone and a laptop, the key factor being the keyboard. And it will bring business users back to BlackBerry with a vengeance.
Bottom Line
The Reuters story won't be the last time that the media gets tripped up by what is happening at BlackBerry, and there will always be a steady stream of haters out there waiting to change the narrative. But right now, the narrative is so overwhelmingly positive that BlackBerry will be a "good news land mine" for the shorts over the next couple of quarters. With the stock still trading just a bit above its book value, there is still HUGE room for it to run from here. I would not be surprised to see BBRY close 2014 in the $17-$20 range. After all, there are still plenty of people out there who think BlackBerry is going out of business, and the shorts seem like they are gluttons for punishment.
I'll probably be adding some call options on any pullback, but I would be VERY surprised to see BBRY below $10 EVER again. Those days are gone.
Please do your own due diligence before investing, this article contains my opinions only.
Disclosure: The author is long BBRY. The author wrote this article themselves, and it expresses their own opinions. The author is not receiving compensation for it (other than from Seeking Alpha). The author has no business relationship with any company whose stock is mentioned in this article.