The last time I wrote about Lululemon Athletica Inc. (NASDAQ:LULU), I stated, "Due to the reduced earnings estimates for 2015, no dividend, and the increased competition from Dick's, I'm not going to be putting additional capital to work in the name, there are better places to make money." Since writing the article, the stock dropped 9.77% versus the 2.58% gain the S&P 500 (NYSEARCA:SPY) posted. Lululemon Athletica Inc. is a designer and retailer of technical athletic apparel, operating primarily in North America and Australia.
On June 12, 2014, the company reported first-quarter earnings of $0.34 per share, which beat the consensus analysts' estimates by $0.02. In the past year, the company's stock is down 38.52% and is losing to the S&P 500, which has gained 22.85% in the same time frame. Since initiating my position back on August 13, 2013, I'm down 36.64%. With all this in mind, I'd like to take a moment to evaluate the stock on a fundamental, financial and technical basis to see if right now is a good time to purchase more of the stock for my growth portfolio.
Fundamentals
The company currently trades at a trailing 12-month P/E ratio of 23.41, which is fairly priced, but I mainly like to purchase a stock based on where the company is going in the future, as opposed to what it has done in the past. On that note, the 1-year forward-looking P/E ratio of 20 is currently fairly priced for the future in terms of the right here, right now. The 1-year PEG ratio (1.52), which measures the ratio of the price you're currently paying for the trailing 12-month earnings on the stock while dividing it by the earnings growth of the company for a specified amount of time (I like looking at a 1-year horizon), tells me that the company is fairly priced, based on a 1-year EPS growth rate of 15.42%. The company has great near-term future earnings growth potential, with a projected EPS growth rate of 15.42%. In addition, the company has great long-term future earnings growth potential, with a projected EPS growth rate of 15.18%. Below is a comparison table of the fundamental metrics for the company when I wrote all articles pertaining to the company.
| | | | | | | | |
| --- | --- | --- | --- | --- | --- | --- | --- |
| Article Date | Price ($) | TTM P/E | Fwd P/E | EPS Next Yr. ($) | Target Price ($) | PEG | EPS Next Yr. (%) |
| 02May14 | 45.47 | 23.55 | 20.00 | 2.27 | 34 | 1.24 | 19.06 |
| 01Jun14 | 44.63 | 23.37 | 19.89 | 2.24 | 33 | 1.24 | 18.79 |
| 01Jul14 | 40.27 | 23.41 | 20.00 | 2.01 | 30 | 1.52 | 15.42 |
Financials
On a financial basis, the things I look for are the dividend payouts, return on assets, equity and investment. The company does not sport a dividend to speak of, but is sporting return on assets, equity and investment values of 24.7%, 28.1% and 25%, respectively, which are all respectable values. In this particular instance, I will skip the dividend aspect of the financials, because the stock is in my growth portfolio, and in the growth portfolio, a stock does not have to have a dividend.
The really high return on assets value (28.5%) is important, because it is a measure of how profitable the company is relative to its assets, telling us how efficient a management team is at using its assets to generate earnings [for comparison purposes, Lulu has the second-highest ROA of all companies in the textile-apparel clothing industry, behind Michael Kors Holdings Ltd. (NYSE:KORS), which sports an ROA of 35.6%, and ahead of Gildan Activewear Inc. (NYSE:GIL), which sports an ROA of 15.8%].
Below is a comparison table of the financial metrics for the company for when I wrote all articles pertaining to the company.
| | | | | | |
| --- | --- | --- | --- | --- | --- |
| Article Date | Yield (%) | Payout TTM (%) | ROA (%) | ROE (%) | ROI (%) |
| 02May14 | N/A | N/A | 28.5 | 32.3 | 25.0 |
| 01Jun14 | N/A | N/A | 28.5 | 32.3 | 25.0 |
| 01Jul14 | N/A | N/A | 24.7 | 28.1 | 25.0 |
Technicals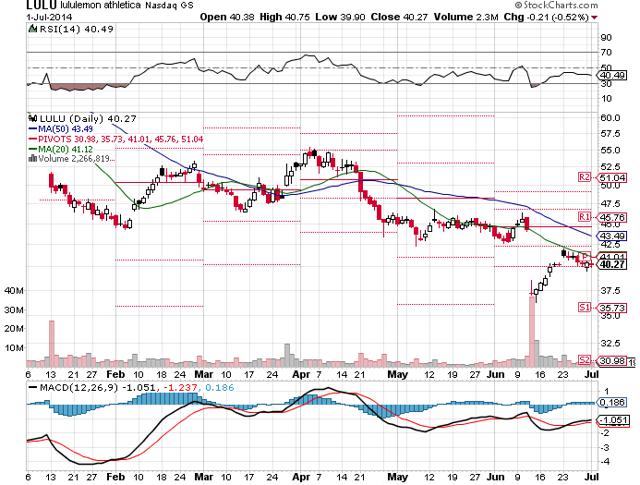 Looking first at the relative strength index chart [RSI] at the top, I see the stock in middle-ground territory, with a current value of 40.49. I will look at the moving average convergence-divergence [MACD] chart next. I see that the black line is above the red line, with the divergence bars flattening in height, indicating the bullish momentum is getting tired. As for the stock price itself ($40.27), I'm looking at $41.01 to act as resistance and $35.73 to act as support, for a risk/reward ratio which plays out to be -11.27% to 1.84%.
Case Of The Boomerang CEO
Chip Wilson founded the company in 1998, and served as the company's CEO till 2005. I believe this is akin to where a father sees his child struggling and will do anything to help the child out. In this case, Mr. Wilson sees the company floundering, as the stock price has plummeted over the past year, and wants to come back and rescue it. Earnings estimates for 2015 keep declining, as can be seen by the fundamentals table above, and with it, the stock price. Mr. Wilson is in talks with Goldman Sachs to strategize on how to gain more control over the company. There are several different ways to go about gaining back control of the company, but choosing the correct way may be tough. The problem, however, is that Mr. Wilson may have gotten into some trouble by making inappropriate comments back in 2013. So the list of people willing to work with him might be slim, if he wants to build some sort of consortium to gain control again.
Mr. Wilson still owns a fair amount of the company, but he'll definitely need a supportive team behind him. The stock has been oversold, and he can possibly get it on the cheap. For comparison purposes, Under Armour (NYSE:UA) sells for 5.13x trailing twelve-month sales and Lulu sells for 3.59x; if Mr. Wilson is to pay that same sort of price, he'd be buying the company at $57.50, or a 43% premium to the current price. I do realize that Lulu has roughly half the growth expectations of Under Armour, so maybe it would be more around 4.3x sales, or a $49 price target. Regardless of the takeout price, there will definitely have to be a capital raise to do it. Just a fun tidbit, boomerang CEOs such as Steve Jobs of Apple (NASDAQ:AAPL) and Howard Schultz of Starbucks (NASDAQ:SBUX) previously returned to their positions to restore order and dominance within their respective battlegrounds.
Conclusion
The stock has certainly become interesting, based on how far it has dropped, but I still don't like that future earnings estimates continue to decline. Fundamentally, I believe the stock to be fairly valued on next year's earnings estimates and growth expectations. Financially, there is no dividend to speak of, and the financial efficiency ratios have deteriorated from last quarter. On a technical basis, the risk/reward ratio is a bit high for my taste. I'm going to stay away from buying the stock at these levels, because I think I can get in at a lower price.
Disclaimer: This article is meant to serve as a journal for myself as to the rationale of why I bought/sold this stock when I look back on it in the future. These are only my personal opinions and you should do your own homework. Only you are responsible for what you trade and happy investing!
Disclosure: The author is long LULU, AAPL, SPY, UA. The author wrote this article themselves, and it expresses their own opinions. The author is not receiving compensation for it (other than from Seeking Alpha). The author has no business relationship with any company whose stock is mentioned in this article.