It's a bit daunting to undertake an article that is meant to share something new and different about this giant of a company and this icon of American corporate ingenuity that is a household name among investors and non-investors alike and is so thoroughly covered by the press from many angles and in various forms of media. Analyst reports galore are available with quantitative and qualitative reviews and previews of all aspects of GE's (
GE
) many businesses, and especially of this coming Friday's earnings release
That said, the point of this article is not to out-analyze the analysts, nor to out-report the reporters on all the work that is done regarding this company. Rather, it is to share some thoughts from the perch of a global portfolio manager on how I see GE fitting (or not) into a basket of risk that is trying to capture opportunities around the globe, especially in emerging market countries.
Let's start with some full disclosures. I do not personally own GE (and that could change at any time without notice), but several of my client investors have it in their portfolios from before they came my way. Away from business, my own children received a few shares several years ago as a gift from my mother, who is now 90 years old, is still an avid market follower, and insists that the shares not be sold "until the stock gets back to where it was in the old days"! (Again, these are in personal accounts, not managed by Soos Global!)
The story of how and why she bought the shares for the grandkids, though, is telling as to how GE is perceived by many investors even to this day. This was a stock that "you had to own". For years, that was the conventional wisdom for many investors.
As you can see in the following chart, courtesy of
Zignals
, the early part of the past decade had the stock significantly higher than where it is today. When the gift for my kids was bought back in the summer of '07, GE had already been languishing for some time in the low-to-mid $30s after having started the decade up in the mid-to-high $50s. Loyalists, like my mother, always viewed the $50ish price range as where it was 'meant to be'….so when it appeared to be breaking out of the long held band of the mid-$30s, it was compelling for the 'old school' to think this was it…the breakout to the upside that would restore GE to its rightful place in the $50-$60 range. (I'm still told of the story how on the day my mother bought the stock, she feared that she had to move quickly or else miss a big upside move!)
Well, the chart speaks volumes about where GE went from there….but why? (Click to enlarge)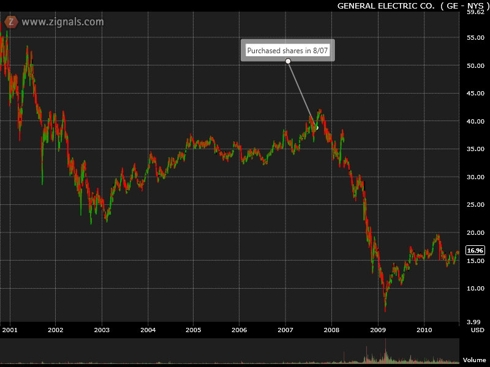 As I like to think of it, "my father's GE" was a company known for its manufacturing expertise, its innovation, and its leadership in diversified 'real product' businesses….refrigerators, other appliances, aircraft engines, etc. I had grown up hearing that GE appliances don't last for years, they last for decades! In fact, my recent personal experience was disappointingly different than that, and that may explain some of the price decline in past years, but the move into the financial space seems to be the bridge that crossed the company from that legacy persona into something altogether different….and far more risky……a financial powerhouse who was clearly brought to its knees in the '08 financial crisis, and who is still digging its way out of that hole.
But digging they are doing (by shedding toxic assets and more), and while the scar tissue will likely remain for some time from the GE Capital mess, the rest of the company is moving on, and in directions that are worthy of note.
A quick glance at the headlines that have appeared in recent days in media sites all over the world tells the story of a GE that may in fact be returning to a position in which they could once again be dubbed "your father's GE". It tells the story of a company that is pushing its traditional businesses hard and fast into emerging market countries and is expanding its focus into energy and healthcare businesses in creative ways.
FirstRain's snapshot
page has a plethora of articles on the company including the following headlines:
GE Expands Solar as Immelt Seeks Pace of Wind Growth (Business Week 12-Oct-2010)

Upgrade contract for Peruvian NGL plant awarded (Natural Gas Liquids)(Oil and Gas Journal, 12-Oct-2010)

GE introduces One-megawatt Solar Inverter (RTT News 12-Oct-2010)

GE Healthcare Introduces Advancements to Industry's First Hybrid SPECT/CT Platform (Medicexchange 12-Oct-2010)
And perhaps the biggest news of recent days was GE's announcement that they are planning to acquire Dresser Inc., the energy equipment maker and service provider for $3Bn.
All of this does not appear to be lost on investors of late. The stock has made a nice move since the August selloff. And optimists are looking for the stock to run back to the highs of the year achieved back in the Spring. This Friday's earnings will likely shed light on the odds of this happening anytime soon!
(Source:
ChartFacts.com
)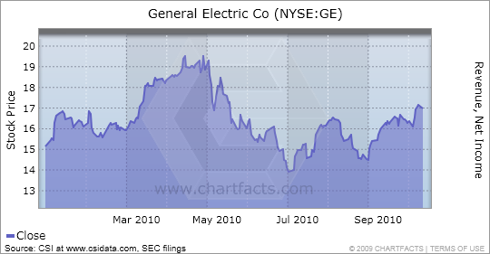 With a 2.8% dividend yield and with the momentum of events seemingly moving away from the crisis pains of '08 and more towards a globally expansive, innovative future, this is a stock that I'd like to own. At what price, is another question. In considering that, some 'pluses' and 'minuses' as presented by
Morningstar
research should weigh in the mix:
The economic stimulus package heavily provides incentive for activity in markets that GE supports.

The NBC Universal joint venture with Comcast CMCSA boosts GE's cash position and allows the infrastructure businesses receive more capital and management attention.

GE's global presence gives it access to more information about the direction of economic activity than other firms, giving the company an advantage in getting its feet on the ground in emerging economies.

A number of GE Capital's competitors are struggling or have already exited the market due to the rise in delinquencies in residential and commercial real estate, leaving a less crowded competitive landscape for GE.
Efficient manufacturing programs like Six Sigma and lean manufacturing have been around long enough for other firms to successfully implement and catch up to GE, reducing the strength of GE's cost advantage.

GE's bank portfolio still has more than $100 billion on non-U.S. consumer loans outstanding which will keep charge-off rates high for the foreseeable future.

By shifting to long-term financing, GE is opting for more expensive financing, which will pressure GE Capital's profitability.

Oversight by financial regulators is imminent and GE Capital will more than likely have to retain more of its capital going forward as opposed to giving it back to the parent company.
As always, investors have to opine and decide for themselves whether GE is appropriate for their portfolios given their unique risk tolerances and financial profiles. This article, as stated, is only meant to promote some thought in advance of the earnings release so that investors can do some preliminary homework on the financial data and expectations, and as a result, be better prepared to act on the earnings news that we'll get this Friday.
For me, it's still very much "my father's GE", and the more it expands its real-product businesses into emerging countries around the globe, the more likely my kids will get a green light from their grandmother to take some profits!
Disclosure: Long GE in some client accounts and as indicated in article. LONG EEM, FXI, GMF, and other EM country ETFs.
Disclaimer: Soos Global Capital Advisors, LLC ("Soos Global") is a New York state registered investment adviser located in Harrison, New York. Soos Global may only transact business in those states in which it is registered, or qualifies for an exemption or exclusion from registration requirements. The publication of Soos Global's opinions on the Internet should not be construed by any consumer and/or prospective client as Soos Global's solicitation to effect, or attempt to effect transactions in securities, or the rendering of personalized investment advice for compensation, over the Internet. Any subsequent, direct communication by Soos Global with a prospective client shall be conducted by a representative that is either registered or qualifies for an exemption or exclusion from registration in the state where the prospective client resides. For information pertaining to the registration status of Soos Global, please contact the state securities regulators for those states in which Soos Global maintains a registration filing. A copy of Soos Global's current written disclosure statement discussing Soos Global's business operations, services, and fees is available from Soos Global upon written request. Soos Global does not make any representations or warranties as to the accuracy, timeliness, suitability, completeness, or relevance of any information prepared by any unaffiliated third party, whether linked to Soos Global's opinions or incorporated herein, and takes no responsibility therefor. All such information is provided solely for convenience purposes only and all users thereof should be guided accordingly. Past performance may not be indicative of future results. Therefore, no current or prospective client should assume that future performance of any specific investment or investment strategy (including the investments and/or investment strategies recommended or undertaken by Soos Global) made reference to directly or indirectly by Soos Global in its opinion, or indirectly via a link to an unaffiliated third party web site, will be profitable or equal the corresponding indicated performance level(s). Different types of investments involve varying degrees of risk, and there can be no assurance that any specific investment will either be suitable or profitable for a client or prospective client's investment portfolio. Historical performance results for investment indices and/or categories generally do not reflect the deduction of transaction and/or custodial charges, the deduction of an investment management fee, nor the impact of taxes, the incurrence of which would have the effect of decreasing historical performance results. Please remember that different types of investments involve varying degrees of risk, and there can be no assurance that the future performance of any specific investment or investment strategy (including those undertaken or recommended by Soos Global), will be profitable or equal any historical performance level(s).