Ford unit sales for June came in at -5.8%, beating analyst expectations for the month, which were looking for a -6.6% decline for the month. Analyst expectations were likely for a larger decline due to the facts that:
Ford is expected to be introducing a ton of new vehicles this fall; the company itself predicted that sales would taper a bit in 2014 due to product turnover
F-150 sales are likely to taper off until the new model is being produced and sold; people are holding out for it
YOY comps must be mindful that there were 5 Saturdays in June 2013, as opposed to 4 in June 2014
The details of Ford's June numbers, as reported by Seeking Alpha:
Sales growth by brand: Ford -5.9% to 214,793; Lincoln -2.7% to 7,271.
Sales growth by model: Ford Fusion +13.5% to 27,604; Ford Fiesta -31.1% to 6,450; Ford F-Series -11% to 60.560; Ford Escape -12.5% to 25,110; Lincoln MKZ -6.0% to 2,990.
Both the company, and analysts agree that this decline is due to Ford's product cycle. From AutoNews:
Ford has been building up stocks of the current truck as it prepares for factory changeovers in Dearborn, Mich., and Kansas City, Mo. Sales of the Edge, which is being replaced by a redesigned version early next year, dropped 29 percent to 9,700 units, and the Mustang, being replaced next quarter, fell 17 percent to 7,631 units.

Said John Felice, vice president of U.S. marketing, sales and service: "Our trucks had the highest transaction prices and lowest incentive spend. There was a move in incentive spend by competitors, which can have short-term impact on share."

Felice said he sees "very solid fundamentals on demand for pickups" due to upticks in the housing and energy industries: "We're very pleased with how our prices are holding up with new product coming late this year.

"We are on plan as we manage the changeover" to the 2015 F-150, Felice told journalists and analysts on the company's monthly sales call. "We're building inventories in summer into fall and we're right on that glide path."

Said Karl Brauer, senior analyst for Kelley Blue Book: "Ford's drop in sales reflects the automaker's product launch cycle, which has been reduced over the past two years but is about to ramp up. Ford's most important model, the top-selling F-150, is transitioning from the outgoing steel model to an all-new aluminum truck with upgraded engine technology."
I know that if I was in the market for a Ford F-150, which I happen to like, I would be holding off until the newer model is out and ready to be sold. The same way I'm holding out for the iPhone 6 - we're so close, there's no point in going out and spending full price paying for what will soon be the older model.
Incentive selling has been roped in a little, as Ford looks to protect their profits and definitely protect the "integrity" of their new models. Nothing says "we don't believe in our new models" than giving them away for massive discounts. What would you do if Apple (NASDAQ:AAPL) started selling iMacs for $499? The first thing I'd think is that something "under the hood" has changed and I'm now being sold a piece of crap.
And remember, it was just days ago that Ford came out and said its new F-150 is "on track," time wise.

Click to enlarge
The F-150 is widely being heralded as Ford's next big step in terms of innovation and it's easy to understand why people would hold out for it. Company reports show that initial reaction to the design and handling of the new vehicle are positive.
Lest we forget again that Ford is going to be overhauling nearly their entire fleet come this fall. New models are going to be expected almost across the board. Let's take a quick look at the Fusion, too. The car that is slated to eventually replace the Camry as the top selling U.S. sedan had itself another great month.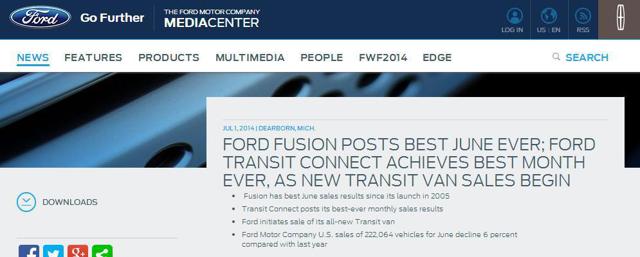 Click to enlarge
I continue to consider my $20 price target for Ford conservative - especially with the recent headlines of MKM Partners expecting Ford to head to the $23-$24 region. MKM noted that the technical picture for Ford looks tasty:
While it clearly would have been a much better buy earlier in the year, by our work, the technical picture was rather ambiguous until recently. We now think the stock can be bought, on anticipation of a bigger breakout heading into the heart of the summer…

Ford has been trading above its 200 Day Moving Average for roughly a month, and the 200 DMA has just started to turn higher, a bullish development for the medium-term. On Tuesday, price traded right up to prior resistance in the $17.20 area and stalled. This represented the highs in November 2013, prior to a 16% decline into the January lows. Therefore, it is a logical area to pause, but given favorable momentum, we think it exceeds this resistance in the coming weeks…

We would target $18 over the coming weeks (~5% upside), and $23 - $24 over the next 6-12 months (35-40%).
In this respect, I tend to agree. If Ford can't hold $16, it'll likely be time to reconsider being long - but, with Ford green yet again today, it's not looking like that's going to be an issue. Let's take a quick look at the technical picture: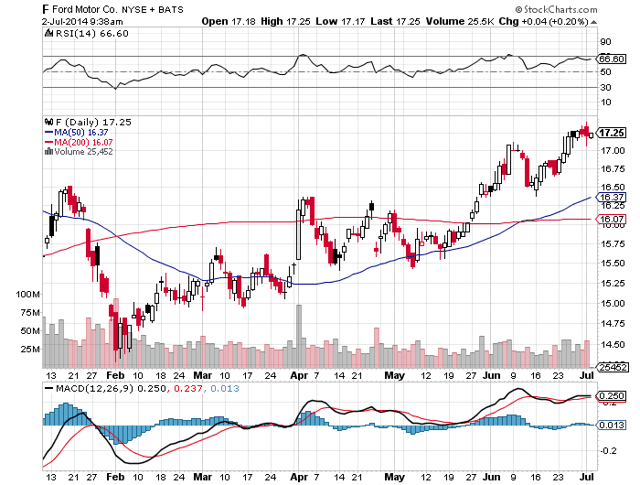 Click to enlarge
With respect to the chart, it does look bullish. Ford has been riding the overbought line for the last couple of months, but continues to bludgeon its way forward on consistent volume. With the 50DMA recently crossing the 200DMA, the technical picture seems to be showing us a long-term uptrend that wants to continue, as long as the major market indices hold up.
If Ford's sales continue in YOY decline in the coming months after its Fall lineup changeover, it'll certainly be something to pay attention to. However, I believe this aberration to be a result of product line turnover. I'll be keeping a close eye on Ford moving into the second half of this year, but my outlook remains bullish for the company, which I continue to feel is undervalued at current prices.
Best of luck to all investors.
Disclosure: The author has no positions in any stocks mentioned, and no plans to initiate any positions within the next 72 hours. The author wrote this article themselves, and it expresses their own opinions. The author is not receiving compensation for it (other than from Seeking Alpha). The author has no business relationship with any company whose stock is mentioned in this article.