A lot has been written on American Realty Capital Properties (ARCP) and its recent endeavors. I don't see a reason to keep digging into that, as I believe enough has been said given the relatively limited amount of new info which has come out since the events took place. Some very good articles have been written recently on events in ARCP -- see here, here, here, and here, just to name a few.
There's the acquisition of the Red Lobster portfolio (RL), the equity issuance, and the sale of the multi-tenant portfolio -- with all these moving parts, it's not surprising that investors are confused. The price has decreased since the announcements, and the dividend yield is sky-high (relatively speaking), now at a little over 8% per annum.
The question I found myself asking is: Given the equity issuance and acquisitions/sales, how sustainable is the dividend going forward? True, share valuation is very important, and on that, it seems the common knowledge is that the share is relatively cheap -- but for good reasons. It does indeed seem very cheap, when considered relative to peers (based on FFO multiples):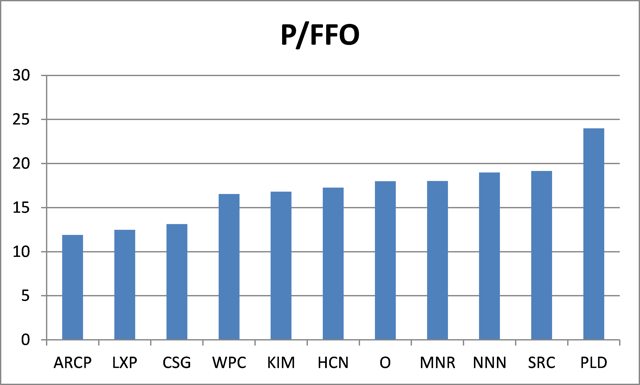 Source: SNL Financial
Shares can sometimes remain relatively cheap for long periods of time, for reasons which are sometimes apparent and sometimes not (LXP, for example, in my view). So there's never a guarantee that a relatively cheap share will appreciate in price so that it becomes valued more in line with peers.
However, as an investor in REITs, my bigger short-term concern is the stability of the dividend. All else being equal, if it isn't stable or sustainable, I would probably rather be somewhere else (due to the uncertainty). On the other hand, if I believe that it is sustainable, at this level I'm willing to hold on -- waiting for the storm to pass, hoping that the price will recover over time with general fundamentals improving and with confidence strengthening, etc.
Current Dividend
ARCP's current dividend yield is very high relative to various peers, and stands at a yield of 8%, based on current market prices: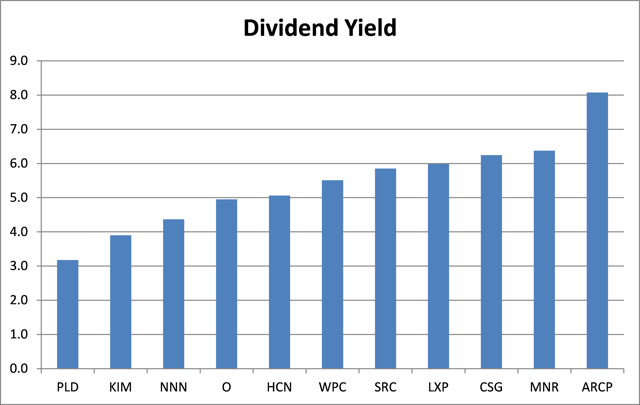 Source: SNL Financial
The dividend yield has increased substantially over the past few months as the market price of ARCP's share has plummeted, reaching under a low of upper $11s, following the various corporate events which took place.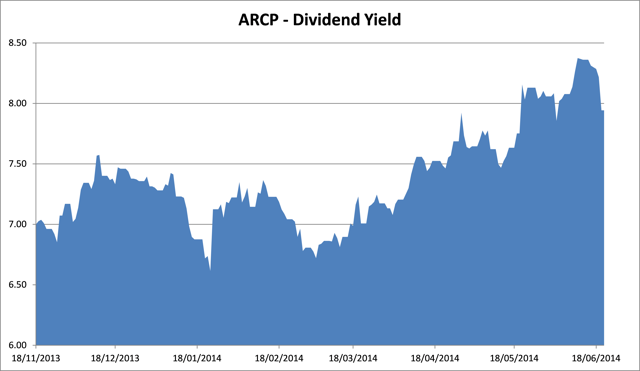 Source: SNL Financial
Where Is the Dividend Headed?
The million-dollar question on most investors' minds is: What will happen with the dividend, and how much longer, if at all, can ARCP sustain the dividend? Not too much information has come out from ARCP over the past few months, so there's some detective work to be done given the lack of direct answers. On that front, ARCP has provided several clues, which may help to try and analyze where things are headed.
The three "clues" are:
1. Recently, following the RL transaction, management has declared that the acquisition target for 2014 will increase from $3 billion to $4.5 billion. The very loud silence from management, along with the open letter from Marcato Capital regarding ARCP's acquisition pace made some think that it wasn't clear if that still is the target or if management has stepped back to its initial $3 billion target. On June 20th, president of ARCP, David Kay, released a letter to shareholders, in which he reiterated ARCP's new acquisition target of $4.5 billion for 2014. For me, this very updated info is a strong indication of ARCP's acquisition target for 2014.
2. Also, following the corporate events, management, in an investor presentation from early June, laid out the following slide: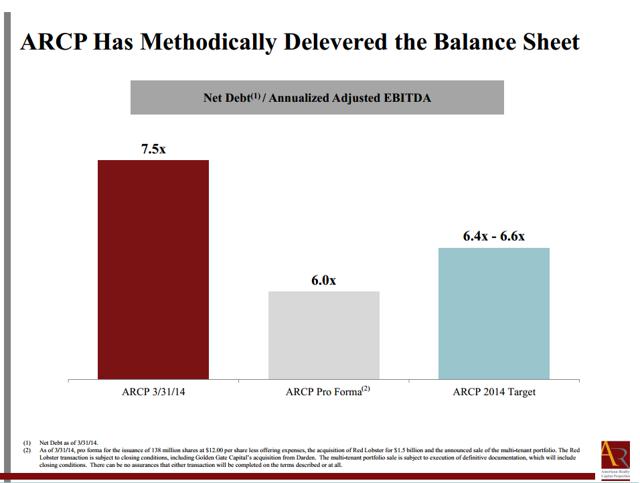 The thing I take from this slide is that the current net debt/EBITDA ("ARCP Pro Forma") and 2014 target ("ARCP 2014 Target") aren't one, and that certain events, management believes, will change that ratio, going from 6x to 6.4-6.6x. That event is the added asset acquisitions until year-end of about $1.5 billion, needed in order to reach the $4.5 billion acquisition target for 2014 (see details below).
3. On the same note, from June 20th, management has said it will not issue any more equity in 2014.
The bottom line of these "clues" (lacking real, formal info from the company) is that management doesn't intend to increase equity via issuance, and that it intends to buy another $1.5 billion of assets from now until year-end. That's a very feasible target, given that ARCP underwrites over $10 billion in transactions per quarter (according to management in earning calls and as appears in investor presentations). The question is then: How sustainable is the dividend today, and how will it be, assuming management makes its acquisition target?
Dividend Analysis
In a May 21st investor presentation, management laid out the changes to ARCP's operations, following the recent acquisition/sale/equity issuance: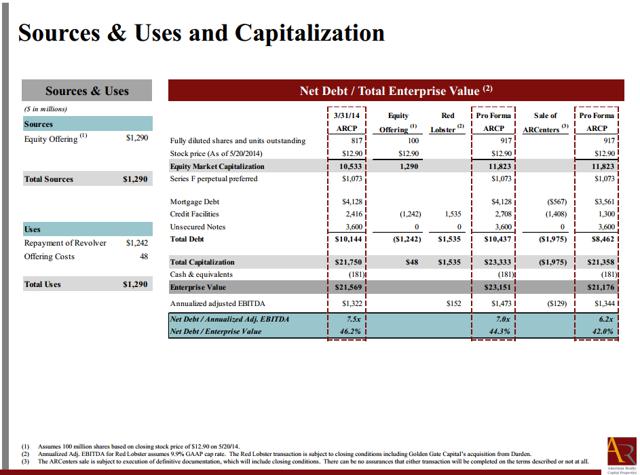 This slide shows the balance sheet numbers before, during, and after the above mentioned events. What one can't see through the above, without some further work, is what happens to the dividend, given the above corporate events and the changes to ARCP's capital structure. What one can see in the above is that as of March 31, 2014, net debt/EBITDA stood at x7.5, and that after the events, that ratio stood at 6.2x, close to the 6x mentioned as "ARCP Pro Forma" in the above as well.
In order to understand the effects of these events on the dividend sustainability, one needs to extract the FFO number corresponding to these various stages and calculate how the current dividend fares relative to the company's earnings, as measured by the FFO. (Or, in this case, the AFFO which is the FFO, net of one-off expenses, such as merger costs, etc. I realize that in the case of ARCP, these merger costs seem never-ending, but we have to keep things in perspective -- they will end).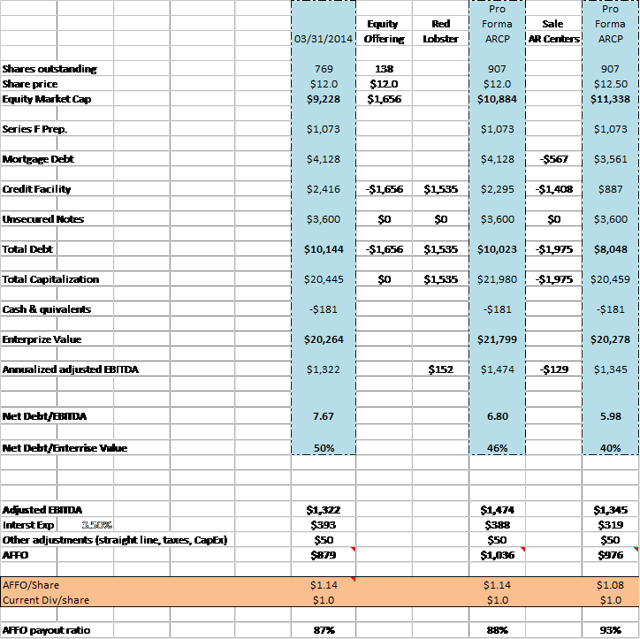 The upper part of the above is an Excel copy of the figures released by the company. The figures are practically identical, except for the number of shares. I used the outstanding number, and not the fully diluted figure and the market price, which I've updated to prevailing prices.
In order to confirm the figures I've calculated (the bottom half of the above), I went through the financial data to check the various expenses -- preferred div. (adjusted EBITDA is normally net of it), interest exp., and other adjustments. I've gotten my confirmation, among others, from ARCP's Q4 2013 earnings call (pg. 7), in which ARCP's CFO has stated explicitly those expenses, and the company's run rate AFFO, which fits with the figure above, as of March 31, 2014 (interest expense of course changes over time, as a function of outstanding debt and the company's interest rate on debts).
What can be seen from the above are the following:
Prior to all events, the run rate AFFO/share of ARCP was a $1.14 (based on the annualized EBITDA), which, given a $1 dividend, makes for an 87% payout ratio. High, no doubt, but manageable.
Following all events, as of June 2014, although run rate AFFO has nominally increased -- due to the debt reduction following the issuance and the higher cap rate of RL relative to the multi-tenant portfolio sold -- the per share AFFO has decreased. That brings ARCP to a less desirable position, under which the payout ratio increases to 93% -- high and unhealthy for both company and investors in the medium term.
So this is where things are as of June 2014 -- undoubtedly, not a great place to be, with the payout ratio exceeding 90%. But is that the end of it? Should we expect to see a dividend cut shortly? Not so fast: As was shown above, based on the most updated data available from management (the latest being from June 20th), it seems the company aims to buy not $3 billion, but rather $4.5 billion in assets -- that is another $1.5 billion in H2 of 2014.
So how will things look at year-end, following that, under the same analysis methodology? For that, I'm assuming that the new acquisitions ($1.5 billion) will be done for a cash cap rate lower than the RL transactions' cash cap rate, which will be reflected in the lower marginal EBITDA these will bring. I believe that this is a realistic assumption, given the relatively high cap rate of the RL transaction (and a more conservative assumption).
Below is the same spreadsheet cut out as above, only with an added column to reflect the expected added acquisitions from the middle to end of 2014: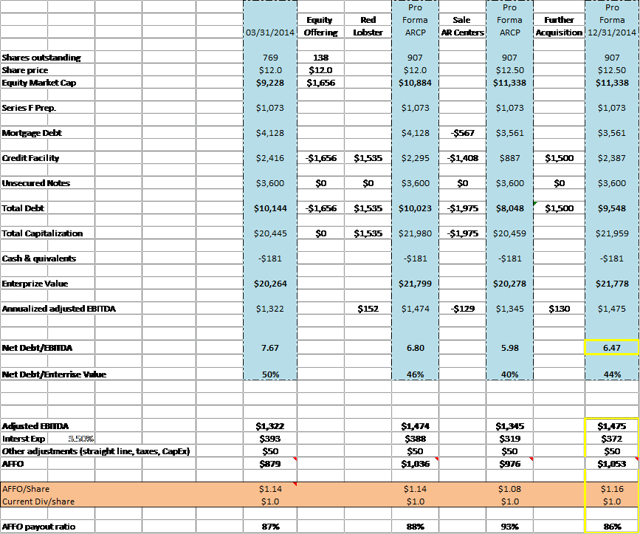 I refer back to the "clues" from the management and its assumption of the year-end net debt/EBITDA ratio of 6.4-6.6x. The figure I get at 2014 end, assuming the above, is a net debt/EBITDA of 6.47x -- right smack in the middle of management's assumptions, which leads me to believe that management has done a similar calculation. To put things in perspective in terms of an indicative leverage statistic, the following is the peer group comparison of net debt/EBITDA, assuming that ARCP makes its target acquisition, bringing its net debt/EBITDA to 6.47x: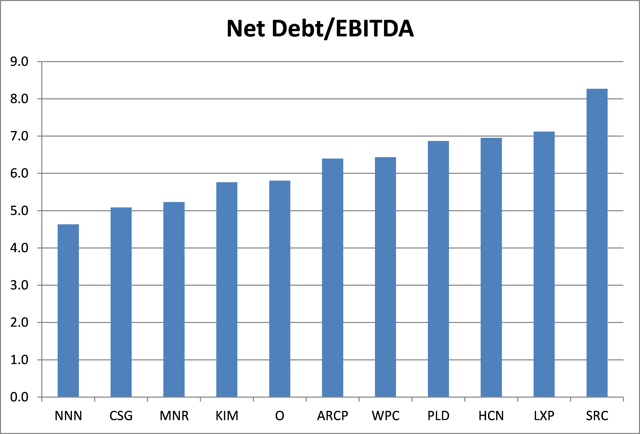 Source: SNL Financial
As can be seen, ARCP is located in a good place in the middle -- anything but extreme or overextended. In any case, it should be noted that ARCP's financial position is better off at year-end 2014 than it was at March 31, 2014 -- both in terms of net debt/EBITDA (6.47x to 7.67x, respectively) and in terms of net debt/enterprise value (44% to 50%, respectively), reflecting a stronger balance sheet.
Now, moving on to the dividend. What I receive following the above analysis is that the run rate AFFO/share at year-end will be $1.16. Assuming a dividend per share of $1, this makes for a payout ratio of 86%. No doubt this isn't low, but is by no means inconceivable, given the type of leases. The following is the peer group comparison, again, assuming that ARCP makes its target acquisition level, bringing its payout ratio to 86%: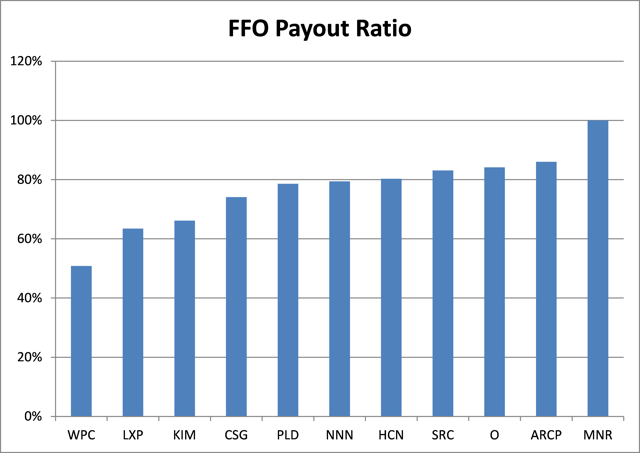 Source: SNL Financial
Over time, investors should hope that management can lower that payout ratio (hopefully, by increasing FFO/share). However, if one thinks of the possibility of a dividend cut, then although it's always an option and is -- at the end of the day -- the prerogative of management, from the above data, it doesn't seem imminent. Furthermore, the situation doesn't seem as bad as the market price tries to hint.
Summing Up
A payout ratio of 86% can be sustained in the medium term, and it seems that at current market share prices, investors receive fair compensation for this higher payout ratio and other specific risks, measured by its very low relative price: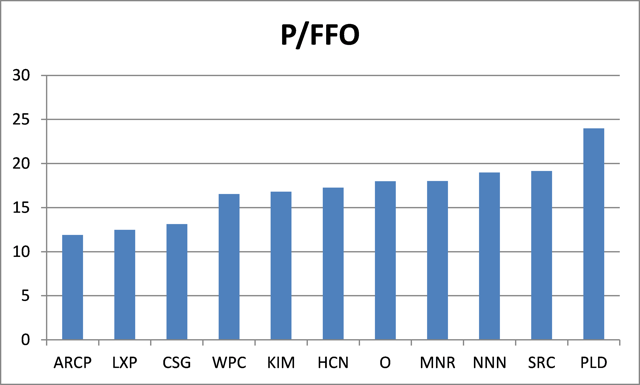 Source: SNL Financial
Sure, ARCP has additional issues to take care of besides the dividend (general transparency, debt profile, the high share of RL's assets within ARCP's total revenues, and more). I believe that the above analysis is reasonable, assuming management has no further surprises up its sleeve. If it does turn out to be true, then a certain part of the uncertainty around the company will surely dissipate, creating room for the valuation to come closer to the rest of the market and its peers -- even if it's still lower, due to other factors.
If ARCP's shares were to go up from the current level and trade at a 13x 2014 P/AFFO (which is still nearly 20% below peer group average P/FFO ratio), this would yield a price appreciation of 20%, based on the current valuation -- in addition to the dividend yield. Given the above analysis, I don't think that this scenario is too far-fetched.
Disclosure: The author is long ARCP. The author wrote this article themselves, and it expresses their own opinions. The author is not receiving compensation for it (other than from Seeking Alpha). The author has no business relationship with any company whose stock is mentioned in this article.