The market continues its march higher, but as we stated a few days ago we think that this quarter will be mostly sideways as a foundation is built for a rally into the end of the year. Although we like days that end with markets higher, it is important to recognize that we are not looking at broad indices trading at new highs but very specific ones. There has been a bit of profit taking in the big winners over the last few sessions, although this has not been a day-to-day trend. We have noticed that a good number of names, which we follow in hot industries/sectors that have trailed their peers have seen some buying this week and we would like to see that continue. So long as everyone recognizes the need to rotate into value while volatility remains low, the longer that 10% correction can be delayed.
Chart of the Day:
With today's news, could we see a wave of underperforming tech companies looking to sell out to those who seem to get it in order to maximize returns for shareholders?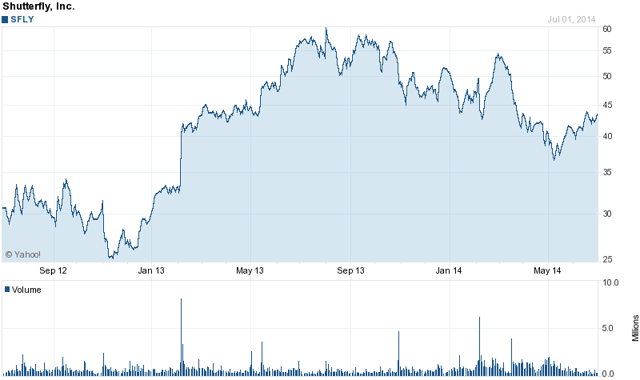 Source: Yahoo Finance
We have economic news today, and it is as follows:
MBA Mortgage Index (7:00 a.m. EST): Est: N/A Act: -0.2%
ADP Employment Change (8:15 a.m. EST): Est: 200k Act: 281k
Factory Orders (10:00 a.m. EST): Est: -0.4% Act: -0.5%
Crude Inventories (10:30 a.m. EST): Est: N/A Act:-3.155 M
The Asian markets are higher today:
All Ordinaries -- up 1.48%
Shanghai Composite -- up 0.44%
Nikkei 225 -- up 0.29%
NZSE 50 -- up 0.06%
Seoul Composite -- up 0.81%
In Europe, the markets are higher this morning:
CAC 40 -- down 0.15%
DAX -- up 0.08%
FTSE 100 -- up 0.26%
OSE -- up 0.28%
3D Stocks Make A Comeback
Over the past couple of weeks, we have seen a rush back into the 3D printing names due to a few headlines. First, there has been short covering as many short sellers had gravitated to these names with the prolonged weakness. Pair that with certain assumptions that investors have made and it is no wonder that 3D Systems (NYSE:DDD) and Stratasys (NASDAQ:SSYS) have performed so strongly.
The speculation, which is occurring right now, centers around investors betting on a potential takeover for 3D Systems because the company recently pulled out of a conference. Historically, there is precedent for takeovers to be announced shortly after a company pulls out of a conference, but there are far more companies which simply cancel with no takeover news than cancel to announce a big deal.
While we thought that 3D Systems was a buy around the $50/share level, trying to speculate on it now at its current price with the current rumors seems silly. Our thinking is that the company is not a seller but rather one of the consolidators in these early innings and if one is looking for a buyout candidate for their portfolio, they should check out some of the smaller names with attractive technology and product offerings.
We thought that this was worth looking at in the $50/share area, but not at $60/share. Bulls will have to hope that shares can build support around $60 and hold or else we might see another move lower.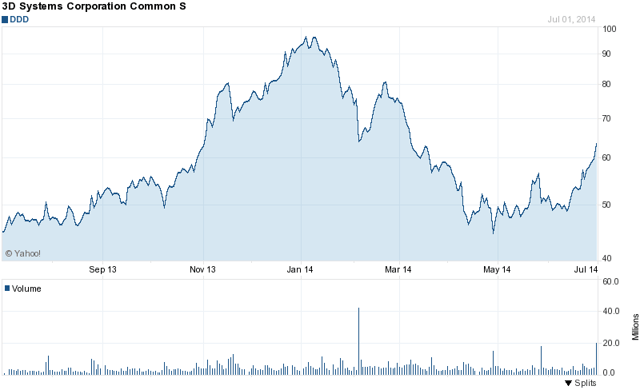 Source: Yahoo Finance
Another item we want to point out for readers is the latest 3D printing IPO, Materialise (NASDAQ:MTLS). The Belgian company sold 8 million shares at $12/share to raise $96 million. Much of the attention for IPOs was focused on the big offering the next day so this one kind of snuck by many. This is the same company we pointed at a few months back as the most likely IPO candidate among the private companies that were looking to raise capital and we still think that long term this could be one of the names to watch among the smaller companies as there are numerous companies, which could find this an attractive purchase.
More Activity In Tech
With Google (NASDAQ:GOOG) announcing another acquisition, this time Songza Media, look for investors to continue betting on consolidation within the social media/app space. We are seeing an environment develop where there are both buyers and sellers of assets that is allowing the larger companies to add to their portfolio of offerings while also allowing start-ups and young companies to cash out.
The landscape in tech is becoming quite competitive and numerous management teams are taking the opportunity to shop themselves around. The latest company to announce the hiring of an investment banker to find buyers is Shutterfly (NASDAQ:SFLY), the online photo company. The stock is up roughly 14% on the news, which takes the market cap close to $2 billion. With all of the companies launching photo apps and services, we could see a few interested buyers looking to bundle services together but we would not expect an outlandish valuation to result from this.
Disclosure: The author has no positions in any stocks mentioned, and no plans to initiate any positions within the next 72 hours. The author wrote this article themselves, and it expresses their own opinions. The author is not receiving compensation for it (other than from Seeking Alpha). The author has no business relationship with any company whose stock is mentioned in this article.